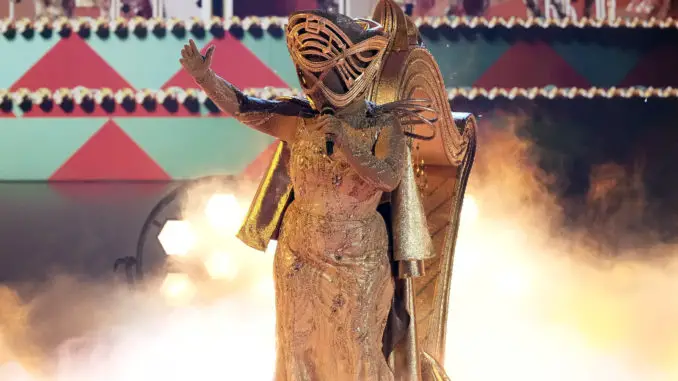 Glee star and Dancing with the Stars alum Amber Riley won The Masked Singer season 8 last week. Now she and many of her fellow contestants appeared on this week's The Masked Singer Seasonal Sing Along Spectacular.
The one hour special capped the season with fan favorite contestants from season 8 getting into the holiday spirit with a Christmas Singalong. The special featured never-before-seen holiday performances, funny bloopers and behind-the-scenes footage for fans to enjoy, The show also featured fan favorite reprises from contestants such as Sun (Lean Rimes) and Queen of Hearts (Jewel). The show brought back a very serious Ken Jeong singing "Little Drummer Boy."
Check out the Top 3 The Masked Singer Season 8 Finalists' Christmas performances.
The Season 8 winner, Harp, aka Amber Riley thrilled fans with her big vocals all season. Here she is singing a gorgeous version of Nat King Cole's "The Christmas Song."
Runner-ups, Lambs aka Wilson Phillips sang the upbeat "Sleigh Ride," made famous by The Ronettes. The 60s girl group worked with many of the same musicians who played on The Beach Boys and Mamas and Papas records in the 60s. Carnie and Wendy Wilson are the daughters of head Beach Boy Brian Wilson, while Chyna Phillips parents are Michelle Phillips and the late John Phillips.
And the second runner-up, Snowstorm, is comic Nikki Glaser who had a life-long dream of singing on stage. And she's not half bad. The professional roast comic and FBoy Island host stuck to mostly contemporary pops songs through the season. For the special, she sang Ariana Grande's "Santa Tell Me"
The Masked Singer will return for season 9 on FOX in March 2023 with Robin Thicke, Jenny McCarthy, Ken Jeong and Nicole Scherzinger on the judges panel. Nick Cannon hosts.