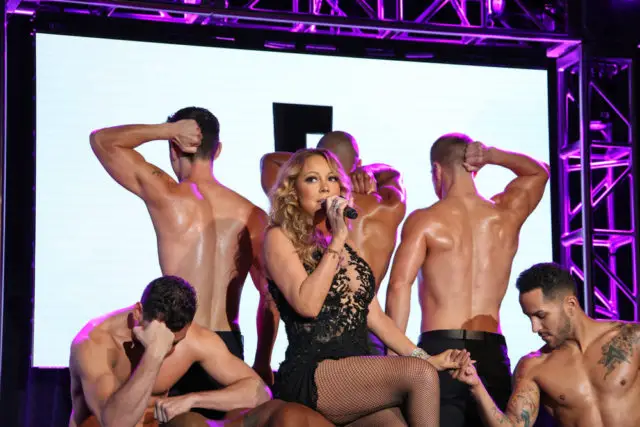 So, Mariah Carey was promoting her new eight part docuseries, Mariah's World, coming out on E! at the Television Critics Association's summer press tour on Wednesday (Aug 3) and she took another jab at American Idol.
When Mariah was asked what she learned during her time as a judge on American Idol, her answer was full of snark: "Oh, it was the most abusive experience," she said, lifting a champaign glass. "By the way you've just driven me to drink."
You will remember (although personally? I've been trying to forget) that Mariah sat on the American Idol 12 judges panel in 2013 where she and rapper Nicki Minaj constantly battled. Fellow judges Keith Urban and Randy Jackson could only sit back and try to stay out of the line of fire.
The combative season was the beginning of the end of the once mighty show, which left FOX airwaves in April after 15 seasons.
Billboard contacted American Idol producer, Nigel Lythgoe for a comment, and he said: "I'm looking forward to Mariah's new series and wondering if Nicki Minaj may guest." Ha. When piggies fly, I'm sure.
You may wonder why Mariah was sipping bubbly while chatting with reporters during a promotional session at the TCA. According to Billboard:
Making an entrance in a barely there black lace dress and fishnet stockings accompanied by a half-dozen muscled shirtless men, Carey proceeded to charm journalists with her signature kooky, diva persona.

Holding a glass of Veuve Clicquot aloft, the pop star pleaded: "I want to share a splash with you guys! Can we do this? Cheers, darlings. Cheers."
When asked if ex-husband and America's Got Talent host Nick Cannon would appear in her new series, she said:
"I can't speak for [him]. He's his own person. He's cool about coming around the show."

"So he will be in the show?" the critic pressed.

"Well, I said he came around, I don't know what makes the final cut," she said to uproarious reaction from the Champagne-plied journalists.

"I'm sorry, was that rude in some way? I'm so not trying to slay anybody."
The series will follow the singer on her on her upcoming European tour and chronicle her personal life, including wedding plans to her Australian business manager fiancé James Packer. Mariah's 5 year old children will be featured on the show too. But Nick is pushing back on that, apparently.
"Here's the thing: They could have their own show because that's how funny they are," said Mariah. "I just have to figure it out–with Nick–how much they're in the show. They're in my life. We'll see. I think it should be sparing."
Via Hollywood Reporter, Billboard.