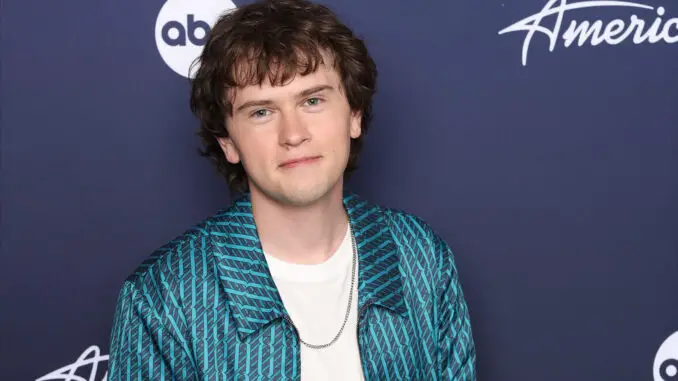 Fresh off of another hometown concert in Tyler, Texas at Stanley's Famous Bar-B-Q on Saturday (July 16), American Idol season 20 alum Fritz Hager is teasing more new music. In a clip posted to social media, the Top 5 singer previews a song that is probably called "Caroline." The tune has strong indie vibes that call back to alt pop from the 80's and 90s.
American Idol 18 alum Francisco Martin and songwriter Drew Pearson, who co-wrote Fritz's winners single, "Hearts Align" are in a Los Angeles studio space with him.
Did Fritz sign with 19 Recordings?
Fritz previously teased an unnamed song, asking his friends to please like and spread around. "I don't think I'm supposed to show you this," Fritz says in the video as the track plays. "I just got this demo back…please blow this up so I can release it. Please!"
On the singer's Facebook contact page, he lists a contact from American Idol as his contact info, which has got fans speculating that 19 Recordings, the American Idol-adjacent record label, has signed him. His collaborator, Francisco is signed to 19. 
Listen to a snip of the melodic, poppy new song below.
 

 

 

View this post on Instagram

 

 
Fritz Hager Out on Tour this Summer
In an interview with a local paper after his concert last week, Fritz shared more on his tour opening for Maddie Poppe this summer. "It'll be fun," he said. "I've never toured before and I've always wanted to. I've always wanted to travel." The singer will tour mostly around the west coast, Aug 21-31. Some stops will include Denver, Salt Lake City, Seattle Portland and Hollywood. Check out Maddie's tour schedule HERE.
As already announced, Fritz, along with Maddie, will also open for Leah Marlene's hometown show in Normal, Illinois. Fritz will be back home on October 8 to perform at the Rose City Music Festival.
For Fritz, he's moving forward and barely has time to reflect.
"Nothing's really hit me yet. I want to stay in one mode," he said. "I feel like the minute I step back like, 'OK, look at what happened,' I'm just gonna break down. If I think about stuff like that I stress myself out – I just sort of freak out."
"I'm grateful that 'Idol' came at that time because I don't know if I'd be doing music without it," he added.
On American Idol, Fritz performed several original songs including tunes from the independent self-titled EP he dropped earlier this year. He performed his originals, "Inconsequential Love," "All My Friends" and "The Ocean," alongside "Hearts Align."