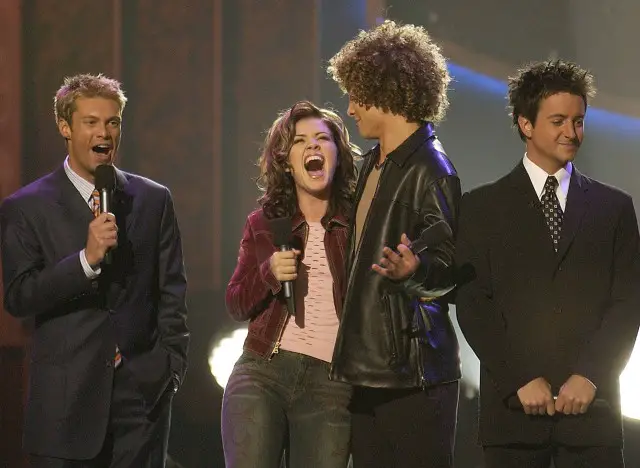 On September 4, 2002 a 19 year old singer from Burleson, Texas, Kelly Clarkson was crowned the first winner of American Idol. Over the last 20 years, that young singer transformed into a global superstar, churning out hit pop records, eventually coaching young hopefuls like herself on the NBC competition The Voice and helming her own Emmy Award winning talk show.
Watch that first season, and it's obvious the producers and judges didn't see her coming, as they searched for that cookie cutter hopeful to mold into a pop star. But the enormously talented, down-t0-earth and relatable Kelly won America's hearts, as well as the prize. 
Now, on the 20th anniversary of her historic win, Kelly posted an emotional message and thank you to her fans on social media. 
"It forever changed the course of my life"
"20 years ago today I won American Idol and it forever changed the course of my life," Kelly writes. "That moment was the door that opened up so much access and opportunity, and creative partnerships that I will be grateful for all of my days." The singer continued, "The family and friendships I have created over these 20 years in music and tv are priceless to me."
"We only get so many trips around the sun," Kelly muses. "And while I am proud and feel abundantly blessed of the successes and failures that I have learned from, I am most proud and grateful for those friends that have become family, and for their arms that have held me when I needed it and their hearts that listened to me when I felt lost. Without them I would not be where I am. I would probably not be here at all."
Kelly shares her gratitude: "Thank you so much to every single person that voted 20 years ago! Thank you! Thank you! Thank you! I hope all of you have people in your lives that fill you with laughter, and hope, and happiness, and if you don't feel like you have that, then keep searching because I promise you they're looking for you too."
Watch Kelly's winning American Idol moment, announced by hosts Ryan Seacrest and Brian Dunkleman.  All three judges, Randy Jackson, Paula Abdul and Simon Cowell predicted Kelly the winner. Runner-up, Justin Guarini was super-excited for her.
Kelly's winning moment
After, Kelly cried her way through a performance of her winners single, "A Moment Like This." The confetti fell! So did the tears as her fellow contestants joined her on stage to sing along.
A Moment Like This
Watch Kelly Clarkson's Idol Journey
In 2017, American Idol posted a compilation of Kelly's American Idol performances to their Youtube channel. High quality. Well…decent quality considering that High Definition was barely a thing in 2002. Enjoy, as Kelly performs classics such as her "Express Yourself" audition performance. Her unseen Hollywood performance, of "Saved the Best for Last," "Respect," "You're All I Need to Get By," "Natural Woman" (featuring and out-of-nowhere whistle note), "It's Raining Men," "I Surrender," "Without You," and more.
The Kelly Clarkson Show celebrates a milestone
Her afternoon talk show, The Kelly Clarkson Show, uploaded a compilation of celebrities revealing that they watched and voted for Kelly while she competed on American Idol. A few even credited Kelly with inspiring their careers in show business. The clip ends with Randy, Paula and Simon on the coach basically admitting they wouldn't have careers without her.
Happy Idol Anniversary, Kelly! You started it all.