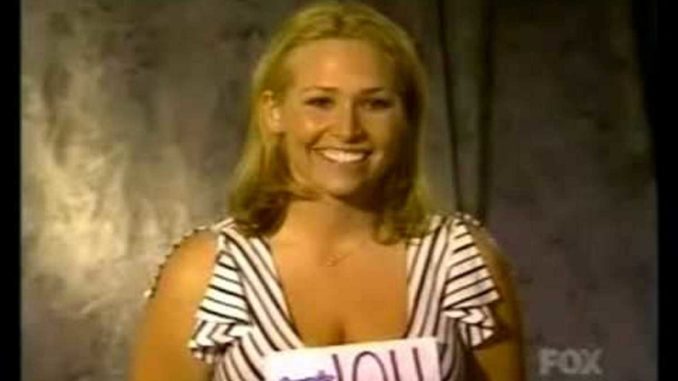 It's the 20th anniversary of the American Idol season 1 finale. On this day in 2002, Kelly Clarkson was crowned the first ever American Idol champ. So, what Idol story is dominating social media today? A very dumb conspiracy theory. And when I say dumb, I mean REALLY SUPER EFFING BRAIN WORMS STOOPID.
Twitter really is the devil.
The conspiracy goes that right wing congresswoman Marjorie Taylor Greene auditioned for American Idol season 1 in 2002 using an alias and a fake hometown. Some people are loving the conspiracy, because the auditioner, Stefanie Sugarman, from Alta Loma, California, is one of the season's epically bad auditions.
After singing "Knockin Da Boots" horribly, Stefanie refused to believe she had been cut, even after the judges dissed her. She returned to the judges room, in complete denial. Even after they spell it out for her (YOU CAN'T SING) she still doesn't believe it.  
Stefanie Sugarman bears a resemblance to Marjorie Taylor Greene. But, uhm. No.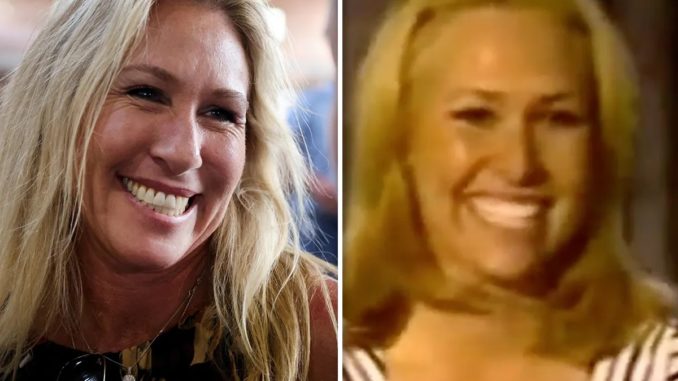 photo via TMZ
The rumor seems to have started with Twitter User "Far Left Kyle" or at least he got the ball rolling. He's 100 percent sure it's her because it kinda sort looks like her (actually there is a resemblance!) and he can't find "Stephanie Sugarman" after a search. Spell the name correctly, first of all!
Marjorie Taylor Greene's try out for the first season of American Idol under a stage name lmao. What a loser. pic.twitter.com/ltgnx1aUln

— Far Left Kyle (@FLKDayton) September 4, 2022
When some folks push back on his "theory" he doubles down in the dumbest way possible, insisting it must be her, because he can't find her online.
I 100% think it is, which is why I can't find stephanie sugarman. It's her brand of attention whoring, same energy, same accent just a little subdued, same speech patterns, and looks like an aged down version of her.

— Far Left Kyle (@FLKDayton) September 4, 2022
Except that Stefanie is a real person, and IS online. Several sleuths have found her. She's married and still living in California. And no, I'm not going to out her. The poor lady probably thought she put one of the most embarrassing moments of her life behind her. And 20 years later it comes back to haunt her, thanks to a goofy conspiracy theory.
For those of you who don't follow politics, Marjorie Taylor Greene is a polarizing house member from Georgia. Her constituents love her for her bomb throwing ways. Just last night, at a rally Trump held in Wilkes-Barre Pennsylvania, she insisted that Trump won the election, and that the Democrats stole the election.
Greene: President Trump won the 2020 election pic.twitter.com/hcIwKPsDQF

— Acyn (@Acyn) September 3, 2022
Some of you maybe wondering, "who cares what this one guy thinks?" While there are people who are pushing back, there are others who believe it. And then others who just think it's funny! I found it on my poticial feed. A ton of Twttter blue check marks are returning and responding the tweets–to laugh and push back. TMZ covered it. And now us. Admittedly, we're part of the problem here, giving in to all that's dumb on the internet.
In case you need more "proof" Marjorie Taylor Green did not audition for American Idol with a fake name and origin story, here is a fact: In 2002, Marjorie Taylor Greene was 27, three years past the audition cutoff date that season. Stefanie was 23. Stefanie and Greene are dopplegangers, but they don't look or sound or move identically.
What's more, there's no logic. NO LOGIC TO THIS DUMB CONSPIRACY. If Greene could sing, and were eligible for Idol, and wanted to audition, she would have just auditioned. She was a nobody back then. No reason to hide behind an alias.
So this guy, Kyle, is probably a troll, I hope.
Remember, the people saying it's not her are the same people who drew little red circles on the parents of sandy hook victims and said they were crisis actors.

— Far Left Kyle (@FLKDayton) September 4, 2022
A few reaction tweets:
So his theory here is Greene tried out for American Idol because she loves attention but did it under an assumed name and has never talked about it since for some reason? Do I have that right?

— JS (@jspanda8) September 4, 2022
Ha ha. For those familiar with the faction of Q Anon who believe John F. Kennedy Jr. didn't die 20 years ago in a plane crash near Martha's Vineyard. These knobheads believe he's coming back to run as Trump's running-mate in 2024.
Travis is there any truth to the claim that William Hung is John F. Kennedy Jr.?

— Greg Young (@GregoireNYC) September 4, 2022
"Why can't I find any other record of this person who was humiliated on national TV on her first try? Where's all her other work?"

— Zack Budryk (@BudrykZack) September 4, 2022
I love how he was like "It's her because I couldn't find her." Like he's been trying to get people to doxx the woman all day

— aum fukinshinrikyo (@nezumi_ningen) September 4, 2022
I want to send my actual thoughts and prayers to the poor woman who has to live with knowing the whole internet confused her with Marjorie Taylor Greene.

— LOLGOP (@LOLGOP) September 4, 2022