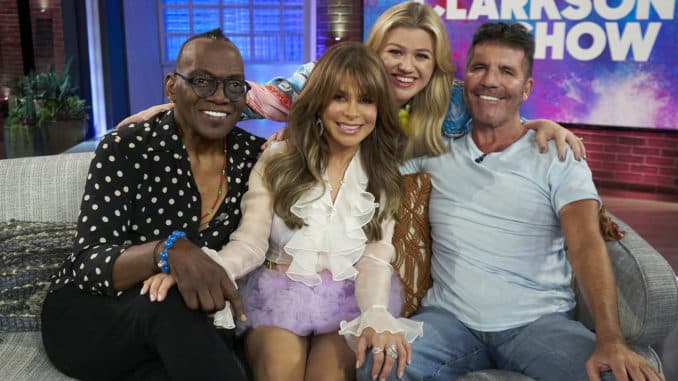 Here are a few FIRST look at PHOTOS from the American Idol reunion set for the Kelly Clarkson Show on Wednesday September 18.
The Voice coach invited the entire OG gang back for a visit. For those who have just climbed out from under a rock, Kelly Clarkson won the inaugural season of American Idol back in 2002. She was also the show's first superstar. Fast forward through a ton of hits, embarking on world wide tours, becoming a coach on The Voice–Kelly now has her very own syndicated afternoon talk show!
The original American Idol judges, Randy Jackson, Paula Abdul and Simon Cowell dropped by Kelly's show for some fun and hijinks. Host Ryan Seacrest joined via satellite from New York City. And if that isn't enough for y'all, season 1 runner-up Justin Guarini also came by! I am really looking forward to a major From Justin to Kelly reminisce here people! Heh.
Last week, Simon spoke with Terry Seymour from Extra about the epic reunion:
"That was exciting, that was hilarious. It's on next Wednesday." He loved being back with Paula Abdul and Randy Jackson again, saying, "It was almost like we were still doing the show. So weird because you know what it's like when we got together again."

 "Ryan was on satellite. I told him I flew in from London to be there, he stayed in New York."

He went on to call the reunion "surreal… you have to remember, it doesn't feel like all those years ago that we did the finale, so suddenly I'm sitting on her talk show being interviewed by her. She was brilliant, I have to say, really good. She was an absolute natural. She's incredible."

"She's very loyal, gets the whole thing about where we started from… I love her and I'm happy for her."
Check out the photos below.
PHOTO GALLERY