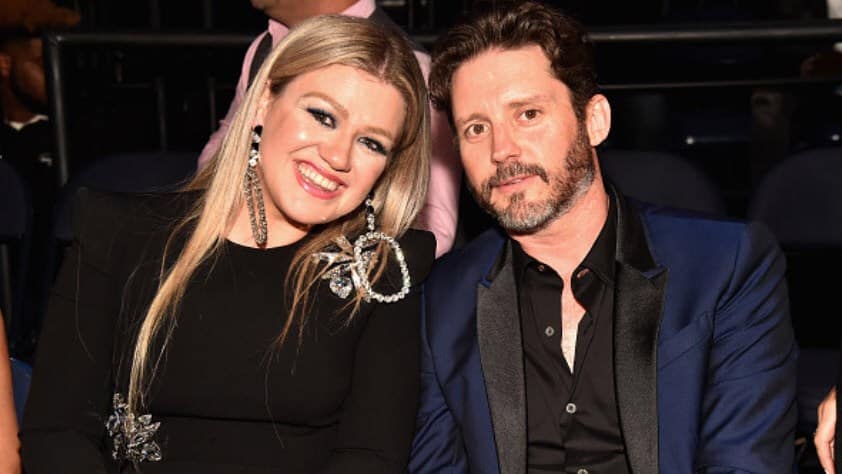 Update: According to a source, Blackstock is looking for $436,000 in monthly spousal and child support from Kelly.
"Brandon's been equally unreasonable in his requests for child and spousal support, as well as attorney fees," the source says. "Kelly's offered to pay for all the kids' expenses, but Brandon seems to think he is entitled to and needs $301K in spousal support and $135K in child support per month."
If Blackstock's request remains, he'd receive more than $5.2 million per year.
"Additionally, he's already asked for $2M for attorney fees when he's the one driving up the cost of the divorce with seven attorneys just representing him alone," the source adds.
Judge grants Kelly Clarkson primary custody of her two children amid divorce battle
A Los Angeles County judge has ruled that Kelly Clarkson, who is currently in divorce proceedings with estranged husband Brandon Blackstock, will have primary custody of their children, daughter River Rose, 6, and son Remington Alexander, 4.
"The Court finds that under the circumstances present in this case, the interest in providing stability and continuity for the minor children weighs in favor of Petitioner having primary custody," the court document read, referring to Kelly.
The level of conflict between the parents has increased
The document adds that "the level of conflict between the parents has increased. The parties have a difficult time co-parenting due to issues of trust between them."
The Voice coach will allow Blackstock — who plans to reside in Montana and works as a music manager — to visit the former couple's children in the L.A. area at the singer's Woodvale residence. Kelly, who hosts NBC's The Kelly Clarkson Show, lives in Los Angeles for work.
Kelly has primary physical custody, the couple will share joint physical and legal custody
The late October court document, according to People, also stated that River and Remy would spend the Thanksgiving break with their father and will spend Dec. 19 through Christmas at 2 p.m. with him as well. Meanwhile, Kelly will take over that afternoon through the end of the New Year's holiday.
More specifically, the two will share joint physical and legal custody, but Kelly will have primary physical custody in Los Angeles. Blackstock will FaceTime with River and Remy every day "at a mutually agreed upon time" as well.
Kelly and Brandon agree not to diss each other in front of the kids
Both agree that they each "shall not speak in a derogatory manner about the other parent to the minor children. The custodial parent shall not allow the minor children to be in the presence of any third party who speaks about the other parent in a derogatory manner," according to the court documents.
Kelly filed for divorce in June after nearly 7 years of marriage to Blackstock. Meanwhile Blackstock's father's company has sued Kelly for commissions they claim she owes them. Kelly sued right back, charging that she never signed a real contract with the company.
Kelly has called 2020 a "dumpster fire." She shared with the Today show how difficult navigating a split can be, especially when children are involved.
"I mean, it's no secret," she said. "My life has been a little bit of a dumpster … personally, it's been a little hard the last couple months," the singer told Today.
"I've been talking to friends that have been through divorce. I don't know how people go through that without having some kind of outlet because it is the worst thing ever for everyone involved."