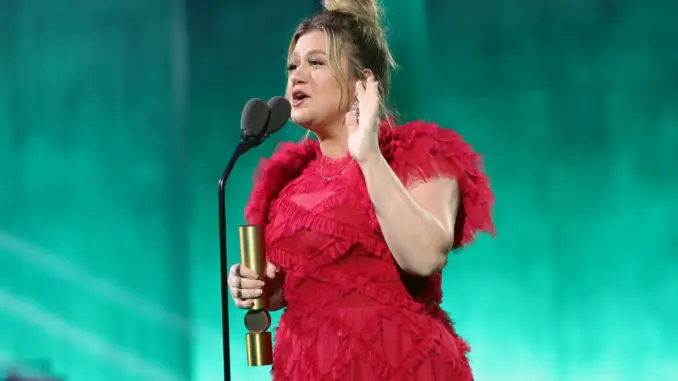 Kelly Clarkson Promises New Album IS coming out in 2023
Continuing a tradition of posting a New Year's video on her The Kelly Clarkson Show Youtube channel every January, Kelly Clarkson revealed that she WILL release an album this year.
"I have an album coming out this year. I swear! I've been talking about it," the American Idol OG winner said, promising that "There's a really cool way we're releasing it that we're formulating right now."
Kelly released her last album of original songs titled Meaning of Life in 2017. In the interim, she released a Christmas album in 2021 (nominated for a Best Pop Album Grammy) and in 2022, a six song EP of "Kellyoke" covers that she performed on her talk show.
The new songs represent "a great arc of a whole relationship"
But as far as a full album of new material? The singer shared that it took her "a minute…to be able to release this album." Referring to her 2020 separation and subsequent divorce from Brandon Blackstock. Kelly admits "I just had to be over it, through it, all around it. I had to get past it in order to talk about it." She added, "Because I know people want to ask me about the album and songs…I needed a minute."
But in the end, she's glad she waited. "One of the last songs written for the album might be one of the singles that we come up with first." Waiting to cycle through all the emotions around her divorce means the songs represent "a great arc of a whole relationship." She promises that the tracks are "not all sad or mad." However, "that's in there too!"
Kelly leaks info on album photoshoot: "The most fun I've ever had on set"
Then, as proof the album really IS coming out in 2023, Kelly spilled that she just did a photo shoot for the record. "I'm not sure if I was allowed to say that. It just came out! Whoops. She explains that she does "whatever it takes to get out of a photo shoot" because "It's not my happy place."
However, this particular shoot "was the most fun I've ever had on set, on a shoot. It's so perfectly me" She added that "It felt like me and I was able to be really me in this shoot and really explain visually what's happening sonically on the album."
"It's really freaking cool," Kelly gushed. "This you're gonna want on vinyl just for the picture alone. That's gonna be the cover. That's incredible." Then she teases, "That's not photoshopped. I'm gonna leave with that." Afterward, she apologizes to her record label. "Atlantic…didn't want met to say that yet!"
Coming up for Kelly: Another season of The Voice. The Kelly Clarkson Show east coast move?
Coming up for Kelly: Another season coaching The Voice. She'll sit beside Niall Horan, Chance the Rapper and Blake Shelton (his final cycle!) on the season 23 coaches panel beginning on March 6. In the video, she also shared what she'd like to do this year: More trips with her children River and Remy. She hopes to perform more Kellyoke covers based on a theme. She really wants to cover a heavy metal song dressed in a hardcore hair band outfit where she "just looks ridiculous."
Also, not mentioned in the video–The Kelly Clarkson Show may move to the New York City metro area from it's current Los Angeles location at Universal Studios.