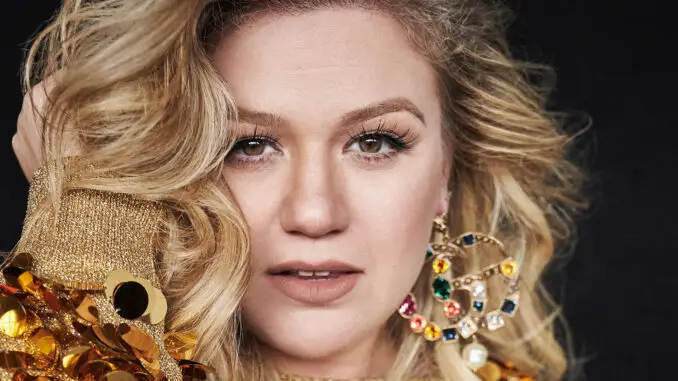 Kelly Clarkson has dropped Kellyoke EP via Atlantic Records. The 6 track collection features new studio recordings of some of the American Idol OG winner's favorite covers performed on her Emmy-winning afternoon talker, The Kelly Clarkson Show. The covers range from modern hits to timeless classics.
Since the premiere of The Kelly Clarkson Show in 2019, Kellyoke has become an institution in its own right with over 500 songs covered to date and counting. The fan-favorite segment sees Clarkson and her band, Y'all, turn audience requests and personal favorites into stunning performances that captivate viewers and the internet alike. A longtime staple of Clarkson's live show, the series was helmed by her long-time music director Jason Halbert, who along with vocal director Jessi Collins expertly tailor the performances
"Music is in the DNA of everything I do," said Kelly in a press statement. "So when The Kelly Clarkson Show started we knew it was the perfect way to kick off every episode. Over 500 songs later, and we're still not running out of amazing artists to pay tribute to. Picking just six was near-impossible, but these songs have been some of my favorites. Thanks for singing along with me y'all!"
KELLYOKE EP Track List
1. "Blue Bayou" (by Linda Ronstadt)
2. "Call Out My Name" (by The Weeknd)
3. "Happier Than Ever" (by Billie Eilish)
4. "Queen Of The Night" (by Whitney Houston)
5. "Trampoline" (by Shaed)
6. "Fake Plastic Trees" (by Radiohead)
In the nearly 20 years since Kelly won the inaugural season of American Idol, she has won an array of awards including three Grammy Awards, four American Music Awards, three MTV Video Music Awards, two Academy of Country Music Awards, two American Country Awards, one Country Music Association Award. She has worldwide sales of more than 25 million albums and 40 million singles.
Additionally, she has won two daytime Emmy awards for hosting The Kelly Clarkson Show. She's up for another award this year. The show has nine nominations in total.