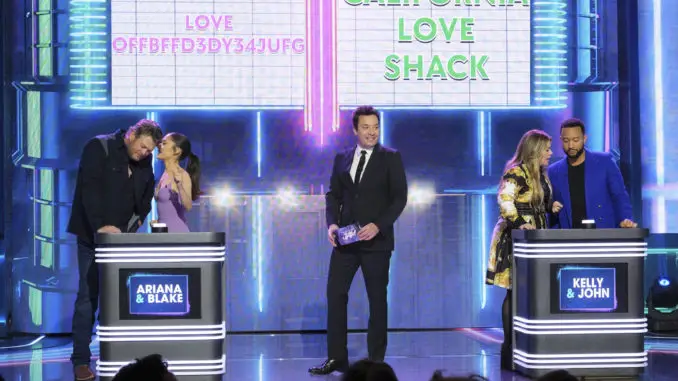 The Voice Season 21 coaches – Ariana Grande, Blake Shelton, Kelly Clarkson and John Legend – will appear in a sneak episode of the new Jimmy Fallon game show That's My Jam on Monday, Nov. 29 at 10 p.m. ET/PT. The four will play the game on behalf of their chosen charities.
The show is an hourlong music and comedy variety game show that draws inspiration from the most popular Tonight Show games. Each episode features two teams of two celebrities competing for a charity of their choice in a series of music, dance, and trivia-based games and musical performances.
New Kelly Clarkson Christmas Special Ft Ariana Grande Debuts Dec. 1
Kelly Clarkson and Jimmy Fallon Iconic "I Got You Babe" Duet (Video)
Kristin Chenoweth Reacts as Ariana Grande is Cast in Wicked Movie
Signature games to be played include "Wheel of Impossible Karaoke," "Perfect Mashup," "Vinyl Countdown" and "Slay It, Don't Spray It."
In this new clip, Kelly and Ariana face off in a segment called "Mixtape Medley Showdown." Kelly spins a wheel, which just happens to land on "Pop Divas." (Wink!) The two iconic singers trade off snips of classic songs such as "Oops I Did it Again," "Any Man of Mine," "Believe," "You Oughta Know," "How Will I Know," "Unbreak My Heart," and "It's All Coming Back to Me Now."
Kelly, as part of her "Kellyoke" performances on tour and on her afternoon talk show The Kelly Clarkson Show, has sung many of these songs already, but Ariana is pretty terrific too. She ably impersonates the singers that she's covering
Following the Nov. 29 telecast, the season will begin in early 2022.