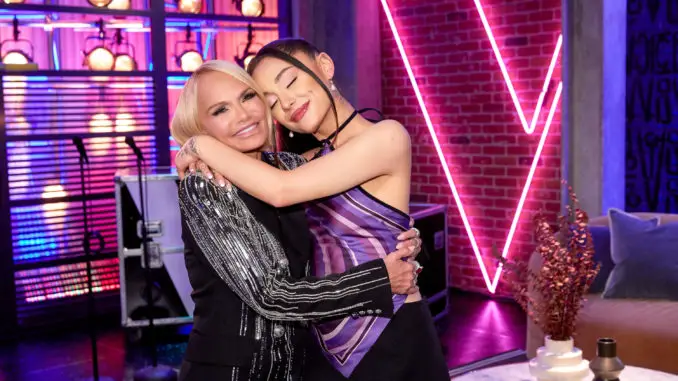 On Thursday night, news broke that The Voice coach Ariana Grande would be Glinda in Universal Studio's film adaption of the Broadway musical, Wicked. Cynthia Erivo is slated to play Elphaba.
Interestingly, Kristin Chenoweth, who originated the role of Glinda on Broadway, served as Battle Round advisor for Ariana on The Voice, which is currently airing on on NBC. During a mentoring session, Kristin and Ariana shared the story of how they met–backstage after a Broadway performance of Wicked. Ariana was only a wee child then, accompanied by her grandmother. She sang for Kristin and the older singer never forgot it.
Fast-forward, and now Ariana is set to play the same role that made Kristin famous. And unsurprisingly, Kristin couldn't be happier for or prouder of her friend. 
"I'm not sure if I've ever been this proud," Kristin wrote on Instagram. "From the very first day I met you (swipe to see!!), you were destined for this role. Congratulations @arianagrande! The best Glinda you will be with @cynthiaerivo by your side I love you!!"
Kristin wrote the message alongside a 2011 tweet from Ariana that said, "Loved seeing Wicked again…Amazing production! Made me realize again how badly I want 2 play Glinda at some point in my life! #DreamRole"
*
 

 

 

View this post on Instagram

 

 

*
On her Instagram stories, Kristin also posted the photo from that fateful meeting as Kristin's recording of the Wicked song "Popular" played in the background.
On Thursday night, director Jon M. Chu (In the Heights, Crazy Rich Asians) revealed the Wicked casting, which included Grande and Erivo.
"These two witches!!" Chu wrote alongside photos of Grande and Erivo finding out they'd been cast. "The emotional moment I got to tell @cynthiaerivo and @arianagrande that they were our Elphaba and Galinda in the @WickedMovie for @unistudios wait until you see what they bring!! It is other worldly. Ahhhhh!!!"
*
 

 

 

View this post on Instagram

 

 

*
Universal Synergy…
Universal Studios also produces The Voice. Ariana Grande just popped onto The Voice this season as a coach, seemingly with nothing to promote. "I JUST LOVEEEE THE SHOW," she exclaimed.
And then, OG Glinda Kristin Chenoweth comes on the show as Ariana's Battle Advisor. The two gush about the story of how they met years ago backstage at Wicked. And then JUST DAYS before The Voice live shows begin, news breaks that Ariana got her dream role, playing Glinda, in Wicked. And Kristin tells the Wicked story all over again on social media, with photos and tweets. It goes viral. Cue host Carson Daly to promote Ariana in Wicked at the top of Monday's The Voice.
So, Ariana joined The Voice with something to promote, afterall.