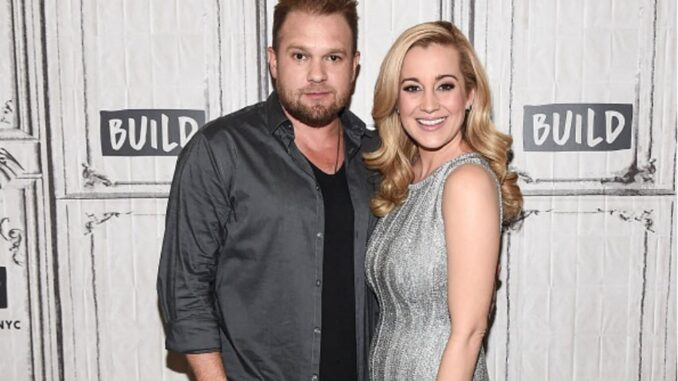 Horrible news to report. The Nashville Police Department has announced that Kellie Pickler's husband, Kyle Jacobs, died by suicide at the couple's Nashville home. He shot himself in an upstairs bedroom/office inside the house. He was 49 years old.
Law enforcement says that say Kellie was asleep, but woke a short time before the incident, when she did not see Kyle, she began looking for him. When she and an assistant were unable to open the upstairs bedroom door, they called 911. This, according to a report from TMZ.
Kellie Pickler competed on American Idol season 5 in 2006, finishing the show in 6th place. She also competed and won Dancing with the Stars with pro partner Derek Hough in 2013. She co-hosted an afternoon talk show, Pickler & Ben, for two seasons, has starred in Hallmark movies Christmas at Graceland and The Mistletoe Secret, and currently hosts SiriusXM's "The Highway" radio show throughout the week.
She and Kyle got married back in 2011, and both starred on the I Love Kellie Pickler reality show for 3 seasons starting in 2015. Kyle worked as a country music songwriter, penning tunes for artists such as Tim McGraw, Kelly Clarkson, Darius Rucker, Garth Brooks and more.
Kyle's last post on Instagram was created on two days before his death. In it, he congratulated Lee Brice on receiving a platinum certification for his album Hey World, a record that Kyle produced and played guitar on. Kyle wrote, "Platinum?! SWEEEET!!! An amazing crew of incredibly talented peeps put this one together." He continued, "Deeply honored to be a creative part of it…Thank you Jesus!!!"
Kyle was the co-writer on American Idol season 10 winner Scotty McCreery's "The Dash." Scotty wrote: "Rest in peace, Kyle Jacobs. My prayers are with Kellie and your family & friends. Kyle was a good man and a talented songwriter. He co-wrote "The Dash" with Preston Brust, which I recorded on my SEE YOU TONIGHT album. I had the honor of singing it at the National Memorial Day Concert a few years ago. May this song help keep his memory alive."