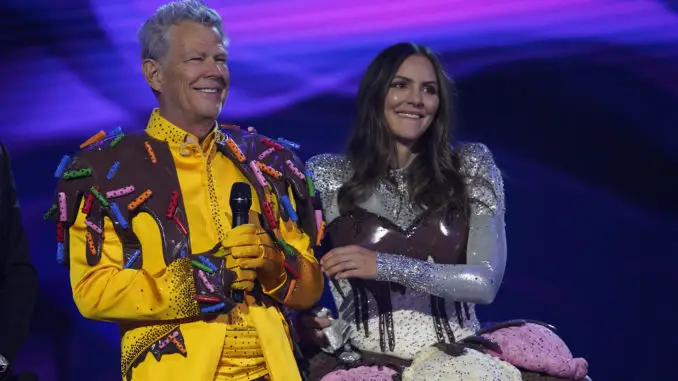 After David Foster posted a photo of his bikini clad wife, Katharine McPhee and her rock hard abs on Instagram with the caption "What baby?" the internet went kind of nuts.
David seemed to say that Katharine got her pre-baby body back and looks better than ever. The internets accused David of objectifying his wife, and putting undue pressure on her. Especially because Katharine battled an eating disorder when she was younger. Also, some folks are put off by the couple's 34 year age difference.
After folks went nuts with comments like below–and holy cow, there are over 2800 comments on David's original photo, and counting–Katharine posted another bikini photo on her account, and tried to shut the haters down.
Commenters not feeling it
mojilens: Not sure this is a compliment or more pressure on her!!! Dude just stop!

ms.miquela: the objectifying of a woman's shape by any aged human is ignorant.

debcreator: no way they're having sex No way. He's a fossil she's clearly married for the status and $$$$. Why would anyone want to be with someone that old? now she's set for life eith the trophy baby. So gross. 72 and if he's still alive when the kid is 20, he'll be 92.

glyde 69: Never seen so many mentally ill people commenting on a random post in my life.

relovemaui: How many rich dudes' wives would not be in that position without the eating disorder that keeps them super skinny? The creepiest Couples Therapy episode was when Joe Francis's girlfriend was in therapy for an ED and she would talk about northam things she ate that day, and you could see the wheels turning for him like "as long as you stay skinny we're good."

judedemorest: a man being in awe of what he just watched his wife's body do in pregnancy and post partum…is a bad thing? y'all are supremely weird.

claire.conolly: so much pressure

colgatesmile53: DF to KF Oh Katie, I love how concav your stomach looks when you don't eat. you look like a superstar.

loristella9: DUH..Its just David Foster being David Foster..superficial…you surprised?? keepin it real.
But the message on her post was more than just a snarky clap back. She went into detail about how tough it's been for her to maintain a positive body image.
I've struggled with weight my whole 20s and 30
"OK. the press around my husbands photo he posted of me is so dumb… so I hope this photo helps lol. I'm sorry but we are not sorry. And for all of you who can't deal with it maybe this helps. I've struggled with weight my whole 20s and 30. I've gone up and down 10 times over. Does that make you feel better? There is nothing wrong with that -most people do."
Katharine continued, "I lost this baby weight without dieting. Zero. Diets are the worst and I've had zero pressure from anyone. I've let me body do its thing and found a great workout. That's it. And guess what? I'll probably gain weight again at some point too. Who cares?"
"BUT people freaking out about what my husband captioned seriously get a life… Stop being so offended by what people post who have zero impact on your life and move on. Maybe you should have more of an attitude of like, let's say… 'oh that's nice he thinks his wife is hot.' I cannot with this overly sensitive society right now. But as Taylor Swift said haters gonna hate. byyeeee"
 

 

 

View this post on Instagram

 

 
Here is David Foster's original post:
 

 

 

View this post on Instagram

 

 
The couple finished competing on The Masked Singer season 6 in December as Banana Split where Katharine did the singing and David accompanied her on piano. They lost to eventual winner Queen of Hearts (Jewel) in the semi-finals.