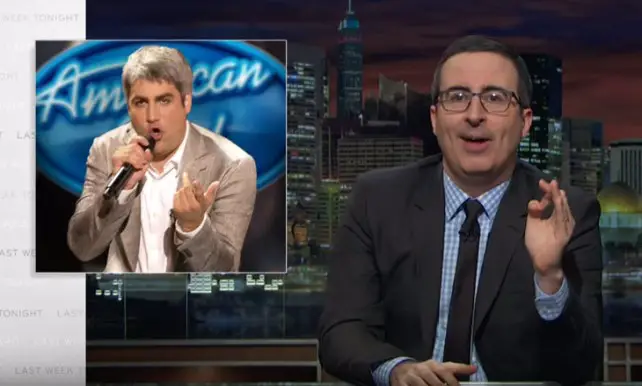 A Taylor Hicks fan got really mad at me for returning this video on twitter. It's from the brilliant John Oliver, who took apart on his HBO show, Last Week Tonight, Republican front-runner, Donald Trump's idea to build a wall along the 1000+ mile length of the US and Mexican border.
It's obvious to anyone who has given the idea a modicum of thought that the prohibitively expensive proposal would never happen, even if Trump managed to become president. The rhetoric works pretty well to stir up the xenophobic masses who fear "outsiders" coming into the country to do them harm/take their jobs, which is probably really Trump's purpose rather than honestly intending to put a plan in action. Demagoguery at it's finest!
What's great about this piece is how Oliver meticulously breaks down just how stupid and impossible an idea it really is, using a thing completely foreign to Trump, facts and figures born of actual research. What a concept.
But back to the reason I was chewed out on twitter. I'm not really keen on following politics on the blog for obvious reasons. But this video was too good to pass up! Not only for its hilarity (Oliver has already taken apart Trump's repuatation as a successful business man and straight shooter brilliantly HERE) but because of the little Soul Patrol shout out that happens beginning at about the 7:37 mark. By the way, I DID vote for Taylor back in 2006, and still found the joke funny. John Oliver gets a free pass to make fun of me any time he wants.