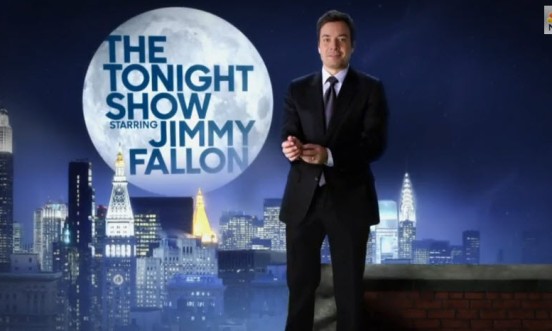 The changing of the guard at NBC late night is happening soon. Jimmy Fallon will take over the Tonight Show from Jay Leno on February 17, while SNL's Seth Meyers slides into the Late Night chair on February 24.
The new promo for Jimmy Fallon's Tonight Show celebrates all of the hosts–yes even Conan O'Brien, who had a 9 month low-rated run before Jay Leno returned to the desk. There's a report that Jimmy insisted Conan be included in the 30 seconds retrospective. There's really no point in re-writing history. The Tonight Show has been broadcasting from Burbank, CA since the early 70s, but will move back to New York City and Rockefeller Center when Jimmy takes over.
Check out the new Tonight Show with Jimmy Fallon promo.
And this funny promo for Late Night with Seth Meyers. His studio still needs a little work!