Kelly Clarkson will appear on X Factor UK
David Archuleta to perform in S'pore next month
SINGAPORE – Former American Idol runner-up David Archuleta will perform at Singapore's Hard Rock Hotel at Resorts World Sentosa next month.
The boyish singer, who shot to fame in 2008 with his performance of John Lennon's Imagine on the US talent show, will take the hotel's "The Coliseum" stage on Nov 19.
Archuleta is well known for his hit single Crush, which was released shortly after his American Idol appearance and has since sold almost two million copies.
Read more at AsiaOne
Pia Toscano back together with Queens catering-hall manager boyfriend
She's dancing with the caterer.
"American Idol" songstress Pia Toscano is back with her hometown beau, Queens catering-hall manager Carlos Nunez, just days after dumping her Hollywood hunk, Mark Ballas of "Dancing with the Stars, " according to a pal of the pair.
The stunning 23-year-old crooner and the 28-year-old Nunez, whom Toscano kicked to the curb back in April when she was an "Idol" front-runner, are again an "unofficial item, " the source said.
They attended the Oct. 10 Columbus Day Parade on Fifth Avenue together, where the Italian-American Toscano performed on a float.
Read more at the New York Post

@MusicCornerNash tweeted "So happy to have @ImMattGiraud @feliciabarton & @dannygokey out today! #mcoct22 http://pic.twitter.com/Mzz5dF1K"
A reunion of Season 8 Idols at Centennial Park in Nashville where Matt Giraud performed yesterday.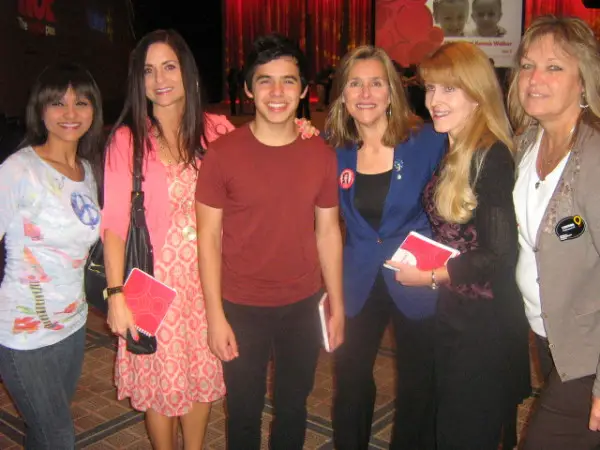 Sunny Hilden tweeted, "#Celebration11 Lupe & David Archuleta, Meredith Vieira, me & Kelli & Elizabeth from @CMNHospitals"
David Archuleta performed at a charity event for Chilren's Miracle Network in Orlando FL.
Lauren Alaina Admits She Has Bad Luck With Boys
Lauren Alaina may be repeatedly romantically linked to her 'American Idol' Season 10 castmate (and winner) Scotty McCreery in the press — and she may have received a marriage proposal while on tour this summer — but the singer admits that she isn't exactly batting .1000 when it comes to the opposite sex.
"I don't have the best luck with guys, " Alaina admitted to iHeartRadio when talking about her relationship history. "I don't have terrible luck, I just don't have time for them. I am really independent. It doesn't always work out. I have had a boyfriend before where I thought I was so in love with, so I know that feeling.
See the video at Taste of Country
Siobhan Magnus hosts spooktacular 'Hallowe'en' party
It's little wonder that "American Idol" contestant Siobhan Magnus loves this time of year — her famous scream fits in perfectly with Halloween.
That, and the Marston Mills-raised singer's flair for the macabre form the backdrop for her solo debut at the Wilbur Theatre on Oct. 30, when she'll introduce her album "Moon Baby." The name of her show? "Hallowe'en Dreams, " of course.
Read more at Boston Herald
Jennifer Hudson: I'm Not Calling Off My Wedding
Jennifer Hudson poses for some pics with her fans outside her hotel on Friday (October 21) in New York City.
A rep for the 30-year-old singer and actress recently set the record straight about a report claiming Jennifer and fiance David Otunga were calling off their wedding.
See the Photos at Just Jared
Jennifer Lopez Breaks Down, Sobs On Stage After Singing About Lost Love
Jennifer Lopez let her emotions and her tears flow while singing about love Saturday night.
During her headlining performance at the Mohegan Sun Arena's 15th anniversary celebration, she broke down in tears and ran offstage sobbing.
After an acoustic performance of If You Had My Love, Jennifer addressed the audience, telling the packed house it was "the first song I wrote about love.
Read more at Radaronline
Mohegan Sun Celebrates 15th Anniversary With Exclusive Sold Out Performance by Jennifer Lopez
NEW YORK, Oct. 23, 2011 — /PRNewswire/ — Mohegan Sun celebrated its 15th anniversary with a star-studded weekend that included a sold out performance by the sensational Jennifer Lopez. Lopez delivered a spectacular show with her popular hits like Love Don't Cost A Thing, Let's Get Loud, On The Floor and her new single Papi. Surprise guests Fat Joe and DJ Enuff had the crowd going wild.
Celebrities in attendance throughout the weekend included Glee's Lea Michele, Terrence Howard, Nick Lachey & Vanessa Minnillo, Donnie Wahlberg, Kenny Wormald, Jaime Pressly, Maria Menounos, Jesse Metcalfe, Hugo Becker, Tinsley Mortimer and Kelly Bensimon. Appearances by Chefs Todd English, Bobby Flay, Jasper White, and Buddy Valastro, Dancing with the Stars Mary Murphy, Regis and Joy Philbin, Susan Lucci, poker extraordinaire Beth Shak, and performances by Stephen Stills, Port Chuck, and Dierks Bentley. In addition, MTV's Jersey Shore castmates, Sammi, Ronnie and Deena participated in a meet and greet with fans and appeared in Mohegan Sun's Ultra 88 nightclub, adding excitement to the weekend.
Read more at the Sacbee
Mohegan Sun Party Goes On Without JLo
It was 15th anniversary celebration those who attended won't soon forget at Mohegan Sun, thanks to a second night of star power on the red carpet and the dance floor Saturday.
Among them, singer/actor Nick Lachey and his new bride, Vanessa Minnillo (in short gold party dress, ) actress Jamie Presley and beau Hanzi Hijazi, model Linda Vojtave, "Footloose" star, Kenny Wormald, and "Glee's" Lea Michele.
"This is all so great, " said Michele in a very revealing black cocktail dress. Like most going into the late-night after party at the casino's new Ballo restaurant, Michele was still on a high from the explosive concert by Jennifer Lopez.
"I would love to have her come on one of the show, "said Michele. "She is incredible."
Read more at the Hartford Courant