Carrie Underwood will be performing a special intimate show at our iHeartRadio Theater presented by P.C. Richard & Son on Tuesday, May 1 at 7pm. Read more at 106.7LiteFM
Updated Glee Spoiler posts with NEW Photos Saturday Night Glee-ver (Glee Project runner-up, Alex Newell, will make his debut) and the Whitney Houston tribute Dance with Somebody.  New Glee tonight, "Big Brother", stars the yummy Matt Bomer.
14 jurors selected in trial of suspect in slayings of Jennifer Hudson relatives – CHICAGO — With his fate hanging in the balance, William Balfour now knows most of the people who will decide whether he spends the rest of his life in prison for allegedly killing singer Jennifer Hudson's mother, brother and nephew.
So far they include a college student, a junior high math teacher, a physical therapist, a truck driver, a former prison guard and a woman who works for a local chocolate company. – Read more at The Boston Herald
Phoenix native Brooke White to be featured on new TV series – Phoenix native Brooke White, who finished fifth on "American Idol" in 2008, is being featured in a new TV show, BYUtv's "The Song That Changed My Life." The premise of the series, as suggested by the title, is to tell the story behind an artist's inspiration and reveal the song that changed the direction of his or her life. Airing at 7:30 p.m. MT on Monday, April 16, next week's episode stars White's folk-pop group Jack and White.- Read more at AZCentral
DeAndre Brackensick Talks 'American Idol,' Hair, Haters – Since getting the boot from "American Idol" last week, DeAndre Brackensick has made no bones about the fact that he had "no regrets" about anything he did on the show — in particular, his decision to flash his feathery falsetto, even if he did know it was divisive, to say the very least. "My voice is one of the voices where either you love it or you can't stand it, and I think ['Idol' mentor] Jimmy [Iovine] didn't really have a feel for my voice," he told MTV News. "But it's fine, because I take everything he does say to me to heart. … I have much love for Jimmy." See the Video at MTV
Mike Lynche backstage at Good Day New York with Chris Rene and DeAndre Brackensick.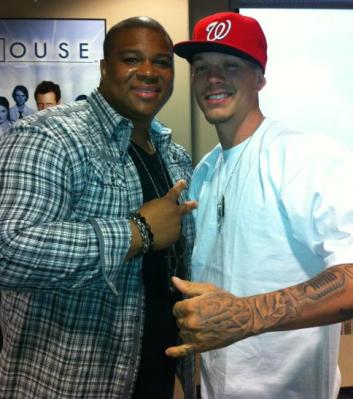 'American Idol' Designer Shops for Contestants' Costumes in West Hollywood – Soyon An, American Idol's longtime costume designer, may be the hardest-working person on the hit Fox TV series. She's been dressing the female contestants on the show for four seasons and she now does the men as well. Her daunting task is to dress all the contestants twice a week; first, for their oh-so critically reviewed performances and second, for the nerve-wracking and sad elimination show the very next night. – Read more at The Hollywood Reporter
'Would I be a judge? Would I hell': Paul Weller is no fan of The X Factor or Simon Cowell – He is one of Britain's best known artists having fronted The Jam and had a very successful career as a solo artists.But Paul Weller, the Modfather himself, has slammed aspiring singers for wanting to find fame through the X Factor and other TV singing competitions. And he said there is no way he would ever appear as a mentor on one of them if he was asked and said: 'Would I be a judge? Would I hell. Saturday-night viewing for the masses.' Read more at Daily Mail
Simon Cowell Sends "Irritated Congrats" In Battle Of 'Britain's Got Talent' Vs 'The Voice' – While ratings are strong for BGT, it debuted lower this year than last and had to concede the Saturday night crown this past weekend to The Voice UK, which airs on BBC One. Cowell on Sunday singled out BBC Controller Danny Cohen and tweeted the following: "A slightly irritated congrats to Danny and the BBC." The Voice UK has steadily added about 500,000 viewers week-on-week since its March 24 debut, but BGT was down 850,000 this week (not factoring in time shift viewings). Premiering strong on March 24 and building on March 31, The Voice still lost out in the overall ratings to BGT on both of those Saturdays. But, what's become highly notable is the fact that The Voice is consistently beating BGT during the key 20 minutes when the shows overlap. Read more at Deadline
'Dancing With the Stars': Tristan MacManus blogs Week 4 — 'Bohemian Rhapsody,' tongue-wagging with Gene Simmons, and why he's not on Twitter – Still wearing your guyliner? Rock Week is now DONE. That would be all washed off, I think. No way, I'm not wearin' that one out. Don't know how girls put that on every day. – Entertainment Weekly
Sony Raises Fiscal Year Loss Forecast to Record $6.4 Billion – TOKYO – Sony has revised its forecast for annual losses to a record 520 billion yen ($6.4 billion) for the year to March 2012, due to a 300 billion yen tax charge on its U.S. assets. The company is making no changes to its forecasts of sales, revenue or operating income. The tax charge is being taken due to deferred tax credits in the U.S. which Sony will no longer be able to use because of continuing losses. Sony registered its fourth straight year of red ink in the fiscal year that ended March 31. – Read more at Hollywood Reporter
American Idol 3D Recap – The Top 8 Do 80's Night And THE WANTED Are "Glad You Came"
Eric Stoltz: How 'Glee' gave me a new direction – "When I first came to the Glee set last season, I could tell they'd been through a great deal — the actors were close-knit and a bit guarded, and rightly so. Who was this redheaded stranger coming into their world, asking questions and taking notes? Before I start directing a show, I try to spend a few weeks hanging around the set, getting to know the crew and talking to the actors about how they like to work. Who is fussy? Who is left-handed? Who wants to go home early, and who is the perfectionist? There is no "right" way to work, and familiarizing myself with everyone's method is a respectful place to start. And it's also a lot of fun stealing Jane Lynch's journal and reading it in the bathroom… – Read more at Entertainment Weekly