Episode 16
Saturday Night Gleever
Airdate: April 17
Directed by Bradley Buercker
Written by Matthew Hodgson
As always, watch this space for details as they become available
VIDEO:  Watch "Disco Inferno", "You Should Be Dancing" Full Performances
AUDIO:  Listen to Full Songs from Saturday Night Glee-ver
Gleezone Description:
When Will worries some of his students are lacking a clear direction for their futures, he tries to inspire them through the music of Saturday Night Fever. While some of the students use the lesson to get a clearer idea of what they want from their lives, it inspires others to take an extra step towards helping their loved ones achieve their dreams. Meanwhile, Sue's arch-nemesis Roz Washington returns with an eye to wrest away control of the Cheerios, and a student from a rival show choir seeks advice from Kurt and Mercedes. (Gleezone)
NEW: Alex Newell's character, Wade, comes to Kurt and Mercedes for support, as he is being groomed to perform at Nationals as the Vocal Adrenaline lead. He has a drag persona named Unique, and he wants to perform at nationals AS Unique. (FYeahGlee)
Jesse St. James (Jonathan Groff) makes his first appearance (he'll be coaching Vocal Adrenaline at Nationals) –   Glee Project, runner up, Alex Newell  plays Wade who is a vocal adrenaline member. Jesse is back as coach.  VA performs at a local mixer and performs disco. Alex will get his drag on. If you've seen the glee project you knew it was coming. (Glee Spoilers)
NEW: Gleezone Spoilers
is How Deep Is Your Love just finn and rachel in the auditorium or is it like a montage type number? Both.

Does Santana figure out her future? She knows what she wants to do.
is there any Wemma? Is Jayma in the episode? Yes, they're helping the students figure out their futures.
which ships have the biggest story lines in SNG? Get the characters with main plot in SNG plus the 2nd sentence of the episode description and you'll get an idea.
Are there any samcedes scenes in this episode? Yes, they have a very sweet scene.
What is the song from the BTS where all of the couples are dancing together? More than a Woman? Yes.
Who would you say has the main plot in SNG? Santana, Finn and Mercedes.
New: More Spoilers
Brittany and Santana have 2 one-on-one scenes.
The sex tape line is still in the episode and was not cut.
"If I Can't Have You" is not a performance without meaning or relation to the plot.
There is no Blaine in this episode apart from what he does in performances. He is not relevant to the plot.
"More Than A Woman" is predominantly a Finchel number.
Finn features a lot in this episode.
In general, the episode is focused on the seniors.
NEW: GleeSpoilers
Will is running out of ideas and himself and Sue come up with the idea for Disco.
Will sings night fever as a way of showing how cool disco is.
The kids initially don't like it but they soon get into the swing of it
Brittana will have a lot of scenes this week
Kurtcedes is back
Alex Newell the Glee Project Winner makes his first appearance, he i is a huge fan of Kurt and Mercedes, (and a member of Vocal Adrenaline) he invites them to a performance which is going to be broadcast on TV. Alex does a performance in drag. He sings Boogie Shoes
Johnathan Groff also comes back as the Coach of VA
How Deep is Your love is an intimate scene with only Finchel present
Official FOX Description:  The New Directions pay homage to the movie "Saturday Night Fever" by grooving to disco-infused dance numbers in the all-new "Saturday Night Glee-ver" episode of GLEE airing Tuesday, April 17 (8:00-9:00 PM ET/PT) on FOX. (GLE-316) (TV-14 D, L)
Guest Cast: Chord Overstreet as Sam Evans; Lauren Potter as Becky Jackson; NeNe Leakes as Coach Roz Washington; Jonathan Groff as Jesse St. James.
Saturday Night Glee-Ver Song Spoilers (In song order with confirmed vocal credits)
You Should Be Dancing – Blaine, Brittany, Mike
Night Fever – Will, Sue, Joe, Blaine and ND
Disco Inferno – Mercedes, Santana and Brittany
If I Can't Have You – Santana, ND
How Deep Is Your Love – Rachel
Boogie Shoes – Alex Newell and Vocal Adrenaline
More Than a Woman – Finn, ND
Staying Alive – Finn, Mercedes, Santana, ND
Sue convinces Will to assign the kids "Saturday Night Fever". She says if Will turns it into a contest, the kids will be game, even though they've expressed their hatred for disco in the past.  See the video clip below.
Sneak Peek Video: Klaine, Mercedes kills "Disco Inferno" with Brittana, New Directions get their hustle on!  See video clip below
New Promo with Song clips!  Is there a Brittana sex tape? (Proably not. Heh) See video clip below

PHOTOS!: Glee Project runner-up Alex Newell makes his debut in Saturday Night Glee-Ver.  Ryan Murphy has described him as "the love child of Kurt and Mercedes and will turn to them for much advice."  Murphy revealed earlier this season that Alex and Jonathan Groff will share "many scenes" together leading up the big Nationals face off.  (EOnline)
tw@masked_scheduler  tweets, "If you suspend all reason, continuity and logic, #GLEE 's homage to Saturday Night Fever was damn fine.
Glee is shooting Disco Inferno in the choir room today (3/6) (FYEAHGlee)
Original Lighted Floor from Saturday Night Fever (Via Fyeahgleeclub) Another photo HERE.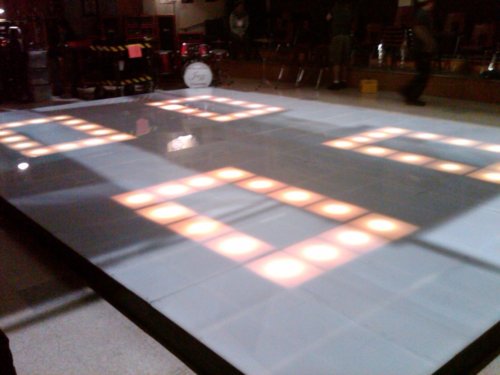 "Midnight on the set of Glee" – Cory Monteith
"Another great disco number in the auditorium with HeMo @DarrenCriss and @iharryshum" – Lea Michele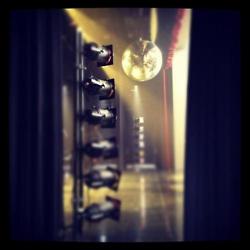 NEW: Sue convinces Will to assign Disco to the kids (SWAG)
http://youtu.be/hRXAJw-g50Q
NEW Sneak Peek – Saturday Night Glee-ver
http://youtu.be/NqdIIfa6DFs
NEW: PROMO Saturday Night Glee-Ver

NEW:  Promo 2
Spring Promos
GENERAL SPOILERS (Not Specific to Saturday Night Glee-Ver)
UPDATE: TheGleeSpoiler chic awkwardly spilled that both Kurt and Rachel get into NYADA (And then awkwardly tried to take it back. TOO LATE!)  That's really not a surprise. I figured there would be a spit narrative next season between New Directions at McKinley and Kurt and Rachel at NYADA in New York City
A Big Song For Kurt & Controversial Developments – Chris Colfer teased what's next for Kurt in an interview from the  "8" Red Carpet, "Kurt's going to have some stuff coming up which I' m excited about–singing a very very big song. Kurt's going to go through some stuff I don't think everyone's going to like, but I side with him. That's all I'm going to say."  (OnTheRedCarpet)
(The "big song" is probably the Whitney love song Kurt sings to Blaine in episode 17)
Is the "stuff" Kurt is going to go through have something to do with a new gay character Glee is currently casting?  The show is looking for a new gay character named Chandler who is the opposite of Sebastian–a masculine hottie who's full of joie de vivre.
ETA: Chandler is a MINOR character: " A Glee source assures me that the Chandler character appears in one scene, and relatively unimportant one at that. Translation: Chillax. (Chillax? You were the troll making a big deal out of it in the first place, Ausiello) (VIA TV Line)

Glee is also looking for a burly Eric Stonestreet type to play a wedding planner.  (Wemma wedding?) Hm.
"A Glee insider tells me that Season 3's final six episodes will be "super-emotional — everyone cries when they read [the scripts] — in a good, satisfying way."   (Via TV Line)
According to TV Line, Sam Evans (Chord Overstreet) is a SENIOR.
Max Adler (Dave Karovsky) is coming back to Glee as soon as he's finished shooting a guest star spot on the Last Resort (FYEAHGlee)
NEW: "the Fox hit is currently looking to cast an imposing theatrical grande dame who would appear this season and next? Could this possibly have to do with Kurt (Chris Colfer) and Rachel's (Lea Michele) post-McKinley high plans? Time will tell…  (EOnline)
Tweets:
Lea Michele tweets, "Yes on set right now!!! In the choir room:" (2/22)
Lea Michele tweets, "No but @DarrenCriss is:) RT @caitygleek: @msleamichele are you singing?" (2/22)
Naya Rivera tweets, "At work, been shooting Brittana scenes all day!" (2/22)
NeNe Leakes tweets, "Morning tweetie pies! Up n the air headed back 2 Glee"
Lea Michele tweets, "On set now.. Working on episode 16.. Seven episodes left to shoot for season 3!" (2/23)
Samuel Larsen tweets, "Another lovely day at McKinley High." (2/23)
Alex Anders tweets, "Just finished up a classic song with @NayaRivera She sounded great as usual! This is going to be a fun episode." (2/23)
Naya Rivera tweets, "It was so fun! @alxanders" (2/23)
Iqbal Theba tweets, "On the set today doing a scene for ep 316…" (2/23)
Lea Michele tweets, "At work now.. It's feeling' a little 70's in here today" (2/24)
Lea Michele tweets, "Great scene earlier today with @janemarielynch" (2/24)
Lea Michele tweets, "In the auditorium now shooting a very cute #Finchel scene.. Getting to sing one of my favorite songs right now!" (2/24)
Alex Anders tweets, "Lot's of cast vocals today. Heather and @iharryshum we're just in, and @MsAmberPRiley is layin' down a track with some stank on it! Woo!" (2/24)
Cory Monteith tweets, "Midnight on the set of glee http://yfrog.com/gzu2xkrj" (2/25)
Samuel Larsen tweets, "We are dead tired can't you tell. @chordover http://instagr.am/p/HhB6O1Kwh2/" (2/27)
Lea Michele tweets, "@NayaRivera is killing it in the choir room right now. Singing and rocking it in the sexiest 70s jumper" (2/27)
John Lock tweets, "Yeah its early & I don't feel like partying but @NayaRivera's outfit is making me feel like its at least 1am & we's be clubbin. (2/27)
Kevin McHale tweets, "Nothing like starting the week off* with @NayaRivera sangin a lil ditty* and lookin all fiiiiine. (2/27)
Naya Rivera tweets, "Almost finished with my 70s number! I'm going to be so sad when I have to give this outfit back!" (2/27)
Lea Michele tweets, "Another great disco number in the auditorium with HeMo @DarrenCriss and @iharryshum …. http://pic.twitter.com/Myydt4Gu (2/27)
Iqbal Theba tweets, "Glee is richer with @NeNeLeakes Figgins likes her, too ;-) http://pic.twitter.com/qaG22vRQ (2/28)
Alex Anders tweets, "@CoryMonteith @NayaRivera Thanks for hangin' in there tonight! Much appreciated." (2/28)
Naya Rivera tweets, "Getting my Toni Braxton tone on in the studio with @alxanders" (2/29)
Alex Anders tweets, "@NayaRivera yeah…sultry!" (2/29)
Samuel Larsen tweets, "Long day at McKinley High, school has never been more fun than it is right now, if my high school was like this I would have actually gone." (2/29)
Alex Anders tweets, "Starting off a full day of cast vocals with @chriscolfer this morning. He's about to burst with excitement about his next song! (3/01)
Amber Riley tweets, "Just filmed something really special, can't wait to share :) exhausted, but I'm omw to work now! About to watch a special guest perform!"
Alex Anders tweets, "Good to have @CoryMonteith back in the studio again today. Always fun!" (3/1)
Samara Rivera, tweets, "workin on GLEE on thursday woo hoo so happy its a concert scene so ill get to c all the kids perform luv me sum rachel n finn"  (3/1)
Samara Riviera tweets, "ok off to work on glee with the full cast doing a show!!!!!!! love it"
Tahnae Luke tweets, "@chriscolfer I was an extra behind u yesturday in the wings and just wanted to say thanks for the best day of my life
Tahnae Luke tweets, "@MsAmberPRiley just want to say thank you for being apart of the best day of my life yesturday! I was an extra in the front wing and omg!!!"
Lea Michele tweets, "First scene up w/ @chriscolfer (3/5)
Lea Michele tweets, Not in this episode:( Just a hallway scene.. RT @CoryMontyGleek: @msleamichele hummelberry duet?? (3/5)
Lea Michele tweets, "@chriscolfer that was so fun this morning" (3/5)
Lea Michele tweets, "Off to dance rehearsal now! Gotta get my disco on." (3/5)
Lea Michele tweets, "Woke up at 5am this morning for work. Only thing that's ok about getting up that early is knowing I get to watch @MsAmberPRiley sing now" (3/6) (Disco Inferno)
Lea Michele tweets, "Lots of dancing to do today! @iharryshum's giving me some pointers right now" (3/6) (Disco Inferno)
Harry Shum tweets, "@msleamichele you're helping me more than I'm helping you  (3/6) (Disco Inferno)
Naya Rivera tweets, "Been dancing all morning, having so much fun with @MsAmberPRiley and Hemo! (3/6) (Disco Inferno)
Lea Michele tweets, "Doing such a fun #Finchel 70's dance number in the choir room right now!" (3/6)
Lea Michele tweets, "Last day of disco today! It's gonna be a looong day…"
Lea Michele tweets, "Some times I can't believe it's my job to come to work and do things like the hustle:) Pretty sweet.. #gleedoesdisco" (3/7)