Melanie Amaro New Management –  The X Factor winner Melanie Amaro, who just inked her prize-winning $5 million recording contract with L.A. Reid's Epic Records is being repped by AGPS Management's Jared Paul and Irving Azoff. They should help her spend that windfall wisely.  – Hits Daily Double
Scotty McCreery scheduled for a solo concert, in associationn with the University of Antelope Valley, at the PEC Center in Lancaster, CA on January 29.
Lee DeWyze and Fiancee Ring in 2012!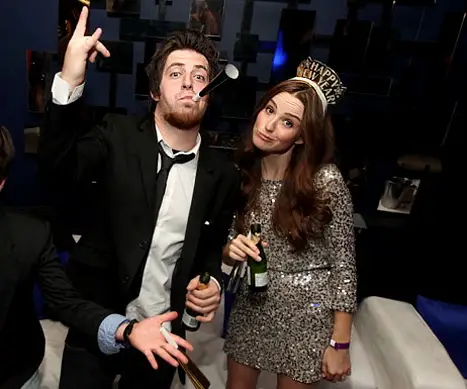 American Idol winner Lee DeWyze sipping on Bud Light Platinum beer alongside his fiancee Jonna Walsh at the New Year's Eve bash at Hard Rock Hotel in Chicago. – US Magazine
Former X Factor star Kerry McGregor dies of cancer – The 37-year-old from West Lothian appeared on the third series of the show in 2006. A spokesman said: "It is with deep sadness we announce that Kerry passed away at home, earlier today, following a battle with cancer." During The X Factor she was mentored by Sharon Osborne in the series that was won by Leona Lewis. Kerry went out in the third week of the live finals. She performed in a wheelchair as a result of an accident when she was 13. – Via the BBC
Simon Cowell tweeted, "I just heard the sad news about Kerry McGregor. I really admired Kerry and my thoughts now go out to all of her family & friends."
GLEEK ALERT Darren Criss, the breakout star from "Glee," makes his Broadway debut. To celebrate, Alan Cumming, Parker Posey, Lily Rabe, Andrew Rannells and Jordan Roth are giving a cocktail reception in his honor. Mr. Criss, a 24-year-old heartthrob, is also expected to perform at the piano, perhaps a number from his show, "How to Succeed in Business Without Really Trying." The Darby, 244 West 14th Street, howtosucceedbroadway.com. Jan. 9 from 6:30 to 8:30 p.m. Invitation only. – Via the NY Times
Elton John Not Available to Play Rachel's Dad on Glee – While Glee is finally getting around to casting Rachel Berry's gay adoptive dads for an upcoming episode, Elton John — long-rumored for one of the roles — is unavailable. "I'm currently meeting and talking to [actors]," confirms executive producer Ryan Murphy. "So many people are interested in playing them." But while Ryan loves Elton, he tells me, "He is, unfortunately, touring." "I had no idea when I sent out word to a couple of agents that there would be so much interest," Ryan says. "But there is." – TV Guide
Haley Reinhart Casey Abrams "Baby It's Cold Outside" – LIVE in the Akoo Studio (acoustic version)