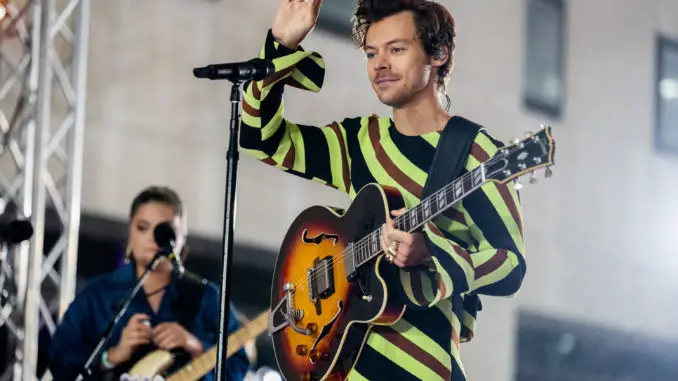 Harry Styles Songbird Tribute to Christine McVie
Christine McVie, member of the legendary band Fleetwood Mac, died earlier this week. Many tributes have been paid to her, including from Harry Styles. The X Factor UK alum and former One Direction member performed McVie's "Songbird" during his concert in Chile on Thursday (Dec 1).
Harry performed an acoustic version of the song, first released as a track on Fleetwood Mac's classic 1977 album, Rumours. After he finished, he remarked "Thank you, Christine" while blowing a kiss.
Harry Styles Opens Up About Toxic Fandom "I just wanted to sing"
Harry has stated his admiration for the band. The singer has covered Fleetwood Mac's "The Chain" for the BBC Radio 1 Live Lounge. He also performed with another Fleetwood Mac member, Stevie Nicks, several times, playings songs such as "Landslide" and "Stop Draggin' My Heart." He also inducted Stevie into the Rock & Roll Hall of Fame in 2019. On Wednesday, Harry shared a black-and-white photo of Christine to his Instagram stories.
The singer recently completed a brief residency at the Kia Forum in Los Angeles, though three postponed dates will take place at the end of January. Currently, Harry is playing a short run of shows in South America, with Argentina and Brazil dates set for the coming weeks.
Additionally, Harry has been nominated for six Grammy awards for his album Harry's House and song "As it Was." The categories include Song of the Year, Record of the Year, Album of the Year, Best Music Video, Best Pop Solo Performance, Best Pop Vocal Album.
The singer has also been nominated for 6 People's Choice Awards, including Male Artist, Song of 2022, Album of 2022, Music Video and Concert Tour.
Watch Harry Style's sweet tribute to the late Christine McVie below.