It's time for another Glee spoiler master post! Season 5 premieres on September 26, and already the cast is hard at work in the studio.
The first two episodes will be Beatles' tributes. Written back in May, the death of co-star, Cory Monteith will not be an issue. C0-creator, Ryan Murphy is writing the 3rd episode, which will be a tribute to Cory and deal with the death of his character, Finn Hudson.
But lets stick to the happy stuff for this masterpost! As always, I'll be gathering all the intel I can find on each episode and organizing it into one handy-dandy post.  The first episode is called "Love Love Love" which is a line from the Beatles' 1967 single, "All You Need is Love."
Don't forget! There are major cliffhangers to be solved. At the start of season 5, it will still be spring, 2013. Prom, nationals and graduation are still coming up!  Will Blaine propose to Kurt? Will Rachel get the lead in Funny Girl? Will Ryder return to the Glee club? Will Sue get her job back at McKinley? These are some of the burning questions that will hopefully be solved in Season 5.
UPDATE: A few klaine spoilers from dasterdd
Kurt and Blaine talk about getting back together at their picnic. The audio clip that was released is part of this conversation, but there is more to it from both of them.
Kurt also talks about Adam at the picnic, though not by name.
Blaine is the one who planned the duet and marching band, though Kurt starts it off.
Kurt has a scene with Burt in which Kurt talks about his feelings towards Blaine.
The picnic/duet scene and AYNIL are Kurt and Blaine's only scenes together.
And because I know people will wonder, I have no idea whether or not they kiss after the proposal. That was not something my source could say.
UPDATE: New sound file! Blaine pleads with Kurt to be his boyfriend again
***
UPDATE: Spoilers from Wish You Would:
There is a minor subplot with Tina being more bitter/lonely than usual. Blaine gets the guys together to sing I Saw Her Standing There to cheer her up and at the end they say she can pick one of them as her prom date. It's also mentioned that Mike dumped her because she is "not Asian enough". (It's weird.). Tina picks Sam, because he is "the least gay or Asian"
Sue gets her job as principal by planting a ton of fetish porn on Figgins, getting him fired. She tells Will that if he does not win Nationals, she'll fire him.
Tina confronts Artie about his secret relationship with Kitty and outs them to the choir room. By the end of it, Kitty and Artie decide to "go public".
Blaine proposes on the  stairs. :) (The exact spot where they met at Dalton.)
Kurt gives his answer.
UPDATE:  NEW VIDEOS
Rachel's chemistry audition for Funny Girl goes wrong. With cameos from  Twilight's Peter Facinelli and Brit Actor Ioan Guffold
Sue Sylvester returns…as principal of McKinley
Lots of fun scenes from Season 5
UPDATE: New Photos!
UPDATE: New synopsis from FOX television production spells trouble, but a second chance for Rachel's bid for the lead in Funny Girl. Plus, Blaine's big production number of "All You Need is Love" at Dalton is his proposal to Kurt!
Will gives New Directions a double dose of Lennon and McCartney when he assigns the kids two weeks' worth of the classic music of The Beatles. Following a disappointing "chemistry audition" callback for Funny Girl, Rachel realizes that in order to grow as an actress, she needs more life experience, so she takes a job with Santana working as a waitress. When the director who snubbed her comes in for a meal, Rachel seizes the opportunity and gets a second chance to impress him.

Despite their obvious mutual attraction, Artie is disheartened but complicit when his sort-of-girlfriend Kitty demands that they keep their relationship a secret from the others at school. Meanwhile, bolstered by the recent rekindling of their romance, Blaine brings together a group of unlikely allies to help him "pop the question" to Kurt. And everyone's on edge when a power-hungry Sue Sylvester returns to McKinley with a new job as the school's "interim" principal.

PRODUCTION CREDITS: Written by: BRAD FALCHUK Directed by: BRADLEY BUECKER

STARRING: CHRIS COLFER Kurt Hummell DARREN CRISS Blaine Anderson JANE LYNCH Sue Sylvester KEVIN MCHALE Artie Abrams LEA MICHELE Rachel Berry MATTHEW MORRISON Will Schuester CHORD OVERSTREET Sam Evans NAYA RIVERA Santana Lopez JENNA USHKOWITZ Tina Cohen-Chang JACOB ARTIST Jake Puckerman MELISSA BENOIST Marley Rose BLAKE JENNER Ryder Lynn ALEX NEWELL Wade 'Unique' Adams BECCA TOBIN Kitty Wilde

SPECIAL GUESTS: AMBER RILEY Mercedes Jones MIKE O'MALLEY Burt Hummel IQBAL THEBA Principal Figgins NENE LEAKES Coach Roz Washington GRANT GUSTIN Sebastian Smythe MICHAEL HITCHCOCK Dalton Rumba
UPDATE: More spoilers from WishYouWould
It looks like Santana is involved in one of the Funny Girl theater 

scenes with Rachel in the first episode; they also were looking for extras to play stage managers, producers, assistants, etc regular theater crew type of roles
UPDATE: Lea Michele hit New York City to film scenes at Sardis,  St. James theater (standing in for Funny Girl) and Central Park. She looked adorable in pink. Also, Twilight's Peter Facinelli and Brit Actor Ioan Guffold shot scenes with Lea as part of the Broadway storyline.
UPDATE: NEW SPOILERIFIC PROMO FROM FOX!  The "All You Need is Love" performance looks EPIC. And there is Kurt, on the staircase watching it all unfold. This proposal is going to be ridiculous in the best possible way.
UPDATE: According to TV Line, Artie and Kitty will become an item. Here they are together at the carnival the Lima kids attend:
UPDATE: Official FOX Episode Summary:
BEATLEMANIA HITS LIMA! ON THE ALL-NEW SEASON PREMIERE OF "GLEE" THURSDAY, SEPTEMBER 26 ON FOX
The members of New Directions are back in action and take on their biggest assignment yet: the Beatles! As Will enlists the kids to pay homage to the classic song catalog from the Fab Four, Blaine and Kurt attempt to answer questions about their future together. Meanwhile, Rachel's New York ambitions take an unexpected turn in the all-new "Love, Love, Love" season premiere episode of GLEE airing on Thursday, Sept. 26 (9:00-10:00 PM ET/PT) on FOX. (GLE-501) (TV-14 D, L)
UPDATE: FOX Fall Preview:
Somehow, Sue Sylvester makes her way back to McKinley. Reportedly, she's become the school principal. Figgins is demoted to janitor.  In a recent interview with TV Guide, Jane said, "She has a new position of power, and there's one scene where she makes everybody get a polio vaccine, even though the disease was eradicated decades ago." What about Figgins? "Principal Figgins is still around, but we'll learn in what capacity," Lynch said. "And I have power over [new Cheerios coach] Roz Washington."
Blaine says, "Kurt and I will have a happy ending"
UPDATE: Chris Colfer was spotted on set recently AND HE WAS IN KURT COSTUME WITH A RING ON HIS FINGER.  It looks like Blaine proposed, and Kurt said yes.Gleek Out Brasil confirmed that it's Kurt's ring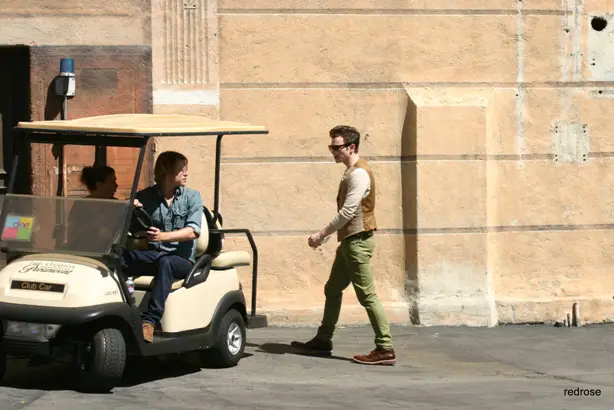 UPDATE: HOLY CRAP! Chris Colfer and Darren Criss filmed "Got To Get You Into My Life" at the McKinley lunch area location.  There are photos and videos that reveal that the duet is fun, flirty AND THEY KISS AT THE END! THAT'S RIGHT A KLAINE KISS.
Klaine scene deets
there was a bus sitting on the curb next to the school that says New York City Transit (like a normal city bus, she sent me a photo)
Kurt's wearing green pants
Blaine had yellow sunnies
Kurt and Blaine are dancing on picnic tables and they ended the song facing each other on the same table
the marching band is playing around them
extras are playing students sitting at the tables
See MORE HQ Photos at ImageBeam
WATCH THE KISS IT COMES AT THE END OF THE SONG!
First take
Second take – A very, uhm, ENTHUSIASTIC take
Third take – Longer look at the song. Great Kurt shots. Most unobstructed view
Blaine and Kurt having a romantic picnic! Via twitter
UPDATE: NeNe Leaks will be back as Coach Roz. She tweeted that she was "up late reading my Glee script."
UPDATE: Grant Gustin is on set (Aug 12)! That's right, Sebastian, the former Head Warbler,  is back, and I'm sure he still smells like Craig's List. Heh. HE'S BEEN SPOTTED ON SET.
UPDATE: On Monday, August 12 there was a huge shoot in Pasadena, where Dalton Academy scenes are filmed. Along with Grant Gustin and the Warblers,  EVERYBODY was there, including Chris Colfer, Darren Criss, MIKE O'MALLEY! Matt Morrison,  Chord Overstreet, Lea Michele, Amber Riley, Alex Newell, Melissa Benoist, Becca Tobin, Blake Jenner, Jacob Artist, Naya Rivera and Kevin McHale.
A fan who was on location posted an account with photos:
I was about to leave when we heard they were going to start filming somewhere we could see. Mike O Malley was there talking to Chris and then they started setting up. Kurt walks in front the right side and this is his approach. He must see something spectacular because he looks up in awe and surprise. The song playing back (that we could hear) was Blaine singing "All You Need Is Love." The gathering of fans within listening area collectively swooned and squeed with excitement, myself included.

That's the gist of the Klaine scene. We know Burt's there and Blaine's singing and Kurt walks up to this particular area, the camera on his face, and he reacts to what he sees in front of him.
It sounds like Blaine surprises Kurt in some way. Could it have to do with the proposal? It's the very last scene of the episode! (Source). Now that we've seen Kurt on set wearing a ring, it's a safe bet that the Dalton scene is Blaine's proposal.  There are lots of photos: Grant got a haircut. Chris Colfer and Mike O'Malley. Chris and Mike relax between takes Darren Criss in his mustard pants.
Here's a video from set. It looks like Burt brings Kurt to Dalton. Kurt approaches the entrance and the singing begins. At first he's confused but as the music begins, he crosses the street and enters the grounds. Blaine is singing. Burt hangs back while the scene plays out.
Chris Colfer dishes a little to Entertainment Tonight about the Klaine storyline:
"I don't know if I can say, because it would ruin the first episode. But I think the fans are going to be very pleased. That's all I'll say.
When asked if he's excited that in theory, Klaine could get married, Chris answered,
(laughs) Again, I'm not gonna say anything, because it would ruin the first episode…
Hm. Watch the entire interview HERE.
More Photos of the Cast at Dalton
What we know so far about the Glee premiere?  No plot line yet. But we have some song titles and scene details::
We've got 4 song spoilers.  The duets so far: Kitty (Becca Tobin) and Artie (Kevin McHale) will duet on the 1965 tune "You've Got To Hide Your Love Away" from the Help! LP.  Blaine (Darren Criss) and Kurt (Chris Colfer) will sing "Got To Get You Into My Life" the 1966 tune that appeared on the Revolver album.
Rachel (Lea Michele) is set to sing "Yesterday." Aaaaand I'm pretty sure at this point we'll all be reaching for the tissues.  Lea tweeted about recording the song, "Couldn't have picked a more beautiful song to start the year with," she posted.
ETA: Rachel and Santana will sing the 1964 song and title to the first Beatles movie "Hard Days Night."
MORE SONG SPOILERS:  
"Help" – Sam and Blaine
"I Saw Her Standing There" – Blaine, Sam, Ryder and Jake
"Drive My Car" – Artie & Kittie with Blaine, Ryder, Sam and Jake
See the FULL SONG SPOILER LIST at the bottom of the page!
And Blaine will sing "All You Need is Love" with FOUR choirs! I have no idea what that's about, but it sounds like an episode ending tune to me (ETA: Yes, it is! Likely, Blaine's proposal).  The choirs involved have all made appearances on Glee in the past. There are The Warblers, the group that Blaine used to lead at his old school, The Dalton Academy. They sort of became enemies last year, when the group, led by evil schemer Hunter, cheated in an attempt to win sectionals. Vocal Adrenaline has been the New Directions nemesis since season 1, beating them at several competitions. And the Deaf Choir stooped to stealing their songs in Season 2 in order to win a competition. Are we sensing a pattern here? ALL TOGETHER NOW!
Glee filming is set to take place in Pasadena on Monday at the location where Dalton Academy scenes have been shot.
Thursday night (August 8), cast members from the McKinley side worked on an all-night shoot filming scenes that take place at a carnival. The cast and crew instagrammed a ton of photos, like this one, this one, and this one. This is a little creepy. Blake Jenner throwing darts!  Click for a ton of photos from the carnival.
Also set to appear in this episode is Amber Riley (Mercedes)! She's been demoted from series regular to recurrent this year, but that doesn't mean she won't pop up sometimes in the series. On August 8 she tweeted, "@chordoverstreet yep! I worked yesterday, I think I work Mon and 2 other days next week! Can you tell @druidDUDE to bring our art projects!"
Tidbits:
Glee shot a small scene at a regular location in the Gym at Bernstein High School Hollywood. (GoForLocation)
Darren Criss told the folks at Good Day LA that he was fitted for the classic suits the Beatles wore on the Ed Sullivan show. ""I will say I just got to do a fitting of the famous Ed Sullivan outfits that they did…I was doing the fitting going 'this is so awesome'". Check out the cool look HERE. Reportedly, "We get to recreate some of the scenes from some of the great movies," said Darren.  Sound like the kids will be recreating some of the iconic moments from the Beatles films like Help and A Hard Days Night,  along with the Ed Sullivan Show.
On her first day on set for season 5, Lea Michele tweeted a pensive photo of herself sitting on her bed in the New York City loft with the caption, "Feels so good to be home…"
5×01 Song Spoilers (via super-reliable Glee spoilers, Gleek Out Brasil)
"You've Got to Hide Your Love Away" – Kitty and Artie
"Got to Get You Into My Life" – Blaine and Kurt
"Yesterday" – Rachel
"All You Need is Love" – Blaine with New Directions, The Warblers, Vocal Adrenaline and Deaf Choir
"Hard Days Night" – Rachel and Santana
"Help" – Sam and Blaine
"I Saw Her Standing There" – Blaine, Sam, Ryder and Jake
"Drive My Car" – Artie & Kittie with Blaine, Ryder, Sam and Jake
Read More:
Glee Season 5 Spoilers! "Tina In the Sky With Diamonds" Songs, Photos Details
Glee Beatles Tribute Compilation Album Released 9/24 – Cover Art – Track List
Glee Season 5 – Klaine Proposal Spoilers! (Photos)
Glee Season 5 Spoilers: Major Klaine Scene Filmed At Dalton Academy
Glee Season 5 Kevin McHale Describes Extremely Emotional Cory Monteith Tribute
Glee Cory Monteith Tribute – Who Are the Returning Cast Members?
Glee Season 5 Spoilers: Details on "Gut Wrenching" Cory Monteith Tribute