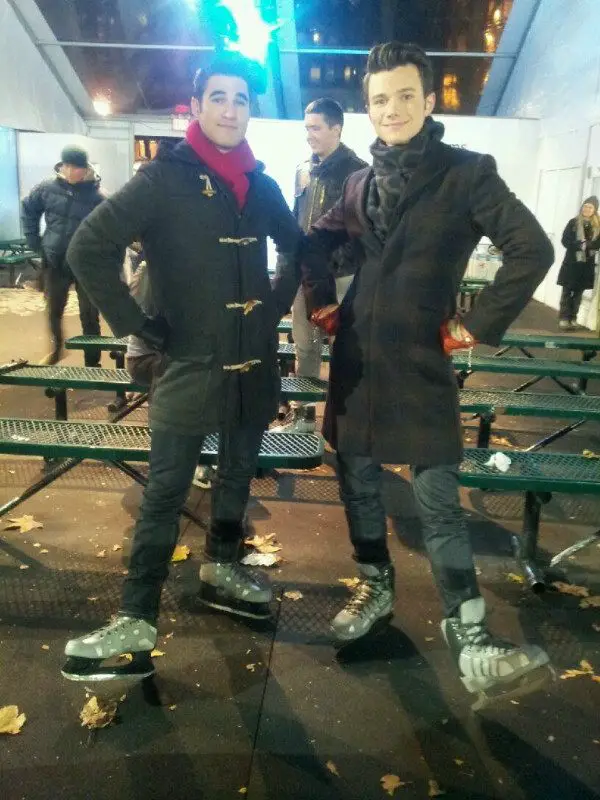 Photo: Chris Colfer twitter: Eleven hours in ice skates! We're ready for the olympics…or the hospital. @DarrenCriss
Hey Klainers, are you ready to freak out? Yesterday, Darren Criss and Chris Colfer filmed their Christmas duet at the Bryant Park ice skating rink! From what I gather from the spoilers, the two sing "White Christmas" and it's not an unhappy occasion!
It appears that Kurt's dad, Burt, brings Darren to New York City to surprise Kurt. One spoiler has Blaine call Kurt's name from the ice. Kurt turns around and Blaine says, "Surprise!".
The two skate, sing, flirt and hug. At one point, the couple gets close enough to kiss and then don't Kurt falls and Blaine helps him up. The performance sounds a lot like season 2's flirty duet, "Baby It's Cold Outside." The irony of course, being that it's a post-break up thing rather than an about to get together deal.
No, the couple don't get back together in this episode. But honestly, I am convinced that Kurt and Blaine are endgame. It's just going to take a little more time. Aw. Sigh.
ETA: From TV Line:
Colfer also teased that during this intrinsically romantic reunion, Kurt and Blaine arrive at a certain "realization" that will set the course for whatever lies ahead for the onetime couple. Lastly, does Blaine surprise Kurt with this latest visit to the Big Apple? "There's a reason he's there…," Colfer allowed, "but it's kind of a secret."
From The Insider:
"I don't want to say if they're getting back together or not," Chris told TheInsider.com, "but they've decided to be friends. They mean too much to one another to ever let their friendship go away entirely."
Sounds like Blaine and Kurt decide to stay apart, but remain friends.
Read More:
Glee Season 4: Darren Criss Covers Kelly Clarkson's "Dark Side" VIDEO
Glee Photos: The Graduates Sing Phillip Phillips' Home and MORE
Glee Season 4 – Dynamic Duets – Song Previews and Spoilers
Glee Season 4 Spoilers: Glease, Dynamic Duets, Thanksgiving, Glee Actually
Check out photos and videos from yesterday's shoot! Adam Shankman directs the Christmas episode titled "Glee Actually" set to air December 13. The Klaine skate is one vignette out of several inspired from the film, Love Actually.
On Sunday, Lea Michele, Dean Geyer and Chris Colfer shot scenes for Glee Actually and for Episode 11, which will air in January after the Holiday break. Glee co-creator, Ryan Murphy, has tweeted that the episode will have a Sadie Hawkins dance theme, and that we'll delve into Blaine's high school experience when the date he took to the Sadie Hawkins dance were beat up by some bullies.
Sunday night, Lea and Chris shot scenes indoors at Cooper Union. Chris tweeted, "For the record, we're filming at a fancy engineering college and I hacked into the lecture hall computer to play honey badger on the screen. "

Photo: Lea Michele via twitter
Check out photos of Lea, Dean and Chris from Sunday at the UK Daily Mail
Check Out Klaine Skate Photos From Splash
Audio Snip of White Christmas
White Christmas
More White Christmas
Even More White Christmas
Chris and Zach Work on Choreography
Lea and Chris shoot a scene from 4×11 at Cooper Union