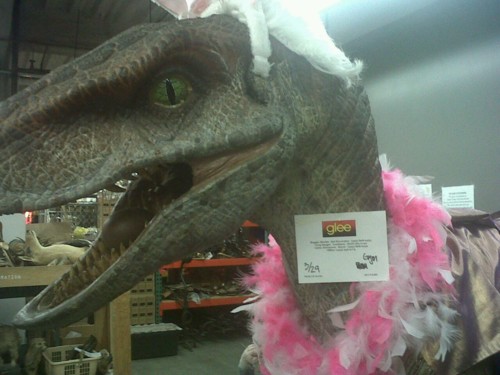 Photo: Tumblr
Directed by Eric Stolz
Written by Ryan Murphy
MAJOR UPDATE: Finn and Rachel win Prom King and Queen. Finn runs for King, Rachel Wins via Write in vote. (via I Wish You Would) (Spoiler is from a solid source.  Scratch the previous Finn/Quinn win spoiler.)
3×19 Prom Spoiler (Blaine's hair) – this was just left in my inbox from someone who knew an extra that was on set. take it with a grain of salt, guys, we have no other confirmation on this, but here's what they said. "It's not good. He basically comes back (from washing it out) with a fro … It isn't good at all…this is "basically uncontrolled fluff".   (shotgunanderson)
NEW PHOTOS!!!!!
NEW Promo (See Below)
Senior year at McKinley High has flown by! It's already time for Episode 19 and the senior prom!  Here are the deets we have so far:  Rachel and Finn, Kurt and Blaine initially have "anti-prom" feelings, but eventually attend the dance as couples.   Blaine's hair is wild and curly (at Brittany's insistence). He wears a traditional tux. Kurt wears a top hat with a vest and shirt combo with rolled up sleeves. Klaine wear matching white flowers.  Puck and Becky, who may also be part of the anti-prom alliance,  spike the punch bowl, wearing homemade crowns.  Both Rick the Stick and Mercedes ex-boyfriend, Shane, appear in this episode.  Rory is there too, even though he's only a sophomore. Sam and Mercedes dance together, both wearing purple. Quinn is still in a wheelchair at the start of prom. Finn yells at her to get up and walk. Sue intervenes.  The sources are sketchy for this , but it looks like Quinn and Finn run for prom queen and king, and win. 
NEW: Official FOX Summary – Brittany (Heather Morris) goes into high gear as class president to spearhead the prom. Then, after prom king and queen nominations are announced, the kids kick into campaign mode, and some of the outcasts organize a rival celebration. 
Gleezone Summary: "The unusual choice of "Dinosaurs" as a prom theme leaves some students at McKinley searching for an alternative; the race for Prom Queen heats up." (Gleezone)
Song Spoilers (all songs here sung at the prom)
What Makes You Beautiful by One Direction – Sam and the Glee boys (Wetpaint)
Dinosaur by Ke$ha – Brittany with four Cheerios wearing T-Rex heads as backup
Take My Breath Away – Santana and Quinn (Sung after prom King and Queen are announced)
Love You Like a Love Song by Selena Gomez – Santana with Brittany and Tina on backgrounds (EOnline is wrong. Ryan Seacrest confirms)
Big Girls Don't Cry – Kurt, Blaine, Rachel ?
Prom-a-Saurus Promo
Prom scenes were shot on April 2, 3 and 4 – Casting Notice – We are looking for students for the Prom. This works Monday April 2nd, Tuesday April 3rd and Wednesday April 4th in Los Angeles. You must be available all 3 days. MUST be between 18-24 years old with prom wardrobe… Guys: Black Tuxedos, Black Suits, Navy Blue Suits, Charcoal Gray Suits. Solid White, Blue or Black dress shirts, dress shoes. Ladies: Prom Dresses!! We are NOT looking for cocktail dresses but actual prom dresses (preferably long) with embellishments such as Lace, Sequins, Rhinestones.. Tumblr
As class president, Brittany helps plan the senior prom which has a dinosaur/pre-historic theme.  Quinn runs for prom queen again (EOnline)
NEW: Interview with Darren Criss – Prom, Take 2! Last year, prom didn't go so well for Kurt, who was unexpectedly voted prom queen by his idiot classmates. This time, things are going to be a lot less dramatic for the couple. "It's a dinosaur-themed prom because Brittany is class president and she's managed to get her wacky ways through," Criss said. "Kurt and Blaine obviously didn't want a do-over of last time, so they're going to take matters into their own hands. They're going to do something very different to make sure it doesn't happen that way again." (TV Guide)
Prom Spoilers (Tumbler)
Quinn is not permanently paralyzed (unconfirmed)

Klaine and finchel have anti-prom feelings at the beginning of the episode but end up at prom.
Prom King nominees – Finn, Brittany (who wears a white tux jacket and top hat), Rick the Stick
Prom Queen nominees – Santana, Quinn, Missy Gunderson (this is confirmed by a picture spoiler of the Prom Queen ballot with these names)
At some point, Becky runs for prom queen (Tumblr)
 Prom Spoilers (Tumblr)
Puck and Becky spike the punch bowl. They're wearing homemade crowns when they spike the punch.
Darren has ungelled, poofy hair.
Blaine is wearing a standard tux. Kurt wears a top hat and a vest with the sleeves rolled up.
Kurt and Blaine are at prom together, as are Finn and Rachel.
Quinn is in a wheelchair. Finn yells at her to get up and walk. Sue intervenes. Joe comes to her defense as well.
" Brittany tells Blaine to wash the gel out when he first shows up at prom with it slicked down. It sounds like she had told him not to turn up in gel beforehand and he did anyway, so she tells him to wash it out, he does and he spends the rest of prom with his hair curly." Tumblr
A trio of characters described as over-achievers who wear lots of tweet and plaid are being cast for Episode 19.  One is described as a cross between "Rachel Berry and Patty Simcox from Grease."  (EOnline)
Prom Spoilers (From the 3 day prom shoot)  (Tumblr)
Do Kurt and Blaine look happy together? I've barely seen them together, but Kurt comforts Blaine about something
Can you say anything about how the cast interacts with one another between takes? Like Chris and Darren? they're all super goofy. it's hilarious. Harry keeps dancing around in Kevin's wheelchair, Cory trolls everyone and takes videos, Damian is really friendly to the extras, Darren and Chris seem like really close friends, along with Heather and Naya.
AT LEAST TELL US IF THEY KISS (Kurt and Blaine) ;)
I'm not sure if you can say but what color corsages do Kurt and Blaine have?? :D white
any klaine pda?! if so, in what way?! i. must. know. Not sure if I should really answer that or not… There's a tiny bit.
Does there seem to be a lot of focus on Kurt and Blaine? (Or any really?) It doesn't seem like there's a lot, so far, from what I can tell. But they have at least one really cute scene together!
Do Kurt and Blaine look gorgeous together again this year? YES. Oh god, YES. Then again, how could they not look gorgeous together?
Rachel and Finn have at least 1 dance together. -Kurt shows more skin than last year's prom and emphasizes the height difference between him and Blaine.
Prom spoilers from a semi-reliable source (Not confirmed)

Klaine kiss after one of the songs. Not a full make out. (may be consistent with the original extra who posted and deleted saying mild PDA and answer to whether a kiss was ;)
When Quinn sings with Santana, it appears as if she's singing to Rachel, while Santana sings to Britt (this seems consistent with thatgirl65 thinking there is a faberry moment in this song)
Quinn gets out of her wheelchair to dance with Finn. She is not sure if they win king and queen but it seems like it. (this is consistent with all the spoilers about a conversation between them, Finn telling her to get up and dance, and them both being nominated for king and queen).
There was a scene with Brittany and Santana on the dance floor. She doesn't know what the conversation is about.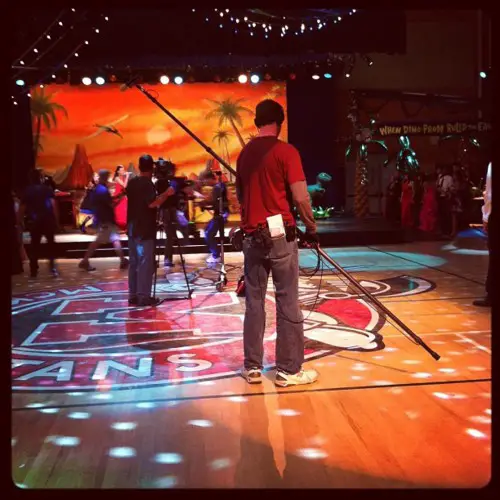 General Glee Spoilers Not Related to Prom-a-Saurus
Glee filmed at the Fashion Square Mall on 4/17 for Episode 20 called "Props".  Check out this photo.  Paparazzi photos reveal Mark Salling dressed as Blaine and Cory Monteith dressed as Kurt! Click for more photos.
From EOnline: Now before Klaine shippers start crying "copycats!" you should know that our little spies told us everyone on New Directions will be swapping bodies in an upcoming episode. There's also a photo floating around of Tina (Jenna Ushkowitz) dressed a lot like Rachel Berry (Lea Michele), headband and all.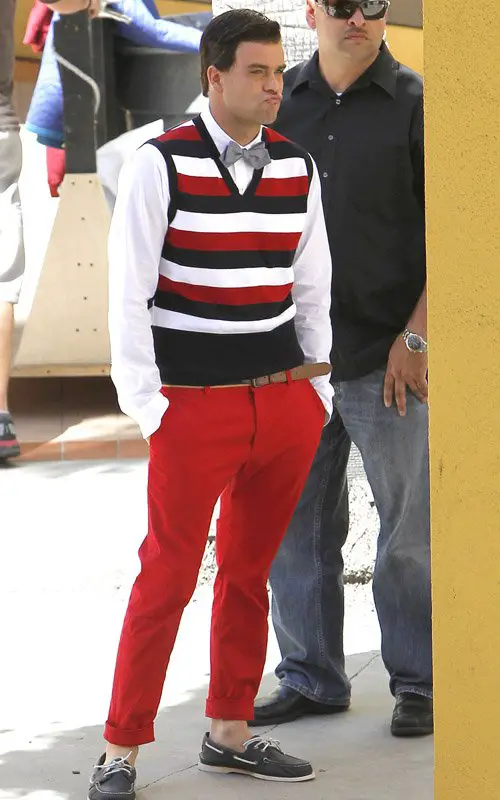 Tweets