Written by: Marti Noxon
Directed by: Michael Uppendahl
Episode 18 is called "Choke" Whoopie Goldberg guest stars as the NYADA professor who oversees Kurt and Rachel's auditions. Thomas Calabro plays Puck's deadbeat dad.
NEW PROMO:  Does Rachel blow her NYADA audition? (See Promo below)
Spoilers from Hollywood Reporter
 Puck (Mark Salling) is thisclose to not making the grade and graduating and gets a peek at his future from his father that prompts him to work harder.
Rachel and Kurt audition for NYADA's Carmen (Goldberg), an intimidating presence and herself a former Broadway star. One decides to take a risk, the other plays it safe.
The Trouble Tones are back (with Tina!) — and living up to their name, which prompts two performances — Chicago's "Cell Block Tango" and Florence + the Machine's "Shake It Out" — both elicit completely different responses.
There are lots of tears of sadness in the episode — and more than one person will cry
New: Super straitforward spoilers from Entertainment Weekly
Beiste (Dot Marie Jones) returns but has her own domestic drama to deal with; Jones is totally heartbreaking.
Sue (Jane Lynch) and Roz (Nene Leakes) have a sit-down meeting in which Sue refers to Roz and Beiste as "Black Sue" and "John Goodman," respectively.
Kurt covers "The Boy Next Door" from The Boy From Oz while wearing tight, gold lamé pants. That boy can kick!
Puck (Mark Salling) has a big storyline about whether or not he'll be able to graduate (turns out he's not the best student), which leads to a cover of "School's Out" that culminates on the McKinley football field.
To help tutor Puck in geography, the New Direction boys perform a rocking version of "The Rain in Spain" from My Fair Lady.
Santana (Naya Rivera), Mercedes (Amber Riley), Tina (Jenna Ushkowitz), Brittany (Heather Morris), and Sugar (Vanessa Lengies) do covers of both "Cell Block Tango" from Chicago and a stripped down version of Florence + the Machine's "Shake It Out."
Blaine (Darren Criss) gives Mike (Harry Shum, Jr.) hair tips.
Sam (Chord Overstreet) is in a tank top.
Rachel caps the episode with a soaring take on Kelly Clarkson's "Cry."
Spoilers from TV Line:
Handed a plot in which Coach Beiste shares a surprising dark secret about her relationship with Cooter
Rachel and Kurt's NYADA auditions elicit polar-opposite verdicts from the school's dean, played by special guest Whoopi Goldberg. (Oh, and for those of you who felt that Kurt was given short shrift this season — take it from us, this hour will more than make up for it!)
There's a gratuitous Blaine boxing scene!
Confirmed Song Spoilers!
"Music of the Night" from Phantom of the Opera – Kurt with Brittany, Tina and Mercedes
 "Don't Rain On My Parade" by Barbara Streisand – Rachel
Not the Boy Next Door – from The Boy From Oz – Kurt
School's Out by Alice Cooper – Puck
Shake it Out by Florence + the Machine – Tina, Santana, Brittany, Mercedes, Sugar
Cell Block Tango from Chicago – Tina, Santana, Brittany, Sugar

The Rain in Spain from My Fair Lady – Finn, Puck, Joe, Sam, Mike, Blaine, Rory, Artie (Done punk/rock style. (see behind the scenes below)
Cry by Kelly Clarkson – Rachel
Shake it Out is sung for Beiste who is being physically abused by new husband Cooter.
NEW PHOTOS:  (Blaine watches Kurt perform!)
NEW: Official FOX Summary:  Rachel (Lea Michele) and Kurt (Chris Colfer) finally get to audition for NYADA, but their nerves are rattled when they find out it's for the dean (guest star Whoopi Goldberg). Meanwhile, Coach Beiste (Dot-Marie Jones) reveals a secret, and Sue Sylvester (Jane Lynch) and Coach Roz (guest star NeNe Leakes) lend a helping hand.
NEW: Glee Zone  Episode Description – Domestic violence affects students and teachers at McKinley. –  Rachel and Kurt finally get their chance to audition for the New York Academy of the Dramatic Arts. Meanwhile, Puck makes a decision about his future after a meeting with his father.
As Rachel and Kurt prepare for their all-important NYADA auditions, they get news that could send all their well-laid plans into a tailspin. The subject of domestic violence comes to the forefront when one of McKinley's own admits to being in an abusive relationship; while students and teachers are stunned by the revelation, they rally to show their support. When one of Puck's schemes backfires, Finn and the guys stage an intervention to prevent their friend from making a terrible mistake. Meanwhile, Puck's eyes are opened by an unexpected source, spurring him to take greater control of his destiny… but it may already be too late. – Gleezone
FOX Official Summary – Whoopi Goldberg ("The View") and NeNe Leakes ("The Real Housewives of Atlanta") Guest-Star. Rachel and Kurt finally get their chance to audition for the New York Academy of the Dramatic Arts. Meanwhile, Puck makes a decision about his future after a meeting with his father in the all-new "Choke" episode of GLEE airing Tuesday, May 1 (8:00-9:00 PM ET/PT) on FOX. (GLE-318) (TV-14 D, L)
Guest Cast: Chord Overstreet as Sam Evans; Damian McGinty as Rory Flanagan; Dot Marie Jones as Coach Bieste; Vanessa Lengies as Sugar Motta; Samuel Larsen as Joe Hart; NeNe Leakes as Coach Roz Washington; Whoopi Goldberg as Carmen Tibideaux; Iqbal Theba as Principal Figgins; Lauren Potter as Becky; Thomas Calabro as Mr. Puckerman.
NEW: Jane Lynch said in a recent interview that "We're going to find out who gets into NYADA. As you know, Kurt and Rachel auditioned, and one of them gets in and one doesn't." (FYeahGleeClub)
Whoopie Goldberg guest stars in this episode as Carmen Tibideaux, a "theatrical grand dame" and professor at NYADA who travels to Lima to oversee Rachel and Kurt's auditions.  Whoopie has reportedly signed on for a 3 episode arc and will stick around Lima long enough to deliver a verdict.who travels to Lima to oversee their auditions.
Chris Colfer tweeted that his audition left him exhausted, "I'm going to be sore…high kicks galore."  Lea Michele was spotted at Paramount with a Yentle-style outfit. Tumblr Source
Rachel will sing "Cry" by Kelly Clarkson. Let's hope it's not because she botched her audition! Lea tweeted that Kurt and Rachel were crying by their lockers, so I don't know…
Another storyline will introduce Puck's estranged and troubled father. Played by Thomas Calabro: "A potentially recurring character will enter the show in this episode.  His name is James Elliot and he is a man who dropped out of high school, became a young dad and then left his wife and kid. He's also got a little bit of a sense of danger about him. Certainly an interesting character to be entering Glee…" FYGlee
There was a shoot at a Long Beach high school that involved punk and goth kids.  A musical number featuring Puck was filmed.  There are a bunch of BTS photos at the bottom of the page.
NeNe Leaks is back as Coach Roz Washington.
Soap actress, Rebecca Staab plays a small role.  ""No singing. Just walkin' and talkin' and flirting with Puck while in a bikini…Cougar stuff…My scene is breif, but it's difficult to get on this show, so I'm thrilled."   (CBS Soaps)
Casting was looking for kids with a punk/goth look  between the ages of 18-22 to work as extras.  "Guys must have a punk or metal look and the ladies must have a goth or punk look.  It is supposed to be the skanky girls and tough guys on campus"  The scenes were to be shot on March 16, 2oth and 21st with the 2oth taking place at Cabrillo High School in Long Beach (Tumblr)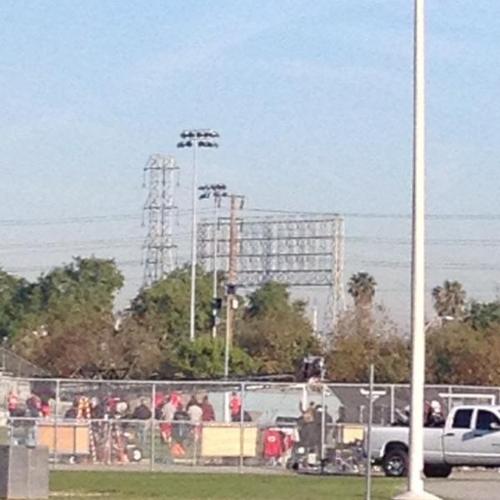 Cory Monteith tweeted, "I don't think the kitten wranglers are getting this one back"
NEW Bro Power
http://youtu.be/Ly6AelbF5WQ
Pr0mo:
GENERAL SPOILERS (Not Specific to Choke)
There are a TON of spoilers for the upcoming prom episode (x319) Called "Prom-A-Saurus".  It's senior prom time for the kids at McKinley High!  The prom scenes are being shot on April 2, 3 and 4th. I'll have a spoiler post up by the 6th or 7th. But in the meantime, a few deets:
Song Spoilers:
What Makes You Beautiful by One Direction – Sam and the Glee boys (Wetpaint)
Dinosaur by Ke$ha – Brittany with four Cheerios wearing T-Rex heads as backup
Take My Breath Away – Santana and Quinn (Sung after prom King and Queen are announced)
Rachel and Finn, Kurt and Blaine attend as couples.  Blaine's hair is wild and curly. He wears a traditional tux. Kurt wears a top hat with a vest and shirt combo with rolled up sleeves. Puck and Becky spike the punch bowl, wearing homemade crowns. They are part of an "anti prom" group. Quinn is in a wheelchair. Finn yells at her to get up and walk. Sue intervenes.  Both Rick the Stick and Mercedes ex-boyfriend, Shane, appear in this episode. Rory is there too, even though he's only a sophomore. Sam and Mercedes dance together. Mercedes' dress is purple.
Tweets
Lea Michele tweets, "Can't explain why but our first scene up today involves a box of small kittens.. I've never been so excited in my life!!!!" (3/15)
John Lock tweets, "We've all gone crazy for Kittens this morning…." (3/15)
John Lock tweets, "I learned a lot this morning. @druidDUDE can speak to cats & Diesel the dog i @ Stage 15: Paramount Studios http://instagr.am/p/INEHsBArGf/" (3/15)
Cory Monteith tweets, "I don't think the kitten wranglers are getting this one back http://yfrog.com/hwus1dvj" (3/15)
Alex Anders tweets, "Crazy day of cast vocals today. One of the busiest we've ever had. @JennaUshkowitz and @msleamichele are getting us going." 3/16
Lea Michele tweets, "Just got to the recording studio with @alxanders. So excited to be singing one of my favorite songs today…" 3/16
Lea Michele tweets, "@kelly_clarkson you are such an incredible singer. Had the honor of recording one of your songs today.. It wasn't easy but so fun!!!" 3/16
Harry Shum tweets, "And we've got @corymonteith on drums! http://instagr.am/p/IP0t-mHEgT/"  (3/16)
Damian McGinty tweets, "A great bro scene this morning. Plenty more in this episode! :) now I wanna eat a pop tart. #americanfood" 3/16
Ali Adler tweets, "As promised for 50,000th follower. #glee pic! http://pic.twitter.com/DAVQjW8t" (3/16)
Jenna Ushkowitz tweets, "@alxanders so happy to be back in the studio today doing a number i've been hoping for all season!" 3/16
Alex Anders tweets, "@littlelengies and HeMo are two funny girls! Both of them in the same room = lol" (3/16)
Naya Rivera tweets, "The weekend flew by! Back at McKinley now. Starting a new episode. Can't believe there's only 4 left to shoot!" (3/19)
Naya Rivera tweets, "Having a blast on set with @neneleakes!! She's the best!" (3/19)
NeNe Leakes tweets, "@ work 2day on the set of Glee! Coach Roz is keepin these girls n check LOOK @MsAmberPRiley @nayarivera http://lockerz.com/s/194009939 (3/19)
NeNe Leakes tweets, "Still on set working! Long day #Glee" (3/19)
NeNe Leakes tweets, "Finally up & out n LA! 2day is shopping & dinner then back 2 the Glee set! I love my glee cast mates! Thanks Ryan Murphy" (3/20)
Alex Anders tweets, "Recording another song with @chriscolfer today. I know a few people that will be happy a out this one! : )" (3/20)
Mark Salling tweets, "http://twitvid.com/WXCLW – McKinley men are at the pinnacle of high school athletics (3/20)
Harry Shum Jr tweets, "Full day today at Mckinley High! Musical number, bro scene and a special guest. BAM! (3/21)
Kevin McHale tweets "At work 3 hrs early just so I can watch the magic that is happening up on that stage. #vaguetweet" (3/21)
Lea Michele tweets, "@alxanders just heard the song we recorded the other day.. I love it!! It came out great! Thank you!! See u tomorrow! Graduation songs.. :(" (3/21)
Chord Overstreet tweets, "Gotta love a good bro scene with @CoryMonteith @iharryshum @DarrenCriss @druidDUDE @damianmcginty @SamuelLarsen" (3/21)
Lea Michele tweets, "Getting ready to watch @Mark_Salling rock out in the choir room now!" (3/21)
Lea Michele tweets, "At work now about to do a very sweet Kurt and Rachel scene… @chriscolfer and I are in hair and makeup now getting ready:)" (3/22)
Lea Michele tweets, "Great scene @chriscolfer :) But next time can we not cry so much please? Seems like that's all Rachel & Kurt do by their lockers these days!" (3/22)
Lea Michele tweets, "One song down… One more to go… This next one is a tough one!!!!!" (3/22)"
Lea Michele tweets, "Shooting such a funny scene right now with my girl Lauren Potter! What do you call a Becky/Rachel scene? Bechel? Recky? Haha" (3/23)
Alex Anders tweets "HeMo just killed it on a really fun song!" (3/23)
Chris Colfer tweets, "It's too early to be wearing a cape. #FilmingGlee" (3/26)
Kevin McHale tweets, "@chriscolfer it's never too early to wear a cape." (3/26)
Lea Michele tweets, "Morning! Back at work for another very busy week! Can't wait to see what @chriscolfer is up to this morning.. filming something really cool!" (3/26)
Ali Adler tweets, "By the way @NeNeLeakes you are wearing 5 inch heels. I am a tall and not a small! #therealhousewivesofatlantatypetalk http://pic.twitter.com/ndt5W3Au (3/26)
Lea Michele tweets, "Rachel Berry is getting ready for her big NYADA audition today!" (3/26)
Lea Michele tweets, "But first.. Singing a song in the auditorium by the great @kelly_clarkson :)" (3/26)
Lea Michele tweets "Shooting two episodes today a once! My head is spinning!" (3/27)
Lea Michele tweets, "Going back and forth between the NYADA audition episode and our Prom episode:)" (3/27)
Lea Michele tweets, "Right now shooting a scene in Rachel's bed in PJs so I'm very happy:)" (3/27)
Lea Michele tweets, "So excited Whoopi is going to be on #glee!!!!!" (3/27)
Alex Anders tweets, "Great job today @NayaRivera ! Fun session." (3/27)
Lea Michele tweets, "At work now about to do a scene with the amazing Whoopi Goldberg! So cool!!!" (3/28)
Lea Michele tweets, "Today is the big day everyone… Kurt and Rachel's NYADA auditions… @chriscolfer is on the stage right now killing it! (3/28)
Lea Michele tweets, "Rachel's up next… Everyone keep their fingers crossed!!!" (3/28)

Lea Michele tweets

, "Whoopi Goldberg is by far one of the coolest most awesome people I've ever met in my life. I'm obsessed with her." (3/28)

Dot Marie Jones tweets, "What a day!!!! EP #18 has some heavy stuff! I'm exhausted and I won't be done for Hours!!!! Love what I "get" to do!!!
Lea Michele tweets, "Happy friday! It's been such a looong week! But I woke up so excited for work today because I get to do another scene with Whoopi!" (3/30)
Lea Michele tweets, "Shooting with Whoopi & @JennaUshkowitz! Haven't had a scene w/ Jenna in so long!!!! So happy to be working with my spring awakening girl:)" (3/30)
Lea Michele tweets, "Still working hard here on set.. Great scene with @JennaUshkowitz this morning:) Now getting back to the Prom!" (3/30)
Jenna Ushkowitz tweets, "Had so much fun this morning in a scene w @msleamichele and …You can see for yourself http://mypict.me/mNWTT (3/30)
Naya Rivera tweets, "So bummed I could be there at the @operationsmile event today. Had to work yesterday on some really great prom scenes! (3/31)