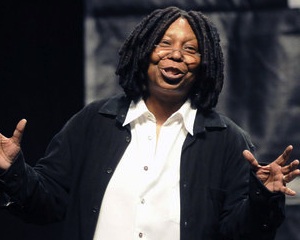 UPDATE:  Lindsay Lohen is reportedly in negotiations to play herself as a judge for the Nationals competition, which should take place in the last couple of shows of the season. If you recall, Glee mocked Lindsey via another guest star–Gwyneth Paltrow teaching her substitute Spanish class to recite the number of times Lindsay had been in rehab.  At the time, Lindsay's mom angrily hit back at the show. (VIA TVLine)
More Glee stunt casting, courtesy of the creators of Glee. Heh. This time, it's Whoopie Goldberg, the Oscar winning actress who currently presides over The View.
She's signed on for a 3 episode arc and will play Carmen Tibideaux, a "theatrical grand dame" and professor at the fictional New York Academy of Dramatic Arts–or NYADA as Rachel (Lea Michele) and Kurt (Chris Colfer) call it. The duo have their hearts set on heading to the big apple to study drama at the prestigious school come fall.
Kurt and Rachel's quest to be admitted to the exclusive NYADA is a story arc that began with the very first episode of season 3. As it stands now the BFFs have been accepted as finalists. Whoopie's character will travel to Lima OH to preside over their auditions and reportedly sticks around long enough to deliver a verdict.
The first of Whoopie's episodes airs on May 1.  That would be  Episode 18, which the cast has been shooting scenes for in the past week or so.
Lea tweeted, late last week, "Great scene @chriscolfer :) But next time can we not cry so much please? Seems like that's all Rachel & Kurt do by their lockers these days!"  Yep. I can envision Whoopie bringing Rachel and Kurt to tears!
Lea  tweeted yesterday  that "Rachel Berry is getting ready for her big NYADA audition today!"
Via TVLine