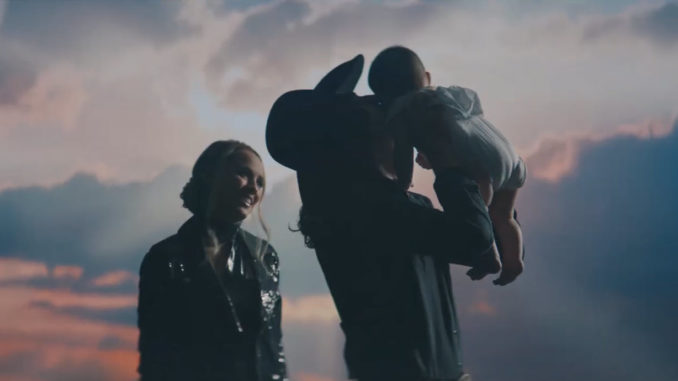 Gabby Barrett's latest single, co-written with Zach Kale and Jon Nite, now has an official music video directed by Gus Black. The clip shows a 9-year-old version of the American Idol 2018 alum, who turns her childhood daydreams into a grown-up reality.
The hit country artist premiered the clip today (September 17) with CMT across the ViacomCBS Times Square Billboard in the heart of New York City, as well as running on CMT, CMT Music, and CMT.COM.
"One of the reasons why I wanted to release it, is with my first three singles, I really want people to get to know me through my music," Gabby noted previously in a press release.
"I like my music to be very genuine to me and my life. With 'I Hope' it was very heartbreak and loss and then 'Good Ones' was finding hope, being married and all that good stuff, and then the next part to me is the trying to be uplifting part of myself as well, to people who may be in that same spot..that I was in when I was shooting for a very large dream that nobody believed in."
Gabby continued, "A lot of people were very negative through school, anywhere and everywhere that I went, and it was difficult and I wish I had a song to listen to at the time that I was going through that, and so for anybody else that is going through it, I wanted to release it for them to help them in any way."
In the clip, Gabby transforms from a hopeful little girl, to a star walking the red carpet. But it ends with a shot of Gabby with her husband, fellow American Idol alum, and guitar player in her band, Cade Foehner, and their baby daughter Baylah May. 
Gabby Barrett's Aspirational "Footprints on the Moon Music Video
Gabby will be one of the five honorees of the 2021 "CMT Artists of the Year" special, taking place at Nashville's Schermerhorn Symphony Center on October 13 at 9 p.m. PT/8 p.m. CT. The young singer also earned four nods, including Song of the Year and Single of the Year for "The Good Ones," Female Artist of the Year, and New Artist of the Year for the 55th?Annual CMA Awards (11/10). This year, she's is the most nominated female.
Currently Gabby is on the road with Thomas Rhett's The Center Point Road Tour. Fans can find full tour information on her website. Next, Gabby will perform at the Daytime Stage of the all-genre iHeartRadio Music Festival in Las Vegas, NV (9/18). Hosted by Ryan Seacrest.