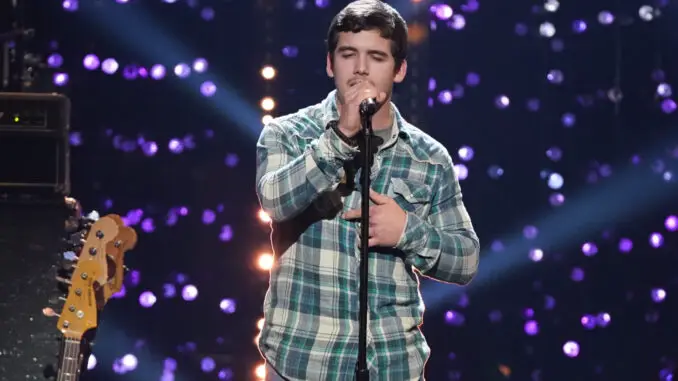 For 20 seasons between FOX and ABC, American Idol has produced 20 ultimate superstars, from a girl living in her car to a young man who never planned to audition. Every winner had that special "it" factor that made them stand out from the crowd and become everyone's idol.
While some winners were unexpected, others were more than deserving, and each one had a stand-out moment during their time on the show. While a 21st American Idol awaits us, let's look back at every winner's performance and rank them accordingly.
20. Caleb Johnson – "Still Of The Night" – Season 13
If Season 13 is remembered for anything, it's for getting the lowest viewership since Season 1. Unfortunately, this season didn't launch anyone to superstardom like seasons past, and is making headlines as of late after the tragic death of fifth runner-up C.J. Harris.
Rocker Caleb Johnson took home the win after being the only contestant the entire season to not land in the bottom three, due to belting out rockin' performances like "Still of the Night" by Whitesnake, which fans have considered his best performance on the show.
19. Noah Thompson – "Stay" – Season 20
Season 20 continued the tradition of American Idol winners winning after having not even planned on auditioning. The season's winner Noah Thompson joined notable winners like David Cook and Laine Hardy in this camp, having been signed up to audition by a friend and winding up taking home the whole thing.
Thompson impressed everybody early on with his Hollywood Week performance of "Stay" by Rihanna, a song he admitted he wouldn't normally sing, but it reminded him of being back home with his girlfriend.
18. Phillip Phillips – "Volcano" – Season 11
Season 11 was arguably Idol's last memorable season until it made its grand return in 2018, now on ABC. This season produced a few notable names like Colton Dixon and Jessica Sanchez, but it's the winner who left with the most success.
Phillip Phillips is remembered for his pop-rock hits like "Gone, Gone, Gone" and 'Raging Fire" after his Idol win, but his best performance on the show was a much different genre and tone for the singer when he performed "Volcano" by Damien Rice during the Top 4.
17. Chayce Beckam – "Mama" – Season 19
Another lesser-viewed season, Season 19 came down to Chayce Beckham and the late Willie Spence, and it was Beckham who ultimately came out on top while also becoming the first Idol winner in history to have his own original song be his winner's single.
While it wasn't his single "23" that remains the most remembered performance, it is another Chayce Beckham original. The singer performed his original song "Mama" during the Top 7 week, an episode that fell on Mother's Day of that year and allowed the contestants to dedicate the performances to their mothers.
16. Scotty McCreery – "Gone" – Season 10
The Season 10 finale was one of those finales where you were happy no matter who won, and when it was down to Lauren Alaina and Scotty McCreery, it was McCreery who became that year's American Idol after a season full of performances worthy of the win.
Known for his deep, southern singing voice, McCreery's most memorable performance was during the Top 5 week when he sang "Gone" by Montgomery Gentry, a performance judge Steven Tyler said turned the singer from a "puritan" to "dancing with the devil."
15. Nick Fradiani – "I Won't Give Up" – Season 14
It may be everyone's new favorite popstar Jax who is rising on the charts long after coming in third on Season 14, but the season's crowned winner was Nick Fradiani just a year after his short-lived stint on Season 9 of America's Got Talent.
Every Idol fan most likely remembers Fradiani's winning song "Beautiful Life," but his Top 2 performance of "I Won't Give Up" by Jason Mraz on the piano showcased some impressive vocals and left fans not giving up on him by making him their next American Idol mere hours later.
14. Lee DeWyze – "Hallelujah" – Season 9
It was yet another finale upset during Season 9 when underdog Lee DeWyze beat out frontrunner Crystal Bowersox for the title during a season where things started to take a turn for the worse for the show that went from giving us music megastars to one-hit wonders.
"Hallelujah" by Leonard Cohen seems to be an immediate success song for Idol contestants, from Jason Castro's best performance on Season 7 to Nicolina Bozzo's stunning rendition on Season 20. The song did no different for DeWyze, who was always at his best with a guitar and a tender-voiced tune.
13. Taylor Hicks – "You Send Me" – Season 5
Season 5 was full of success stories, but when it came down to Katharine McPhee and Taylor Hicks, America thought it was a pretty clear outcome… until Ryan Seacrest said Taylor Hicks. Hicks' win over powerhouse McPhee was yet another case of a runner-up being snubbed, a tradition that would continue in the seasons to come.
It was certainly a case of an underdog rising, and Hicks' shined brightest when he sang "You Send Me" by Sam Cooke during the Top 7 week. Hicks' voice glided through the song, turning into one of those Idol performances that ticked all the boxes, as Simon Cowell might say.
12. Ruben Studdard – "Superstar" – Season 2
After Kelly Clarkson set the bar for aspiring idols everywhere, it was certainly a nationwide shocker when Ruben Studdard beat powerhouse Clay Aiken in Season 2 (and the finale shockers would only continue from here).
Studdard remains a memorable Idol winner who still tours with his second season runner-up to this day, but his defining moment on the show came during the Top 32 performances that landed him a spot in the Top 12 all the way down to one.
11. Kris Allen – "Ain't No Sunshine" – Season 8
Season 8 kept the finale shockers coming when Kris Allen beat out fan-favorite Adam Lambert, who like Aiken, McPhee and David Archuleta, was pegged to win from the start. But Allen beat out a range of talent that season from rocker Allison Iraheta to gospel artist Danny Gokey.
Allen slowly rose as the weeks went on, with memorable performances like "Man in the Mirror" by Michael Jackson during the Top 36 and "The Way You Look Tonight" by Frank Sinatra during the Top 5, but it was his Top 9 spin on "Ain't No Sunshine" by Bill Withers that will give listeners chills to this day.
10. Just Sam – "I Believe" – Season 18
When the world got weird in 2020, one of the things that lost its magic was Season 18 of American Idol, having to put on a remote season after never getting to air a live show. Watching the contestants perform virtually from home and get judged on Zoom wasn't exactly what fans were familiar with, but that didn't stop the season from crowning a winner.
Just Sam became that season's American Idol, and despite having a rocky music career since winning, the singer shined bright throughout the season, most memorably with her first virtual performance during the Top 20 week with the nostalgic "I Believe" by fellow Idol winner Fantasia Barrino.
9. Fantasia Barrino – "Summertime" – Season 3
Before she was a notable name in music and Broadway, Fantasia Barrino was just one of the ones to beat during Season 3, competing against Diana DeGarmo, LaToya London, and future megastar Jennifer Hudson.
The performance fans remember most from the singer typically known simply as Fantasia was "Summertime" by Abbie Mitchell during the Top 8, a song she reprised during the Top 2 performances that ultimately helped earn her more votes than Diana DeGarmo and become the next American Idol.
8. Laine Hardy – "Fat Bottom Girls" – Season 17
After Season 16 raised the bar for Idol again, Season 17 didn't disappoint thanks to giving Laine Hardy a second chance to audition. The singer's rough and husky voice got him all the way to the finale where he ultimately beat out Alejandro Aranda.
Remembered for making viewers want to "party with the Hardy," the Elvis Presley-esque singer seemed to never have a bad week with his killer song choices, but it was when he switched gears from country boy to rockstar with "Fat Bottom Girls" by Queen during the Top 8 week that he became the one to beat.
7. Candice Glover – "Lovesong" – Season 12
It's not uncommon for contestants to audition more than once before they make it onto the show, and for Season 12 winner Candice Glover, it wasn't until her third audition that she got the much-desired golden ticket.
Despite Glover's performance of "Someone Like You" by Adele during Hollywood Week of Season 11 earning her a standing ovation from the judges, it was her rendition of "Lovesong" by Cure during the Top 6 of week Season 12 that everyone remembers most, and left the singer in tears after another memorable standing ovation.
6. Maddie Poppe – "Brand New Key" – Season 16
When American Idol made its triumphant return to television with a brand new table of judges and on a brand new network in 2018, it also came with an unexpectedly brand new roster of memorable talent. The season that brought the world of country music Gabby Barrett also gave the pop-Americana genre a new edition: Maddie Poppe.
The Season 16 winner – who beat her then-boyfriend Caleb Hutchinson for the title – stood out for the unique tinge to her voice, and shined to both the judges and the viewers with her Top 24 performance of "Brand New Key" by Melanie, which left judge Katy Perry with her jaw on the floor.
5. Carrie Underwood – "Alone" – Season 4
When you think of females in country music, odds are your mind goes straight to Carrie Underwood, who achieved worldwide success after winning Season 4. While the singer had several memorable moments that made us all ask Jesus to take the wheel, it's her Top 11 performance that fans remember most.
The future winner sang "Alone" by Heart, a typical tune heard on Idol by several contestants throughout the years, but none of them sang it like Underwood.
4. David Cook – "Always Be My Baby" – Season 7
The world seemed to come to a pause around 9:55pm EST on May 21, 2008 when Ryan Seacrest said, "The winner of Season 7 of American Idol is David…" David vs. David was arguably one of the most memorable finales in Idol history, which ultimately left David Cook beating David Archuleta in a win that still saddens people to this day.
Regardless of which David you voted for, there was never a question that a musician and performer like Cook would go far in the competition, and while his Top 10 performance of "Billie Jean" by Michael Jackson is a memorable one, it was his Top 7 performance of "Always Be My Baby" by Mariah Carey when he turned the upbeat R&B song into a slow and sultry ballad that left everybody swooning (and voting).
3. Trent Harmon – "Chandelier" – Season 15
Season 15 was another low-rated season that didn't seem to shoot anyone to superstardom, but it did offer up an unforgettable performance by its winner Trent Harmon during the Top 4 week.
Harmon took the pop song "Chandelier" by Sia and turned it into a moving ballad that showcased his voice and became one of the most recognized performances in the show's history.
2. Kelly Clarkson – "Natural Woman" – Season 1
Some might call Kelly Clarkson a literal American Idol for the way she's seemingly taken over the world with her exceptional talent and loveable personality. But back in 2002 during Season 1, she was a 20-year-old living in her car with hopes of chasing her dream.
While Clarkson turned heads from her initial audition with "At Last" by Etta James, it was her Top 8 performance of "Natural Woman" by Aretha Franklin that everyone remembers (aside from that unforgettable moment like that when she won the entire show).
1. Jordin Sparks – "I (Who Have Nothing)" – Season 6
Despite getting turned down at her first audition, when a 17-year-old Jordin Sparks finally made it onto Season 6 of American Idol, everyone who heard her sing knew she would win the whole thing. Part of a memorable group of contestants consisting of Blake Lewis, Melinda Doolittle and fan-favorite Sanjaya Malakar, Sparks quickly turned into the one to beat.
But long before her emotional but expected win that season, Sparks shined during her Top 11 performance of "I (Who Have Nothing)" by Shirley Bassey, which showcased her phenomenal vocal ability early in the competition.