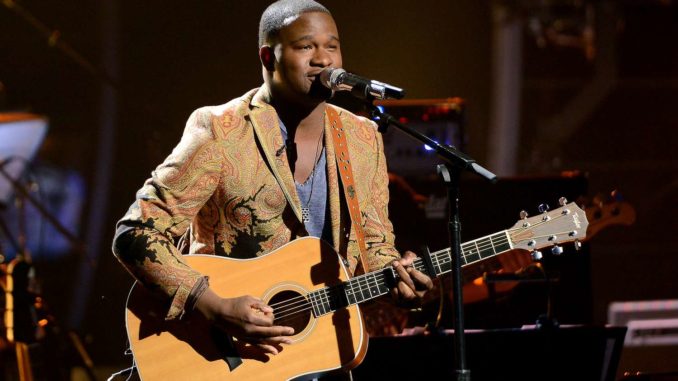 American Idol alum C.J. Harris' official cause of death has been revealed.
The singer, who finished season 13 in 2014 in sixth place, died of a heart attack on Sunday, a spokesperson for the Walker County Coroner confirmed to People magazine.
Harris was rushed to the hospital in Jasper, Alabama, where CPR efforts were unsuccessful. He was 31.
On Tuesday, Harris' family announced that a funeral would be held at 2 p.m. on Jan. 28 at Eastside Baptist Church on Viking Drive in Jasper. A public viewing will be held from 4 to 6 p.m. on Jan. 27 at Southside Funeral Home in Jasper, and 6 to 9 p.m. for family. A wake after the funeral will be held at Elegant Events on Gamble Avenue in Jasper.
Harris' family raising money to pay funeral costs
The family has been raising money to help pay for Harris' funeral, which reportedly will cost approximately $14,500. To donate to the family, call SouthSide Funeral Home at 205-265-3636.
Stephanie Enis, Harris' mother, said the family has not set up any GoFundMe accounts to help with funeral costs, but that several have popped up in recent days. She said the family is not associated with any of them.
CJ auditioned for the judges in 2014 in Salt Lake City with a version of "Soulshine" by Allman Brothers. CJ also performed, usually with guitar in hand, overs of "Too Close," "American Woman," and "Free Fallin'." The judges–Jennifer Lopez, Harry Connick Jr. and Keith Urban–chose him as a wildcard in the semi-finals after He was chosen by the judges as a wild card in the semi-finals.
After his American Idol run, CJ toured with the American Idol Top 10 and performed with Darius Rucker at The Grand Ole Opry. Season 13 was the year that Caleb Johnson took the crown withe Jena Irene the runner-up and Alex Preston in third place.
Fellow Season 13 alums pay tribute
C.J. Harris competed on American Idol season 13 alongside winner Caleb Johnson, 2nd runner-up Alex Preston and Jessica Meuse who finished in 4th place. All paid tribute to C.J. on social media.
This hurts so much, " Caleb Johnson wrote on Instagram. "CJ was my roommate on @americanidol during Hollywood week and then lived right next door to me and @realalexpreston during the live shows." Caleb continued, "We instantly became friends and formed a brotherhood pack with @realalexpreston @samwoolfmusic."
"So many amazing memories and experiences with you CJ! Life is so fragile! I am so grateful that our lives got to cross paths in this lifetime. You were a beautiful, kind soul that always made the room brighter with your smile and laughter. Love you brother you were taken from us way to soon! Until we meet again RIP"
Alex Preston wrote: "RIP CJ. I cant believe this, I woke up and thought it was a dream. I love you dude. I'll always remember the good times we all had."
Jessica Meuse wrote: "My heart is heavy to hear of the passing of fellow @americanidol and friend @cjharrismusic. I'm completely shocked. Your talent and smile will be missed, and the world is definitely a darker and eerily quieter place without you in it. I'll miss your random phone calls asking for life advice and talking about the music world. When you go through something like Idol together, it brings everyone involved together like a big, weird, dysfunctional family. I'm grateful that our paths crossed and that I can say you were (and always will be) a part of mine. There are a lot of things I realize I will never understand — you leaving us so soon is one of those things. Rest easy, friend. See you on the other side."