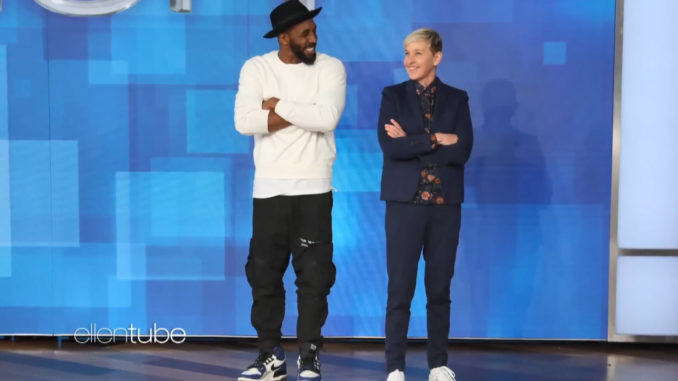 Ellen Degeneres paid tribute to her friend Stephen "tWitch" Boss who died by suicide on December 13. tWitch served as the DJ on her afternoon talk show starting in 2014 and was eventually promoted to executive producer.
For the first time, since his tragic death, Ellen opens up emotionally about losing a dear friend.
"The past 11 days have been really tough for everyone"
"I just wanted to say the past 11 days have been really tough for everyone. Everyone is in pain and trying to make sense of it and we'll never make sense of it," she says. "And the holidays are hard, I think anyway. But to honor tWitch I think the best thing that we can do is to laugh and hug each other and play games and dance and sing."
Stephen 'tWitch' Boss Death Left Behind Unfinished Projects
SYTYCD, DWTS and More Pay Tribute to Stephen "tWitch" Boss
Ellen continued, "That's the way we honor him is we do the things that he loved to do… And I know it seems hard. It seems impossible. But that's how we honor him."
"Hug each other and tell each other, we love each other," Ellen says. "And let people know we're there for them and check in on people."
"So happy holidays, everybody. And I know it's not a happy holiday," Ellen goes on to say that tWitch "was pure light…if you knew him, you knew that. If you didn't know him you saw it. Let's honor him. And think about him. And send love to one another."
Ellen's love of SYTYCD led to meeting tWitch in 2010
The hip-hop dancer finished So You Think You Can Dance season 4 as runner-up in 2008. After that he spent several seasons as an all-star dancer–serving as a mentor and dance partner for current contestants. Ultimately, he sat on the judges panel of SYTYCD in 2022.
The dancer joined The Ellen DeGeneres Show as guest DJ in 2014, and remained with the daytime talk show until it ended in May 2022. He was promoted to co-executive producer on the show in 2020 and frequently served as a guest host.
tWitch hosted the E Entertainment competition Clash of the Cover Bands in 2021. He also appeared in the movie Magic Mike XXL. In 2017, he and his wife Allison Holker hosted the documentary series Disney's Fairy Tale Weddings.
Ellen also paid tribute to tWitch during her farewell week of shows back in May. The two met in 2010 when tWitch helped Ellen, a big fan of So You Think You Can Dance, learn a dance routine. They recreated tWitch's famous duet with Alex Wong. She spoke movingly of their friendship.
tWitch was found i a Los Angeles hotel room
According to reports, tWitch was found in a Los Angeles hotel room with an apparent self-inflicted gunshot wound. Allison Holker, tWitch's wife and fellow SYTYCD alum, confirmed his death in a statement that read in part: "Stephen lit up every room he stepped into. He valued family, friends and community above all else and leading with love and light was everything to him. He was the backbone of our family, the best husband and father, and an inspiration to his fans."