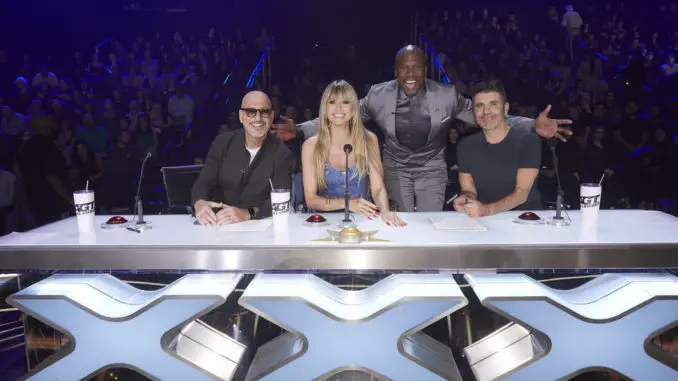 America's Got Talent: All Stars will be the first competition reality show of 2023. The 7 week off shoot of the summer show, America's Got Talent from NBC will air for 7 weeks. As judge and creator Simon Cowell explains in a new "First Look" featurette, "anyone who's won the show from another country, or nearly won the show from another country, or has done well on the American show" makes up the 60 acts vying for the crown.
Playing a game of "true or false, Simon and his fellow judges Heidi Klum and Howie Mandel, plus host Terry Crews explain the format and introduce fans to a few of the contestants.
For instance, season 2 winner, ventriloquist Terry Fator is back for another go. And it's absolutely true that he was offered a $100 million contract after his AGT run. He's been a highly paid act in Las Vegas ever since his 2007 win. Another fun fact: Terry and American Idol season 10 alum Chris Sligh are 1st cousins! TRUE FACTS.
Additional AGT winners returning for All-Stars are: Kodi Lee (S14), Brandon Leake (S15) and Dustin Tavella (S16) . The reigning Canada's Got Talent winner, Jeane Fournier is also competing.
But on the other end of the spectrum? Sethward, the comic who takes the stage in outrageous costumes, is returning for another shot at annoying Simon. Schtick! "Number one, I don't like him," says Simon who insists that the act is most certainly NOT a fan favorite. The rest of the cast disagrees.
AGT: All-Stars top 60 Highlights
As far the as the rest of the contestants are concerned, check out the full list below.
America's Got Talent: All Stars Reveal Top 60 Acts Competing
Each week 10 acts – including singers, dancers, ventriloquists, comedians, aerialists, magicians and more – will perform for the judges for the chance to earn one of the five Golden Buzzers and move on to the finals. The AGT Superfans will also vote on one additional act per episode to move onto the finals. Following the final performances, the superfans will vote again on the 11 finalists to choose the winner, which will be revealed in the two-hour star-studded finale.
Just a reminder that there are no live shows. The "superfans" are voting audience members. The entire season is already in the can.