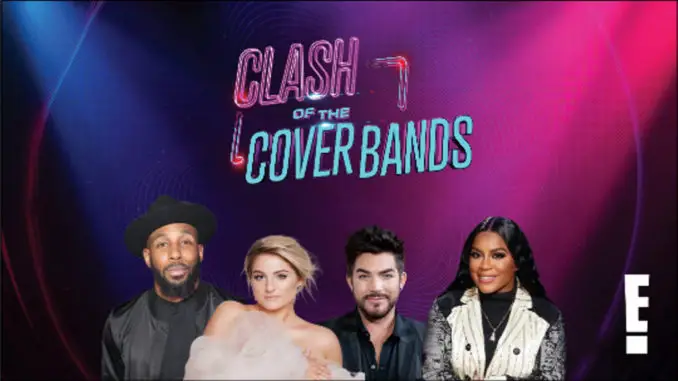 E!'s competitive reality show, Clash of the Cover Bands now has a premiere date. The Jimmy Fallon produced series will premiere Wednesday, October 13 at 9:30pm ET/PT on the E! cable channel.
 The half-hour series is hosted by So You Think You Can Dance alum Stephen "tWitch" Boss with singer-songwriter Meghan Trainor, American Idol alum and Queen frontman Adam Lambert and songwriter (previously on the Songland panel) Ester Dean serving as celebrity judges.
Clash of the Cover Bands brings together the best of the best cover bands from across the country to celebrate music and the art of performance across all genres. In each of the 10 half-hour episodes, two bands of similar musical genre (e.g., Pop Divas, '80s icons, kings of country, platinum icons, rock legends, etc.) go head-to-head over the course of two rounds to see which band has the most entertaining cover performance, with a chance to win a cash prize of $10,000 and bragging rights.
At the end of the season, one winner will be crowned with a chance to take home a big cash prize of $25,000 and set to appear in studio for a musical performance on The Tonight Show Starring Jimmy Fallon.
Artists covered this season include Aretha Franklin, Blink 182, Bon Jovi, Britney Spears, Carrie Underwood, Celine Dion, Cher, Coldplay, Depeche Mode, Dolly Parton, Elton John, Foo Fighters, Jennifer Lopez, Keith Urban, Lady Gaga, Ozzy Osbourne, Poison, Tim McGraw, Tina Turner and U2.
The series is produced by Universal Television Alternative Studio, a division of Universal Studio Group, and Electric Hot Dog with Jimmy Fallon, Jim Juvonen, Natasha Brugler and Kelley Parker serving as executive producers.
Watch the first Clash of the Cover Bands promo below.