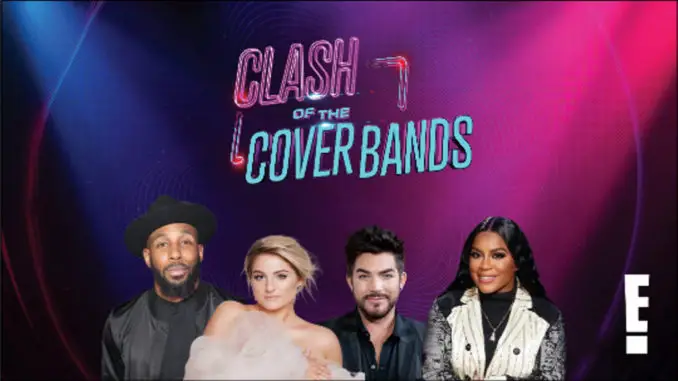 E! Network's new competition reality show Clash of the Cover Bands is filming episodes right now. The taping began on Thursday July 29 and continued on Friday July 30. Tapings in August took place on Monday August 2, Tuesday August 3, Wednesday August 4 and Friday August 6.
The network announced the new show back in May. The show is executive produced by Jimmy Fallon. So You Think You Can Dance alum and Ellen exec producer alum Stephen "tWitch" Boss  will serve as host. Additionally, singer-songwriter and former The Four and The Voice UK panelist Meghan Trainor; American Idol alum and Queen frontman Adam Lambert; and hit songwriter and Songland panelist Ester Dean will serve as judges.
The judges panel will decide the winner of a $100,000 prize
In each episode, two bands of similar musical genre (e.g. Pop Divas, Boy Bands, Heavy Metal, etc) go head-to-head over the course of two rounds to see which band has the most entertaining cover performance, with a chance to win a cash prize and bragging rights. Everyday people will transform into extraordinary superstars and pay tribute to their idols.
Fans can watch America's best cover bands and tribute acts compete for their share of a $100,000 prize and a once-in-a-lifetime chance to perform LIVE on The Tonight Show starring Jimmy Fallon. The all-star judges panel will decide who will be crowned. The contestants will sing classic songs and Billboard hits immortalized by legends from all genres.
Taping audience is standing room only, casting between 18-35
The audience is standing room only. That means potential audience members must be able to stand for long periods of time, walk up and down stairs as needed, follow verbal and visual instructions without help, and be in general good health.
The show is casting audience members between the ages of 18-35. And of course, potential audience members must be fully vaccinated, and will be required to provide proof of vaccination along with a valid ID for entry. If you meet the above requirements, Wednesday and Friday tickets are still available at On-Camera Audiences HERE. Tapings take place at the Television City Studios in Hollywood, California.
E! has not yet announced a premiere date for the new series.