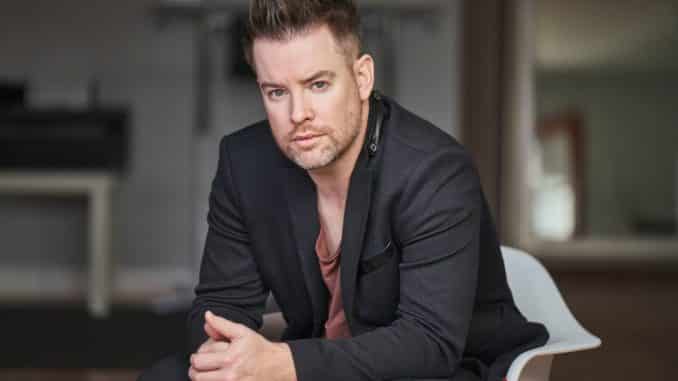 David Cook released his highly anticipated EP The Looking Glass on April 16, recorded in Nashville with producer Andy Skib. The set is available now on all streaming and download sites.
The American Idol season 7 winner will celebrate the release of the set with a concert live broadcast from Ocean Way Studios in Nashville via the streaming platform Mandolin on Sunday, April 18. It is the first of three performances followed by  a fundraiser to benefit The National Brain Tumor Society on Sunday, May 2, and an extended set highlighting his newer tunes and additional songs from his catalog on Sunday, May 16th.
All shows to begin at 7 pm CT and tickets are available HERE.
The Looking Glass describes COVID's "Strange World"
Although the songwriting and recording process of The Looking Glass began before COVID, its effects influenced the process and reflect in some of the songs. Last year, David gave fans a preview of the new material with the release of two singles.
The first, "Reds Turn Blue," released in June 2020, is a nod to the manic highs (reds) and lows (blues) of anxiety, something David has struggled to overcome since his run on Idol. As David told People.com, "This song became a therapeutic process for me, as a way to personify my anxiety and make it something other than me — which in an odd way has helped me navigate my relationship with it."
The second single, "Strange World" is "my homage to this year," said David. "Staring out of windows at the world outside, feeling disconnected from it, and trying to find those moments that would normally exist outside, inside."
And the third and final single from the EP, "Fire," released on March 19 is about starting over – taking something, or someone, important to you, and building something new around it. "The song actually started as more of a slower ballad," said David. "It wasn't until we got into the actual recording process that my producer, Andy Skib, pushed for it to be sped up. It gave the track such a different energy. One that I can't wait to dig into live."
Rounding out The Looking Glass are the grungy opening track "Champion," the melodic, lush power ballad  "Make a Move," and the ethereal closer, "Going Back."
David returns to the road this fall
As previously announced, David will return to the road this fall with the first U.S dates of his 2021 tour beginning September 11 in Cincinnati and continuing to the Northeast before wrapping in Columbus, OH on September 25. It will be followed by his previously announced co-headline tour with American Idol season 8 winner Kris Allen billed as "Dave & Kris Go to Europe Acoustic Tour" scheduled for October 2021.
Listen to a stream of David Cook's The Looking Glass below.
TRACK LIST
1. Champion
2. Reds Turn Blue
3. Strange World
4. Make A Move
5. Fire
6. Going Back