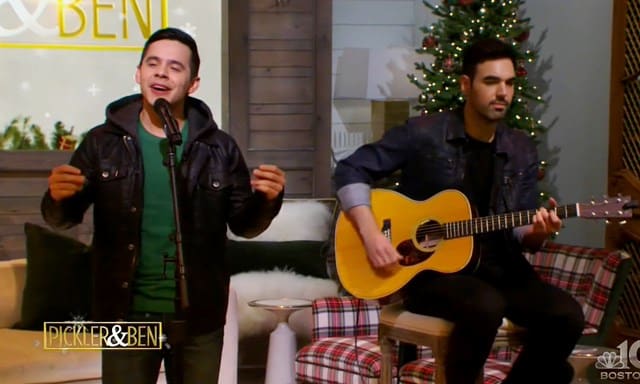 American Idol alum David Archuleta dropped by the Pickler & Ben afternoon talk show to perform his new Christmas single, "Christmas Every Day." The singer performed a stripped down version of the upbeat tune, which is from his new holiday album, Winter in the Air, out now.
David and co-hosts Kellie Pickler and Ben Aaron chatted after the performance. In particular, David and Kellie had much to share as both competed on American Idol, season 7 and 5 respectively. "You know what it's like! It's pretty crazy" David said when Kellie asked him what it was like competing on the show at 16.
As far as keeping in touch with fellow alums, David notes that he lives in Nashville now and checks in with friends on a regular basis. David notes that he and "the winner of my season" David Cook have remained close.  "He lives in Nashville as well. We'll get together and catch up." David added that their friendship has remained the same in the 10 years since they met. "He still treats me like a little brother. He likes to keep an eye on me and make sure I'm doing alright."
David describes Idol as "one of the hardest things I've ever done in my life." It's more than just singing on the show, "They've got you doing so much stuff," David admitted. "It's really hard!"
David will be heading out on tour in December. The set list will be a mixture of songs from Winter in the Air and Christmas From the Heart, the holiday album he recorded in 2009. Check out the tour dates HERE.
Watch David Archuleta sing "Christmas Every Day" below.