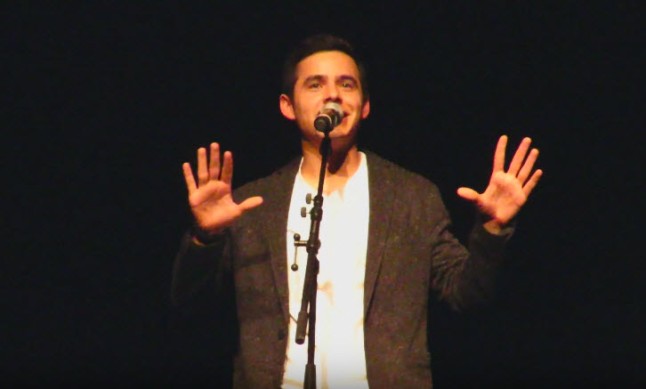 David Archuleta performed his first concert in almost 4 years in Idaho Falls Thursday September 17.
The American Idol season 7 runner-up premiered a new song, "Numb," co-written in Nashville at a time when he wondered if show business was really where he needed to be. David introduced the song with a story about having a hard time adjusting to "civilian" life after returning home to Utah in March 2014 from his 2 year Mormon mission in Chile.
David figured he'd get right to work on his music career, picking up where he left off. But, after holding some meetings in Los Angeles, "It kind of freaked me out," said David. He had just spent two years on his mission serving people and had problems bringing the focus back to himself. "I guess it wasn't the best idea just to jump in," David confessed.
He returned home to Utah and holed up for a couple of weeks. After a few trips to Nashville for songwriting sessions, David began to question whether he wanted to continue a singing career or not. He went as far as calling his manager to say he might not want to do music anymore. "I was so confused," said David, "I was trying to put myself in a place I was before, but I realized I'd changed! I wasn't the same person."
"I was so happy on my mission," said David, "Why would I go back to a place that almost felt like stepping down?"
What turned the tide for the singer was writing a song about his confusion. Going into another Nashville writing session with Jamie Kennedy and Trent Dabbs, they asked David what was on his mind. David poured his heart out and the result was the new song, "Numb," where David expressed his need to continue a music career, but not in the same way he did before.
"I feel like I opened myself up and realized what made me the most happy," shared David. "Just through simple…meaningful things like my family, and caring about other people, helping them out…and relying on a higher source of power for the rest."
"So we wrote about that," said David. "And we want to share that with you tonight."
Watch David Archuleta perform his new song, "Numb" right here. Check out David's upcoming concert dates HERE.
https://youtu.be/3XCkD3p7bTA