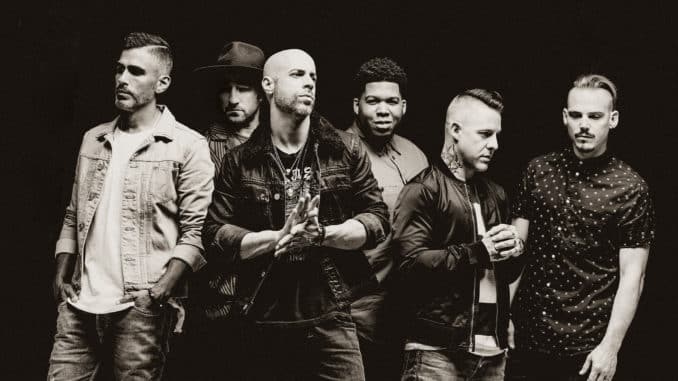 Josh Paul, the bass player for the rock band, Daughtry, announced on Sunday (Jan 16)  that he's leaving the band. Josh has been a member of American Idol alum Chris Daughtry's eponymous band since it began in 2006.  Prior to Daughtry, the musician played with the punk band Suicidal Tendencies and worked and toured with Kelly Osbourne, Everlast, The Veronicas and more.
He briefly left Daughtry in 2012, only to return in 2013.
It has been both an honor and a pleasure to share the stage with the guys.
"Today, I announce my departure from the band," Josh wrote on Instagram. "For the last fifteen years, Daughtry has been a second family and musical adventure. It has been both an honor and a pleasure to share the stage with the guys. My gratitude for having shared this experience and enjoying the friendship is immeasurable. It's been a helluva ride fellas!"
Daughtry Performs 'Heavy is the Crown' on The Talk Premiere (Video)
Josh continued, "For me, now is the moment for change. Over the last year I have had a chance to reflect on my life, my family, and career. I am grateful for the opportunities, the experiences and none of it, I take for granted. More than ever, I clearly recognize how truly fortunate that I am. The past year has also been a time to reflect on my hopes, dreams and the importance of taking the steps to ensure that I continue to grow not only as a musician, but as a human being, a father, a husband, and to further pursue forward motion."
"I wish the band the absolute best and continued massive success, I love you and your families," Josh wrote.
"I appreciate all your continued love and support over the years"
"To the fans and friends of Daughtry in particular, there are a million things that I'd like to say, none of which can accurately convey how much I appreciate all your continued love and support over the years," Josh ends the message with, "Thank you. I Love you. I look forward to new journeys, opportunities, and fresh adventures! Stay Healthy, Stay Kind-JP"
The band formed in 2006 after Chris left American Idol season 5 in fourth place. Chris put the band together after he signed a deal with 19 Recordings and RCA Records. Josh has recorded six albums with the band, including the latest Dearly Beloved.
Daughtry set to finish Dearly Beloved tour
Chris and the remaining band members, Josh Steely (lead guitar), Brian Craddock (guitar), Elvio Fernandes (keyboards) and Brandon Maclin (drums) will head out to finish the Dearly Beloved Tour beginning Feb. 9 in Bethlehem PA. Chris postponed the tour last November after the untimely death of his 25 year old daughter Hannah Price.
In comments, Chris posted, "Gonna miss you brother. We love you and your family and wish NOTHING but the best for you in everything that you do!"
Brian wrote, "Gonna miss playing the musics with you bro, but somehow I don't think that's the last of it. Maybe we'll meet up at Publix produce section and jam on Paula Cole "I Don't Wanna Wait" and Del Amitri "Roll To Me". Sound good?"
Elvio shared: Sharing the stage with you over the past 10 years has been an absolute joy. You'll always be family to me and I wish you nothing but success in all of your future endeavors.
 

 

 

View this post on Instagram