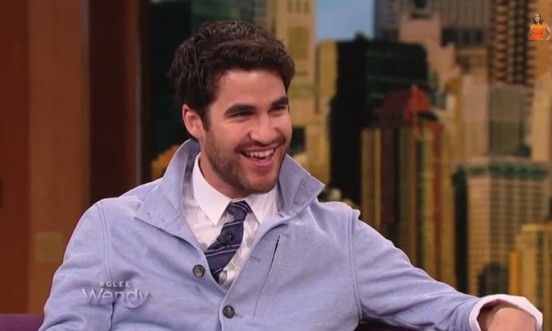 Darren Criss dropped by the Wendy Williams Show to dish on tonight's Glee season 5 finale. In a clip not included here (But you can watch at TV Line) Darren's character, Blaine, has a huge blowout with his fiance Kurt (Chris Colfer).
Inn the the preview, Kurt becomes VERY angry when he learns that there, in fact, is NOT a role for him in Blaine's showcase. It was a lie Blaine told to assuage his guilt? Spare Kurt's feelings? We'll learn more tonight. Shirley MacLaine returns in the role of June Dollaway, Blaine's slightly inappropriate, benefactor.
Darren answers the are-you-straight question AGAIN. YES HE IS and mentions that he has a long time girlfriend (whom he doesn't namecheck, but she's musician and TV producer, Mia Swier, and he's dated her, like forever.)
He ends the segment with a fun bit that has him improvising a song about various "hot topics" like Kanye, Solange, Britney and of course, GLEE!