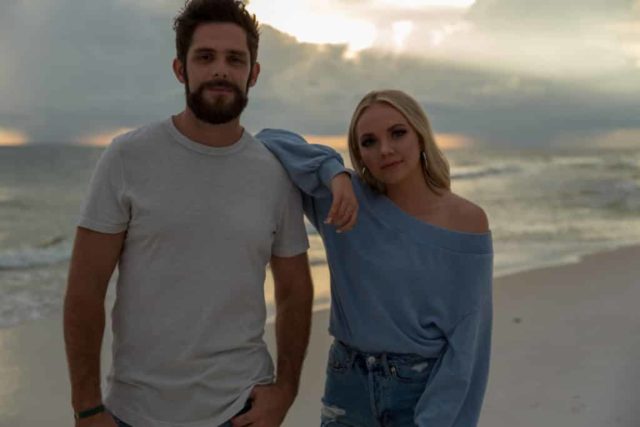 The Voice season 4 winner Danielle Bradbery is joined by Thomas Rhett on the shores of Rosemary Beach, FL in the official music video for their "Goodbye Summer" collaboration, bringing to life the song's bittersweet story of short-lived romance with a seaside video directed by Shaun Silva. 
"It has been amazing to see the storyline of 'Goodbye Summer' played out," Danielle reflects. "The video shares the emotions that come with a summer love. Shaun Silva had such a beautiful vision for this video and really brought it to life. It was a lot of fun to have Thomas Rhett join me for the shoot in one of my favorite places, 30A."
 "Goodbye Summer" is a reimagining of "Hello Summer" off Bradbery's sophomore album I Don't Believe We've Met, out now on BMLG Records.
"Watching this song grow since I first recorded the demo has been really fun," says Thomas Rhett, who wrote the original rendition alongside Rhett Akins and The Cadillac Three's Jaren Johnston. "30A was the perfect place to bring the video to life…we had a blast shooting it."
Shortly after this story of beachfront romance was captured in beautiful Rosemary Beach, the area was struck by Category 4 Hurricane Michael, the strongest storm on record to hit the Florida Panhandle. As someone who saw her own mother's home in Houston damaged by Hurricane Harvey last year, Danielle felt compelled to help.
"Rosemary Beach has always been a special place to me, especially now that we captured its beauty in this video," Danielle shares. "I knew I wanted to help out the local community after Hurricane Michael hit, and the Rosemary Beach Foundation is the perfect organization to partner with. They were immediately providing meals and supplies to the people who lost everything, and now they're distributing funds to local organizations involved in relief efforts – supporting everything from the rebuilding of homes to purchasing supplies for local schools."