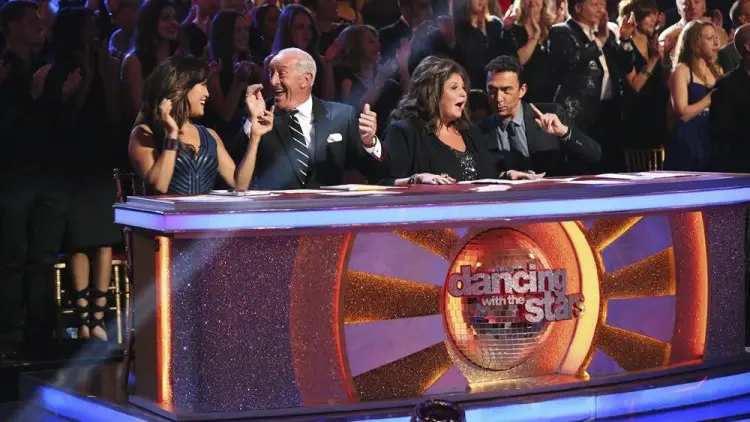 Abby Lee Miller of the controversial Lifetime reality series Dance Moms, was guest judge on Dancing with the Stars last night, and it appears that some of the show's dance pros aren't big fans!
That's not a surprise. Anyone who has watched the Pittsburgh, Pennsylvania based dance instructor in action on Dance Moms knows her methods include lots of criticism, yelling and humiliation. These are tween girls we're talking about here. What's worse, the moms are just as bad, engaging in loud arguments with Abby Lee and each other, right in front of their kids. It's a toxic environment.
Admittedly, I tune into the show once in awhile, but only out of curiosity. The studio is actually NOT in Pittsburgh, but a suburb about 15 miles away. I grew up there. One of the high schools I attended was located right up the street. Y'all would be surprised how unfancy the neighborhood is–the studio is right next to strip mall.
Anyhoo. The pro dancers think her methods leave a little to be desired, to say the least.
Derek Hough: "I'm afraid for kids who are exposed to pressure, anxiety and things like that … My fear is that they'll get burnt out as soon as they hit 16 and they won't want to do it again."
Sharna Burgess: "The way she treats her children, the way she teaches them — she's not molding anybody into a star. She's not teaching anybody to harness any creativity. She's trying to make good TV."
Mark Ballas: "I still stick to what I said three years ago [about Miller] online. I don't agree with her teaching methods. I'm 100 percent with Maks tonight."
Maksim Chmerkovskiy isn't a fan either. After Abby Lee criticized Olympian Meryl Davis' footwork during her rumba, her partner said to Erin Andrews later, "I really don't care for anything she has to say."
Here's what Abby Lee has to say to the haters who question her methods.
I'm in Pittsburgh, Pennsylvania, and I have done a damn fine job of getting thousands of kids out of Pittsburgh to stay at the Waldorf Astoria or at a four-star hotel to eat in their restaurant that's a five-star dining experience to tell them what fork to use and where to put their napkin on their lap," Miller said. "I mean, I have done that for so many children, it's countless.
Yass. Because we hometown kids are just losers without somebody like Abby Lee Miller to teach us some class. Cause she's so clazzy.
So proud to share a town with this woman. Ugh.
Via Zap2it, Hollywood Reporter, EOnline