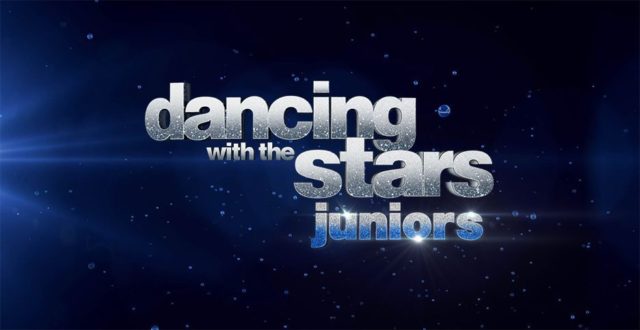 Hey All :)
Welcome to week seven of Dancing with the Stars Juniors. Tonight, the remaining five pairs return to the dance floor to perform in new styles in the hopes of earning high scores from the judges and safety from the audience. At the end of the night, another pair will be eliminated from the competition.
In this seventh week of competition, the contestants are tasked to perform an unlearned routine as part of "Time Machine" night. Get ready to go back in time and to the future as the juniors dance through the decades.
As a reminder, please keep SPOILERS out of the discussion for those who want to enjoy the program without knowing any results. Let's go…
Miles & Rylee (Mentor- Lindsay) – Jive
That was a pretty great jive. For one, far better than anything the current Dancing with the Stars champion did all season long. Yes, that's shade. Anyways, Miles was on fire with those kicks and flicks. Loved the 50's themed choreography from Lindsay. These last two weeks have been really good for Miles and he is peaking at just the right time.
https://www.youtube.com/watch?v=Q0rR91r68zg
Mandy loved that Miles came to compete for the win. She enjoyed the jive content. Adam says Miles seized the moment. Val says that Miles has so much soul and was born to dance. He also gives kudos to Rylee for her partnering work.
Val- 9
Mandy- 9
Adam- 10
Mackenzie & Sage (Mentor- Gleb) – Jazz
Okay, solid routine from both a choreography and dancing standpoint. However, and sorry to be super critical here but it could have used a little polish. At times, it looked like Mack was going to miss a step and Sage was just clearly out-dancing her throughout. They pulled it off well enough but since we are down to the final five, little instances like this matter.
https://www.youtube.com/watch?v=fdr9ZoXxaJc
Adam doesn't think Mack is letting go enough. He calls it amazing and awesome though. Val agrees with Adam. He feels it was exceptional but he needs to feel something. He thinks Mack needs to be moved by the dance. Mandy enjoyed the jazz content but she felt Mack had a few bobbles technically.
Val- 9
Mandy- 8
Adam- 9
Mandla & Brightyn (Mentor- Cheryl) – Paso Doble
Hmm. I feel for Mandla here. Cheryl did too much there. Between the troupe and the theme, it was hard to just concentrate on the actual routine. Mandla also needs to do the same as the judges told Mack when it comes to letting go. But he isn't an actor so I get that he sometimes looks like a deer in headlights. On the plus side, it was a decent paso from what Cheryl gave them. I just wish she was able to incorporate the whole futuristic theme a bit better.
https://www.youtube.com/watch?v=kg7LItsL3xU
Val saw moments where it was hit hard and well but it was missing moments of triumph and feeling the steps. He wanted the fight. Mandy reminds everyone that Mandla had no previous dance experience though she agrees some technical things were missing. She does have more positives to say than Val does. Adam thinks Mandla has done incredible with no dance experience (they keep harping on this) and he enjoyed the paso.
Val- 8
Mandy- 8
Adam- 8
Ariana & Artyon (Mentor- Brandon) – Quickstep
That was a really good quickstep. With the exception of Miles' opening number, my favorite routine of the night. Ariana has such a special star quality and she is able to tackle each dance by bringing something new and fresh. Her acting abilities come into play very well on this show. I loved the side by side hold portion- a fantastic classic quickstep move that I am glad Brandon put in. Just excellent all around.
https://www.youtube.com/watch?v=vaRkTJxpF5w
Mandy says quickstep is like math in its difficulty and she feels they were very good at it. Adam saw that they were trying to stay on timing throughout. He gets excited every single time she comes out. Val loved the creativity of the routine. He agrees quickstep is hard but feels she is a star.
Val- 9
Mandy- 9
Adam- 9
Sky & JT (Mentor- Alan) – Charleston
See Cheryl- that's how you add in the troupe and have a lot going on but still keep the dance technical and showcase the dancers front and center. That was a glorious charleston- filled with little nuances. Sky and JT just raised their own personal bar yet again. The best performance of the night.
https://www.youtube.com/watch?v=bTV1aiOR5qQ
Adam says every time Sky comes out, she brings joy. And he wants her to be proud of what a role model she has become. Val believes in Sky- he is proud that this generation has someone like Sky. He feels Sky has the x-factor. Mandy loved it but she has one correction- she wants her to watch being on the beat, in front of the beat, and behind the beat.
Val- 9
Mandy- 9
Adam- 9
Elimination Time!!!
Ugh. This is the cruelest cut of the season. All five are so good in their own ways and I hate losing any of them. The audience in the ballroom are voting as the juniors shout out their numbers.
Sigh. And tonight's eliminated pair is…
Mandla & Brightyn (Mentor- Cheryl)
Well, we are strapped for time so Mandla doesn't get the chance to speak but he seems a bit relieved. He is a charming guy with a bright future but I feel like the show was a bit taxing on him from time to time. Aww. Sky is crying in the back. In terms of whether his boot was right or wrong, I lean towards right. He had one of the weaker routines tonight and the other four have done enough to warrant a spot in next week's semi-finals.
Speaking of, there will be no elimination next week. It is just the semi-finals which will lead right into the season finale in two weeks time when the winner will be announced. So, just like the mother show, we are having a four person finale with more than likely no placements announced- just the winner. See ya'll next Sunday. :D