CMT announced last week at its annual event the next group of artists to  join its celebrated Next Women of Country franchise. The nine artists include The Voice season 12 runner-up Lauren Duski, plus Anna Vaus, Emily Hackett, Ingrid Andress, Lainey Wilson, Leah Turner, Rachel Wammack, Stephanie Quayle and Tenille Townes. he announcement was made by Little Big Town's Karen Fairchild. 
Additionally, CMT Next Women of Country member and event co-host Cassadee Pope is set to headline her first-ever tour, joined by Clare Dunn and Hannah Ellis, when the CMT Next Women of Country Tour hits the road in early 2019.Tour routing and additional information will be announced soon.
CMT today also revealed that Grammy Award-winner and 2018 CMT Artist of the Year Maren Morris has received the 2018 CMT Next Women of Country "Impact Award," presented to a female artist that has impacted songwriting, recording, radio airplay, record sales, streams, media impressions, awards and touring in country music over the past year. The honor was presented by award-winning songwriter Natalie Hemby.
CMT first launched its "Next Women of Country" campaign in 2013 in an effort to support and expose developing female talent, both signed and unsigned, in a male-dominated format. The campaign showcases emerging female artists across all CMT screens throughout the year, and in five years since its launch, CMT has expanded the initiative to include five CMT Next Women of Country Tours, anchored by superstar acts including Jennifer Nettles, Martina McBride and Sara Evans, a CMT.com digital series, Next Women of Country Live  and more. Notable alumnae of the franchise who have achieved both commercial and critical acclaim include Kelsea Ballerini, Maren Morris, American Idol season 10 alum Lauren Alaina, The Voice season 2 alum RaeLynn and Lindsay Ell.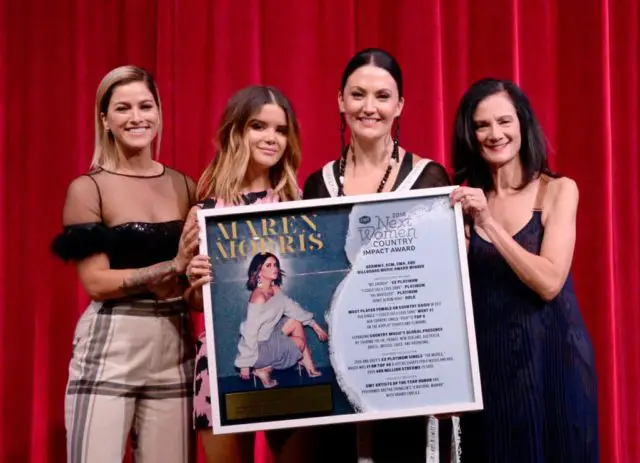 (L-R) Cassadee Pope, Maren Morris, Natalie Hemby and Senior Vice President of Music Strategy for CMT Leslie Fram (Photo by Rick Diamond/Getty Images for CMT)

(L-R) Lauren Duski, Tenille Towns, Stephanie Quayle, Rachel Wammack, Leah Turner, Lainey Wilson, Karen Fairchild of musical group Little Big Town, Senior Vice President of Music Strategy for CMT Leslie Fram, Ingrid Andress, Emily Hackett, Anna Vaus and Cassadee Pope (Photo by Rick Diamond/Getty Images for CMT)