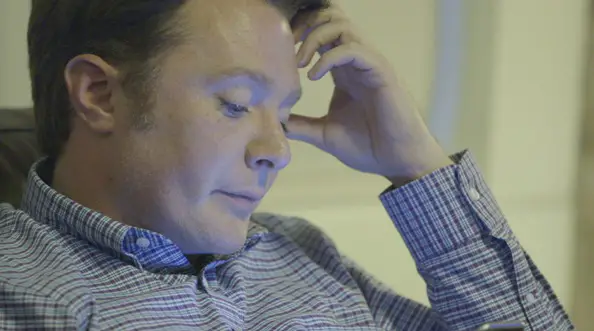 How apropo! The Clay Aiken documentary chronicling his failed 2014 bid for a North Carolina congressional seat is titled The Runner Up. Yes, because coming in second appears to be the American Idol season 2 runner-up's thing (Clay also came in second on Celebrity Apprentice a few years ago).
Clay appeared at the Television Critics Association winter tour yesterday in Los Angeles to promote the documentary and talk about his failed run for congress.
He told reporters that multiple filmmakers courted him before settling on Jonathan and Simon Chinn for the four-hour series.
When asked if he had any regrets about the campaign, or deciding to film it, Clay said, "Obviously, I had hoped to win. I had no intention to do anything but run for Congress. What they did with the production was going to be up to them."
Reporters asked if he felt being an openly gay democrat hurt him in a largely republican and conservative district. He felt there were larger issues working against him.
"I certainly don't want to think that," he said. "It's a very difficult district. One of the things I hope we're able to shed some light on is the political climate now, how so many districts in this country are gerrymandered beyond recognition."
He said the shape of the district resembled an "amoeba."
About the criticism that he didn't address gay issues during the campaign, Clay said, "I'm new. This was my first campaign, which is probably pretty evident if you see this. … I didn't run for congress specifically for gay constituents. To imply, as a gay man, I have to speak to gay issues only or more than anything, would imply that Jewish candidates should only speak to Jewish issues. … Am I a gay man? Yes. Would I like there to be gay marriage around the country? Yes."
And regarding the criticism Bill Maher made on his HBO show, Real Time, that Clay distanced himself from Obama and democratic principles, Clay said, "I did not run with Bill Maher as a constituent, so I'm less concerned with his opinion than you think I would be."
When donor-gate was brought up, producer Jonathan Chinn was on the defense. "Let's cut Clay a little bit of slack," he said. "Our cameras were in plain sight. Everyone consented in the way that everyone would in a documentary. There was no deception there."
Check out the official press release from Esquire Magazine, announcing the series. Read more at Billboard Magazine.
ESQUIRE NETWORK FOLLOWS CLAY AIKEN'S 2014 BID FOR CONGRESS IN THE UNFILTERED, ALL-ACCESS DOCUMENTARY SERIES THE RUNNER-UP
Produced by Award-Winning Documentarians Simon Chinn and Jonathan Chinn, Original Four-Hour Series to Premiere April 2015
LOS ANGELES – January 15, 2015 – Esquire Network will premiere an exclusive, all-access look at one of the most unique political campaigns of the 2014 mid-term elections – the improbable Congressional run of American Idol star Clay Aiken. Produced by Academy Award-winner Simon Chinn (Man On Wire, Searching for Sugar Man) and Emmy Award-winner Jonathan Chinn (30 Days, American High) through their company Lightbox, the four-hour original documentary series THE RUNNER-UP is set to premiere on Esquire Network in April 2015.
With exclusive access, Lightbox embedded inside Aiken's campaign to represent North Carolina's 2nd Congressional District – from his candidacy decision through the shocking primary election (which ended in the death of Aiken's Democratic opponent), and his defeat this past November to incumbent Republican Congresswoman Renee Ellmers. Throughout, the documentary series shows Aiken, a gay Democrat and single father, working through strategy sessions with his team, prepping for debates and meeting with voters via town halls, bus tours and door-to-door canvassing.
THE RUNNER-UP spotlights what it takes to run an American campaign from the perspective of a candidate who is a newcomer to the political scene with few resources and little support. Throughout the campaign, Aiken struggles to convince voters – and America – to take him seriously as a political contender against those who would write him off as simply a reality TV star.
THE RUNNER-UP is produced by Lightbox for Esquire Network. Jonathan Chinn, Simon Chinn and Mitchell Tanen serve as executive producers for Lightbox.