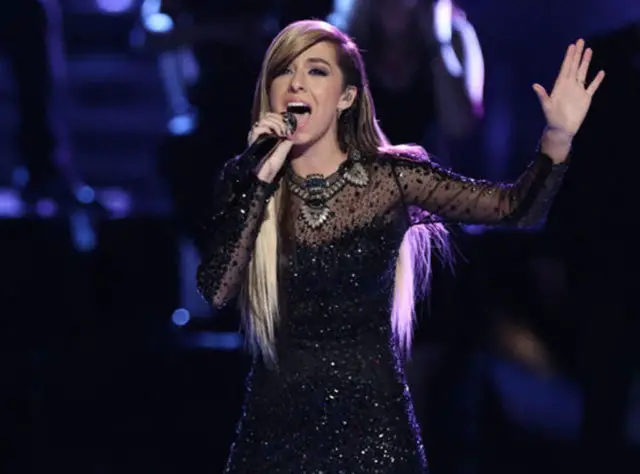 On Monday night, hundreds of mourners gathered at a candlelight vigil honoring the memory of Christina Grimmie in her hometown, Evesham, New Jersey.
Christina was shot dead early Saturday morning by a gunman as she was signing autographs after a concert  at The Plaza Live, in Orlando Florida. He then shot and killed himself after her brother tackled him to the ground.
Marcus Grimmie, Christina's brother,  was overcome with emotion as he remembered his late sister during the vigil.
"Christina was awesome…She loved this town, she loved this state, she loved singing, she loved the Lord and she loved me and she was just my baby sister," he said.
Marcus also offered condolences to the victims of the massacre at The Pulse nightclub in Orlando which took the lives of 49 and wounded another 53.
"About four miles away from where we were staying, there was a huge tragedy to Orlando, to the U.S. to the LGBT community and to the whole world," he said. "I mean, 50 people dead, who knows who is injured. And I come home to this… I have no words. All of those people that died and are suffering. My heart goes out."
He expressed gratitude to Christina's The Voice coach, Adam Levine for offering to pay for her funeral expenses and to the band Twenty One Pilots and Singer Selena Gomez for their in-concert tributes.
Remembering Christina Grimmie: The Tributes Continue (VIDEO)
Christina Grimmie's Fellow Reality Stars Mourn Her Death
Marcus felt blessed to have the outpouring of love from the hometown and entertainment community, pointing out that individual victims The Pulse shooting didn't garner as much attention.
"These people didn't have that and we are blessed to," he said. "She's in a better place. Thank you to everyone once again. I wish I could elaborate more, you guys didn't know her like I did, so thank you. This is awesome."
The half-hour vigil, which took place at the Marlton Memorial Sports Complex, included remembrances from Mayor Robert Brown, close friends and pastors. Many wore "Team Grimmie" shirts designed just for the event.
Read more at Billboard.com