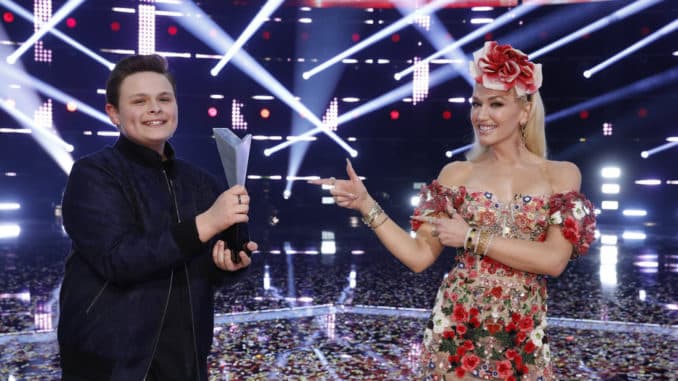 Carter Rubin, a 15-year-old pop crooner from Shoreham, N.Y., was crowned the champion of "The Voice season 19 on Tuesday (Dec 15).
Carter, a member of Team Gwen Stefani, faced tough competition from the other top 5 finalists – Jim Ranger and Ian Flanigan from Team Blake Shelton, Desz from Team Kelly Clarkson and John Holiday from Team John Legend. He's the youngest male singer to ever win the competition. And it's the first win for his coach, Gwen, who served her fifth season in the big red chair.
After Carter was crowned last night, the two sat and took questions from reporters. Watch the video below.
Highlights:
Gwen was shocked that Carter didn't choose Team John Legend. She loves working with young talent who have their careers ahead of them. She calls Carter the "perfect" contestant for her to coach.
She hesitated to suggest "Rainbow Connection" for Carter to sing. It's a song she sang to put her kids to sleep. (It's worth noting that American Idol 16 winner, Maddie Poppe caught the judges attention with a rendition of the song. She sang it on the finale with Kermit.)
Gwen calls season 19 "intimate" because of the pandemic.
"I think he needs to go write some songs," Gwen says. She told his mom to get him piano or guitar lessons.
Carter says Gwen is "all about helping her artists tap into their identity. She's given such great advice that I've taken to heart…I really love her. She's the best."
It didn't seem real to Carter until he made the Top 5. 
Carter's favorite moment was performing "You Say" during the Knockout. He also loved singing "Rainbow Connection."
What's next for Carter: He's taking Gwen's advice to heart. He wants to learn chords and start writing songs. "I want to get into the studio, I want to start recording. When Covid passes I want to sing for a live audience again. I've missed that so much."
"This has been my dream since I was a little kid. I really want to be a singer, and not just for the fame. But to really touch people and move people with my voice," said Carter. 
Post The Voice finale interview
Read TV Line's interview with Carter HERE.
You know, I think that age ain't nothing but a number. I was just lucky to be surrounded by artists who were older than me, because they are such incredible role models and always gave me amazing pep talks and advice.
Lauren Daigle congratulates Carter after his win.
i'm such a huge fan of yours, thank you for creating that beautiful masterpiece of a song, what an honor it was for me to sing it? https://t.co/bhweLx0HtN

— Carter Rubin (@carterjrubin) December 16, 2020