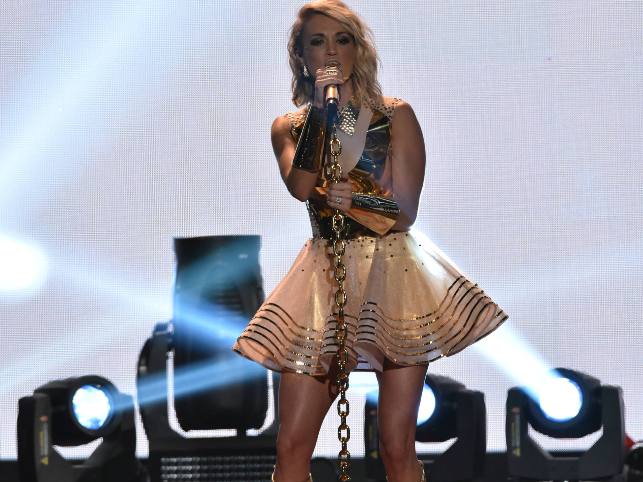 At Sunday's (May 1) 2016 American Country Countdown Awards, Carrie Underwood performed her single "Church Bells" before accepting the award for Female Vocalist of the year. Actor Luke Wilson announced the win and presented the American Idol season 4 singer with the award.
Watch her powerful performance and thank you speech here. "I would like to thank the good Lord above for country music, that we are all blessed to be a part of" said Carrie in her acceptance speech. "I would like to thank my entire incredible team…country radio THANK YOU SO MUCH for playing our stuff." Carrie repeated over and over, "FANS FANS FANS FANS FANS FANS…thank you guys so much. It's been so much fun seeing you guys out on the road this year. We've been having so much fun together."
And then Carrie thanked one fan in particular, "Isley Thibodeaux, this is for you." Ten year old Isley and her mother were on their way home from Carrie's concert at the Cajundome in Louisiana last Sunday (April 24) when a drunk driver plowed into their car. Isley was pronounced dead at the hospital.
UPDATE: It's been confirmed that Carrie sent flowers and a sweet note to the family.
Watch here.
More Photos: