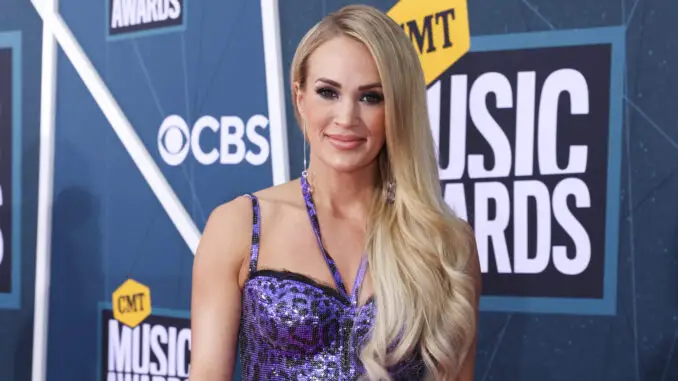 Carrie Underwood releases her highly anticipated new album Denim & Rhinestones on Friday (June 10). The American Idol season 4 winner kicked off her release celebration Thursday night (June 9) with a global Amazon Music livestream concert from The Historic Bell Tower in downtown Nashville. Prime Video members can watch it HERE.
Friday morning (June 10) Carrie joined ABC's Good Morning America and GMA 3 for an interview and performances of two new tracks off Denim & Rhinestones.
Watch Carrie's performance of "Crazy Angels" on Good Morning America below
On Monday, June 14, the singer performs on NBC's The Tonight Show Starring Jimmy Fallon. She will also make multiple appearances on Canadian and Australian television, including interviews on Sunrise, The Today Show, The Project, and others.
For fans in Nashville this weekend, Carrie takes the Nissan Stadium stage once again Saturday night (June 11)  to headline the 49th annual CMA Fest, which will be broadcast on ABC on August 3.
Also, as part of CMA Fest celebrations, Carrie met up with her fans the "Care Bears" at her Official Fan Club Party this week. She gave the group a special preview of Denim and Rhinestones.
 

 

 

View this post on Instagram

 

 
She also has a fun-filled, pop-up exhibition, The Denim & Rhinestones Experience set up June 10-12 at The Historic Bell Tower in downtown Nashville. The Denim & Rhinestones Experience includes interactive photo installations, wardrobe displays, and a retail boutique celebrating the music of Denim & Rhinestones.
 

 

 

View this post on Instagram

 

 
Carrie wants fans to feel "happy" when they listen to Denim & Rhinestones
Carrie co-wrote 11 of the 12 tracks on Denim & Rhinestones with many of her frequent collaborators such as David Garcia, Hillary Lindsey, Josh Miller, Ashley Gorley, Josh Kear, and Chris DeStefano, who have written many of the singer's biggest hits. She also welcomes more recent co-writers on the album, including Michael Hardy and Lydia Vaughan, the latter of whom co-wrote "If I Didn't Love You," Carrie's multi-week #1 hit duet with Jason Aldean.
"I hope when fans listen to the album, Denim & Rhinestones, that they just feel happy. When we set out to make this entire project, I walked in the writing room with my co-producer David (Garcia), and he's like, 'Well, what are we doing? What do you want to do?'" Carrie said in a press statement. "And I said, I just want to have fun. I feel like over the past couple of years, everybody's been a little cooped up and just need some fun in their lives."
"You know, thinking about taking all of these songs on the road, I just wanted to think about as we were writing and as I was choosing songs, which ones would be great live. I love this album so much. It makes me happy. I hope they learn a little bit more about my musical influences and things that I like, because I feel like a lot of those just worked their way into this album. But, most of all, I just want them to feel happy, I want them to dance, I want them to sing and just have a good time with it."
Listen to every track on Denim & Rhinestones below.
The playlist also includes a performance from Carrie's Grand Ole Opry appearance on Monday (June 6)
Carrie heads out on tour
Carrie recently announced her new U.S. arena tour, THE DENIM & RHINESTONES TOUR, with dates in Fall 2022 and Spring 2023. The new tour will kick off in October, making stops in 43 U.S. cities including New York's Madison Square Garden, Nashville's Bridgestone Arena, and L.A.'s Crypto.com Arena before concluding in March 2023. Carrie will be joined on THE DENIM & RHINESTONES TOUR by special guest Jimmie Allen on all dates.