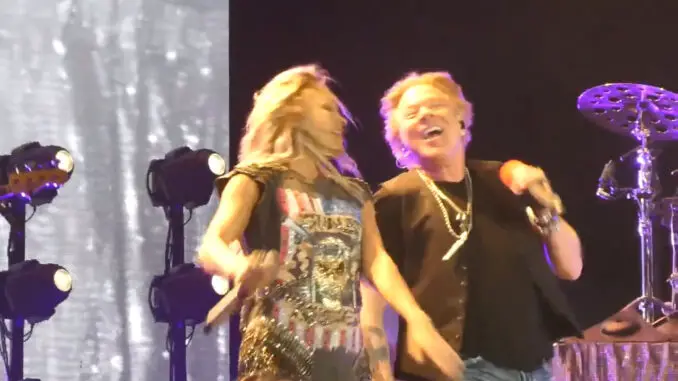 Carrie Underwood has made no secret of the fact that she's a big heavy metal music fan. She's made Guns and Roses songs a part of her concert setlist for years.
But when the American Idol season 4 winner took the stage as Stagecoach festival headliner in Indio, California Saturday night (May 1), none other than Guns' frontman Axl Rose took the stage to perform with her.
The two joined forces on duets of "Paradise City" and "Sweet Child o Mine."
As reported by Variety, as the opening bars of "Sweet Child o Mine" played, Carrie announced "Welcome to the greatest night of my life! Give it up for Axl Rose!"The singer managed to keep the duet a secret up until the iconic frontman took the stage with her.
Afterward, Carrie teased, ""Did you think we were through?" as her band broken into a rendition of "Paradise City."
As Axl left the stage, Carrie joked "I can't believe we thought we should have more songs after this!" Carrie also performed two new songs off of her upcoming album, the title track "Denim and Rhinestones" and "Crazy Angels," along with the previously performed lead single, "Ghost Story." The new album is due out on June 10.
Carrie also performed her heart tugging song about anticipating reuniting with loved ones in the afterlife, 'See You Again" and dedicated it to Naomi Judd who was reported to have died earlier in the day.
On April 1, the country star wrapped up another successful leg of her residency at Resorts World Las Vegas.