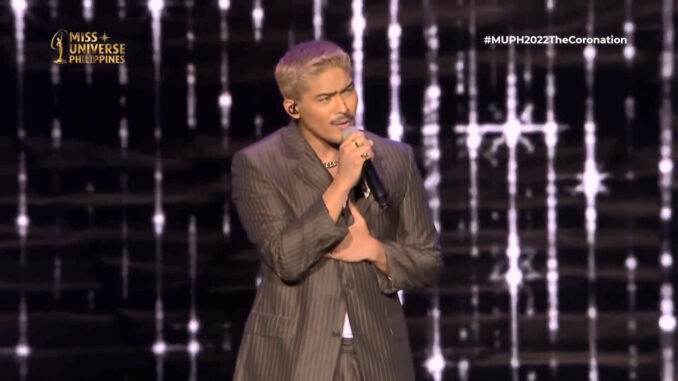 On Saturday night, Francisco Martin performed "Kissing on a Balcony" on the Miss Universe Philippines pageant in Manila.
The song is the latest single from his new EP Manic, out July 22nd. "This song is about crazy f-ing love," Francisco explained in a press release, "when you feel infatuated with someone you barely know."
The singer spent a week in Manila making personal appearances that culminated with his appearance on National Philippines television.
"Kissing on a Balcony" follows the release of a music video for "Nobody Listens To Me!" directed by Alexey Figurov, the video finds Martin railing against a suffocating environment, using his music to break free from outside pressures and constraints. "'Nobody Listens To Me!' is an anthem for people who feel like they're lesser than," Francisco said. "Validation and acceptance is something our generation struggles with, and I wanted to showcase that in the new music video."
The songs from 'Manic,'represent a new era of liberated creativity for the American Idol alum. Throughout the EP, Francisco shares personal reflections on mental health, relationships, angst, and human disconnection in the age of connection. "This EP is close to my heart. I know it's a risky move, but this is my truth. As long as I am an artist, I will continue to push the limits," he said.
"I am not afraid to share what is in my heart with brash honesty," Francisco added. "I want to push boundaries. People see one version of me, and I want them to see all of me. I am ready to come out of my shell as an artist and show who I really am as a person."
Francisco competed on American Idol season 18 in 2020 where he placed Top 5. From there, he quickly released a few singles before embarking on a fall coast-to-coast tour.
Manic was made during a three-month pause after he was thrust in the public eye, and he finally had a chance to gather his thoughts as an artist. It was created by Francisco and his co-producer/good friend Nick Sarpa in Francisco's apartment studio setup.