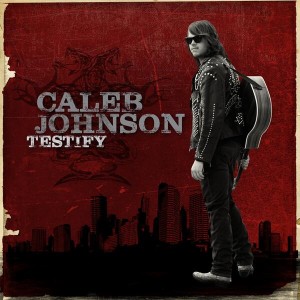 Caleb Johnson Album Testify
When I first heard that American Idol winner, Caleb Johnson, would drop his debut album on August 12, I didn't believe it. No Idol winner had released an album so quickly. The label tried with the previous season's winner, Candice Glover, but the recorded ended up being delayed twice–until the following winter.
But here we are, a mere 4 days before Testify is set to be released. As Season 13 is the lowest rated in American Idol's history, pushing out Caleb's album as quickly as possible is a smart move. Strike while the iron is…barely lukewarm. But it's better than nothing.
Although the singer has a listening party scheduled in LA for the day of the album's release, and others set for Phoenix (8/13) and Denver (8/12), major media promo probably won't being in earnest until the American Idol Live tour winds down at the end of the month.
In the meantime, you can listen to a FULL STREAM of Testify at Amazon, and pre-order while you're at it. Click to Listen.  Also, pre-order is available at iTunes.  Caleb recently announced the first single, "Only One." The watch is on to see if /how hard the label will push the song to radio.
You can also pre-order a CD that comes with a personally autographed booklet from the greatest record store on earth. Probably half my CD collection comes from the New England based Newbury Comics. Click for order deets.  I've copied and pasted the hyperbolic press release, posted at the site, for your reading pleasure. Rawk and Roll people.
In the tradition of rock & roll's most iconic performers, Caleb Johnson turns his own passion and unrest into music with a fierce and gut-punching but wildly uplifting emotional power. Winner of the thirteenth season of American Idol, the 23-year-old North Carolina native has already electrified audiences of millions with his commanding vocals and a fiery energy that honors his longtime love of hard rock and heavy metal. Now on his first album Testify-a bombastic yet undeniably soulful debut whose title nods to its revival-like spirit-Johnson further proves his vitality as a vocalist while also revealing his dynamic sense of genre-bending songwriting.

Throughout Testify, Johnson-a lifelong music obsessive equally inspired by the Southern soul of Aretha Franklin and Otis Redding, the classic rock of Led Zeppelin and Queen, and the heavy metal of Iron Maiden and Judas Priest-flaunts his versatility by tearing through brutal and blistering barnburners, blues-soaked rock numbers, and heart-on-sleeve ballads with an unstoppable intensity. Johnson co-wrote nearly every song on the album, heading into the studio soon after claiming his Idol victory and working nonstop to bring Testify's boundary-blurring but wholly unified sound to life. "After the show there was this great momentum going, so I wanted to keep that up and get writing and bang out as many songs as I could," explains Johnson, who enlisted Howard Benson (Rascal Flatts, The All-American Rejects, My Chemical Romance) as producer on Testify. "The whole process was really organic and spontaneous, and what ended up coming through were songs that are powerful and dramatic and sometimes theatrical, but always with this totally visceral feeling to them."

Written and recorded in just three frenetic weeks, Testify harnesses the feverish energy of the album-making process and intensifies it with Johnson's stunning vocals and the furious playing of Jane's Addiction bassist Chris Chaney, former Nine Inch Nails/Guns N' Roses drummer Josh Freese, and guitarist Phil X (a multi-instrumentalist who's previously played with Rob Zombie and Tommy Lee). Just as Johnson's vocal performance showcases his staggering range, Testify affirms his chameleon-esque ability to take on so many subgenres of rock & roll with ferocity and ease. Songs like "Sailing Away" (a full-on, awesomely escapist rock anthem built on lead-heavy riffs and pile-driving rhythm) find Johnson matching each shredding guitar solo with soaring vocal flights, while the aching piano ballad "Fighting Gravity" and the huge-hearted, acoustic-guitar-laced "Only One" illuminate his more tender side. On the smoldering "Save Me," swampy guitar tones and bluesy grooves tangle with gospel-like harmonies as Johnson gives his own twist on the age-old lyrical plea for redemption ("Save me/Save half of my soul"). And with "Let Me In" (featuring Sharon Jones & the Dap-Kings' formidable horn section), Testify transforms into an all-out Stax-style explosion with Johnson gloriously taking the helm as a powerhouse preacher of soul.

As he moves forward with his music on Testify, Johnson notes a guiding principle of his songwriting is to build off his Southern roots with sounds and textures discovered through his years of exploring all strains of rock & roll. "Being from the South is something that gets into your blood and your soul, and I think that comes out very clearly in my music," he says. Also fascinated by the over-the-top vocals and macabre imagery of heavy metal-and with ambitions of someday diving into film-directing and making a movie that honors his loves of rock & roll and horror-Johnson tempers his more unbridled influences with a sense of songcraft inspired by seminal melodists like Bernie Taupin and Paul McCartney. The result, as heard on Testify, is a breed of rock music that's fresh but timeless, with extraordinary staying power. "There's a lot of different flavors in these songs-the old-school blues jams and the straight-up, church-of-rock-and-roll-type songs and the stripped-down ballads-and the thing they have in common is they're all done with total conviction and soul," says Johnson of Testify. "I think you can really feel that shining through on the album, and to put all those songs out into the world and know that I'll have them with me until the day I die is such an amazing feeling."