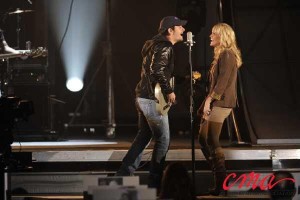 Brad Paisley and Carrie Underwood have been hard at work preparing for the CMA Awards. Before snagging this hosting gig for the 4th year in a row, they had to beat out some tough competition (like them. And, her. Also, them). Now that they have, they've moved on to discussing their skin care habits and giving some hints about what they're up to this year.
Carrie and Brad did a CMA press conference for Clear Channel radio stations today where they discussed their CMA preparations, what goes on in script meetings for the CMAs (brutal!), whether they'll mention Hank Williams Jr. in their monologue, whether there have ever been inaccuracies in their Wiki bios, Carrie's relationship with Brad's sons Huck and Jasper, and being "poop material". Stay tuned until the end for Carrie's hilarious Kim Kardashian impression! NOTE: The video is blurry at 1st with clear audio but the video gets clear after a couple of minutes. Video via megaroo71
There's also new AUDIO of Brad & Carrie discussing the CMAs and each other: Brad Paisley talks about cohosting the CMA Awards with Carrie Underwood
Carrie Underwood talks about returning to cohost the CMA Awards
Brad talks about the Conway Twitty/Loretta Lynnesque chemistry he & Carrie have and how he hopes they will duet again
Carrie talks about the dynamic between Brad & her
Brad talks about Carrie and her American Idol background
Bonus: Heading into the award shows, there's always a lot of talk about who'll win and who won't. Miranda Lambert who is widely expected to repeat as CMA's Female Vocalist Of The Year talks about how she waited for her turn to be an awards show darling, and how when it's somebody else's turn to win, she hopes she'll be as gracious about it as Carrie's been to her: Audio
Bonus 2: Another picture of Carrie at today's press conference
UPDATE: VIDEO of Brad and Carrie rehearsing Remind Me!

The CMA Awards will air Wednesday November 9th at 8 PM Eastern/7 PM Central. We'll be live-blogging the show here so be sure and join us for the fun!
UPDATE 2: Brad & Carrie interview with Good Day LA

Brad Paisley and Carrie Underwood Talk CMA Awards: MyFoxLA.com